High Capacity PVC Pelletizer
Pulished on Apr. 27, 2022
Hi.BOGDA is having an online show about High Capacity PVC Pelletizer.We Please click the following clink to watch it. Do not miss the wonderful time.
https://www.alibaba.com/live/pvc-pelletizing-line_0d46c796-3455-48eb-bce6-6324f7e3ac6d.html?referrer=SellerCopy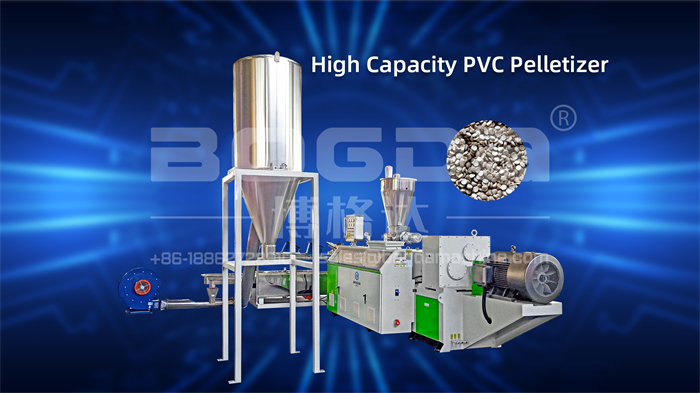 Conical twin-screw extruder has the characteristics of uniform plasticization and mixing, high output, stable quality, wide application range, long service life, and direct molding of PVC powder. Equipped with corresponding molding die and auxiliary machines, various thermoplastics, especially hard polyvinyl chloride powder, can be directly extruded into plastic products such as tubes, plates, sheets, rods, films and profiles, and can also be completed Modification of various plastics and powder granulation process. The conical twin-screw extruder has stable performance and can make the melt well plasticized and extruded at a lower temperature. The barrel is equipped with a cast aluminum heater, which has high thermal efficiency, fast and uniform heating, and is equipped with cooling fans.