Waterproof Three Layers Co-extrusion WPC PVC Furniture Foam Board Extrusion Line
The conical twin-screw extruder has stable performance, which can make the melt plasticize well at a lower temperature. The cast aluminum heater is installed on the cylinder, which has high thermal efficiency, fast and uniform temperature rise, and is equipped with cooling fan.
Product Description
Production Application
PVC foamed board belongs to the new environmental protection material, called no defect board in foreign countries, and the double post, no oil leakage, no water seepage, scratch resistant, also called blister board, base material of density board, surface by vacuum blister or adopt a seamless and PVC film pressure molding process, green non-polluting, renewable, is the ideal alternative ambry materials, and the people life more convenient, the most suitable. Door plate in normal size without edge, waterproof, moisture-proof, hardness and flexibility.
PVC board has excellent chemical stability, corrosion resistance, high hardness, high strength, anti-uv (aging resistance), fire resistance and flame retardant (with self-extinguishing), reliable insulation performance, smooth surface, not water absorption and deformation, easy processing and other characteristics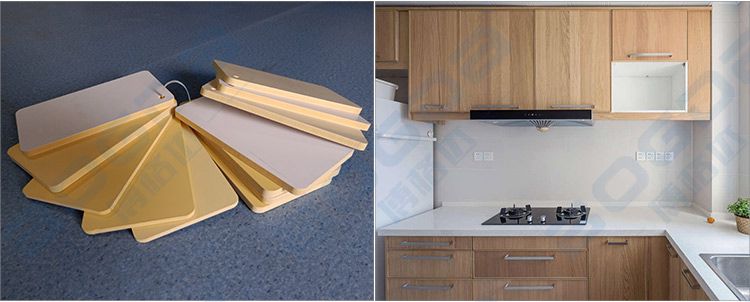 Product Description
BOGDA PVC Celluka Foam Board Extrusion Line For Kitchen Cabinets Bathroom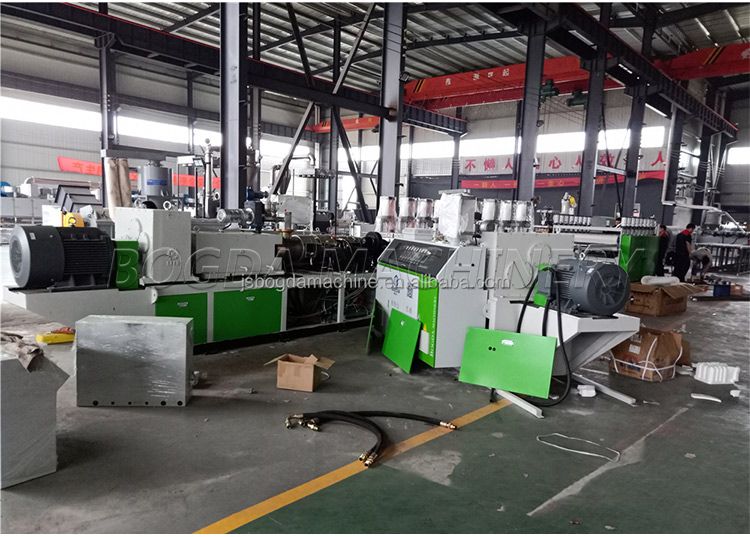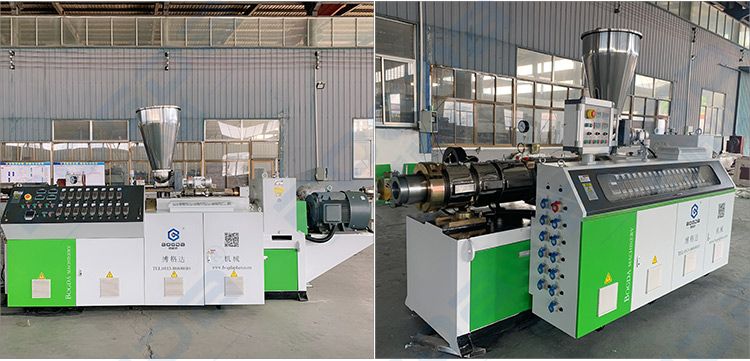 SJSZ80/156 Plastic extruder for pvc foam board
The conical twin-screw extruder has stable performance, which can make the melt plasticize well at a lower temperature. The cast aluminum heater is installed on the cylinder, which has high thermal efficiency, fast and uniform temperature rise, and is equipped with cooling fan.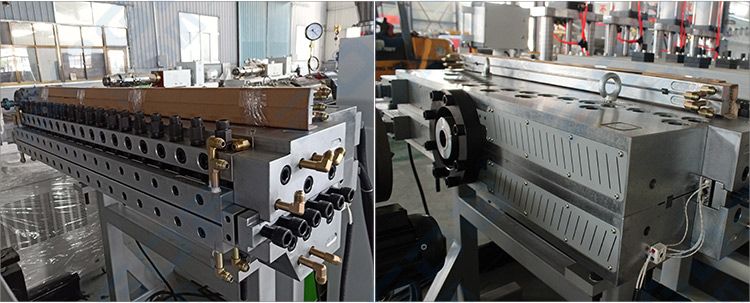 Extrusion mould for pvc foamed board
1. Die head with streamlined runner surface, two half mold body design, die head disassembly, easy to clean. 2. Manual fine tuning of elastic die lip or movable upper die lip design, extrusion thickness 0.2-1.22mm. Special for lace products and can be adjusted according to the thickness of products. 3. To adapt to the melt flow of different viscosity to get uniform distribution. 4. Die body adopts die steel or imported alloy steel to prolong the life of the die. 5. All the surface of the runner is plated with hard chromium, the average thickness is 25μm~50μm, and mirror polished. 6. Die head fasteners with high strength bolts of class 12.9. 7. The heating element adopts durable stainless steel heating rod and heating ring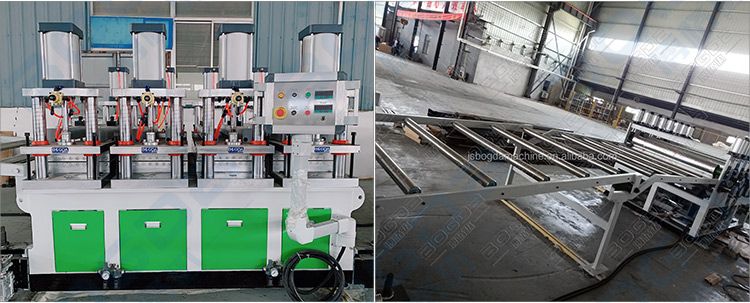 Calibration Forming Machine For PVC Foam Board
Number of set boards: four pairs. Width of shaping board: 1500mm Finalize plate closure: cylinder drive, independent up and down control Plate cooling: water cooling, optimize the design of flow channel Longitudinal movement of setting machine: 0.75 kW reducer motor drive

Cooling stacker with edge side cutting device
Length: 5 m Transition roller: stainless steel, surface polished, hardening treatment

Haul-off machine for pvc foam board
Rubber roller material: polyurethane adhesive Clamping mode: each pair of rollers is pressed by independent cylinder Drive: reducer motor Motor power: 5.5KW, 2 sets synchronous traction Control: Swiss ABB frequency converter

Non-dust cutting machine for pvc foaming board
Effective cutting width: 1500mm Cutting method: dust-free blade Transverse cutting: linear guide rail movement Lateral movement: driven by reducer motor, power 0.75KW Longitudinal follow-up: linear guide follow, cylinder control

Automatic lift machine for pvc foam board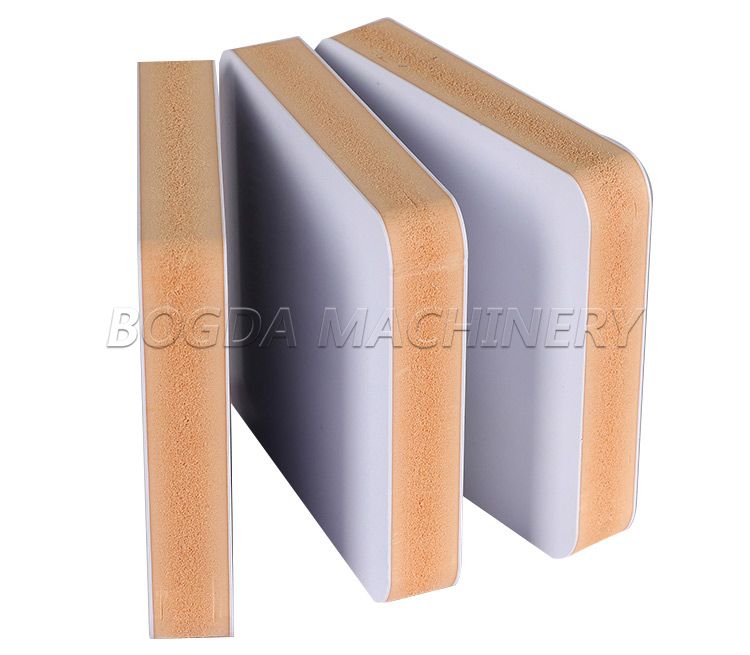 Final WPC PVC Foam Board
Product Paramenters
PVC Foam Board Extrusion Line
Model
Product Width
Product Thickness
Capacity
Main Motor Power
SJSZ80/156 + SJSZ65/132
1220mm
5-20mm
500kg/h
(75 +37) kw
Packaging and Shipping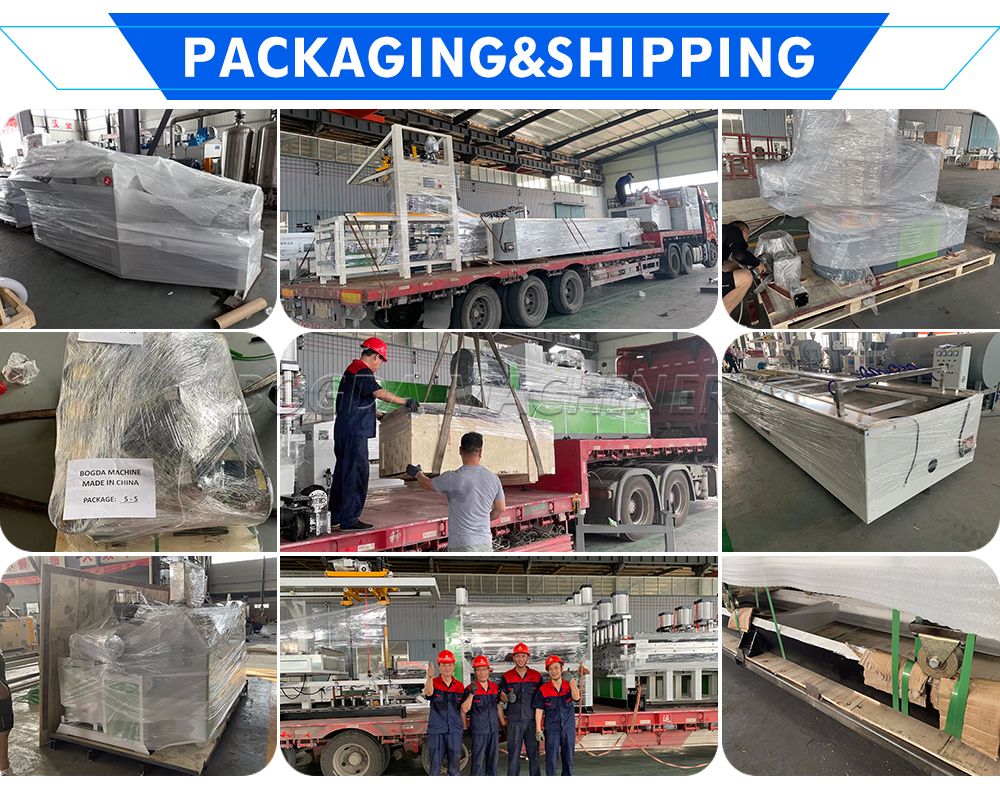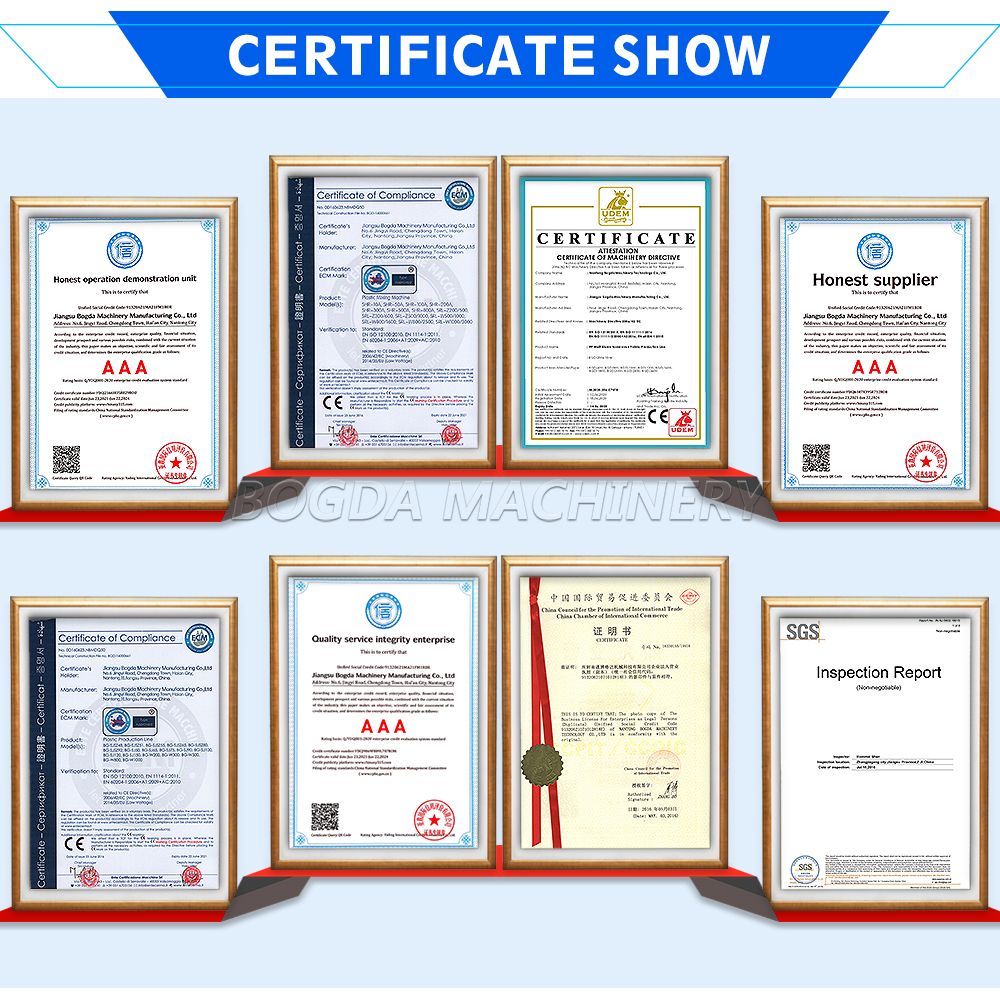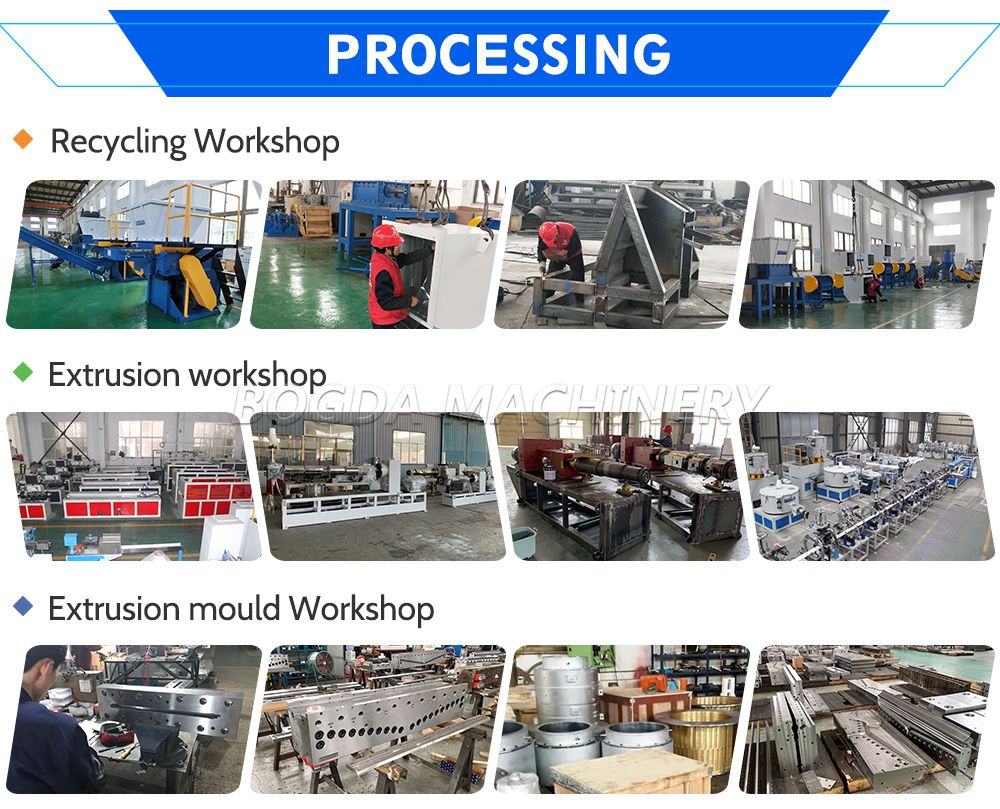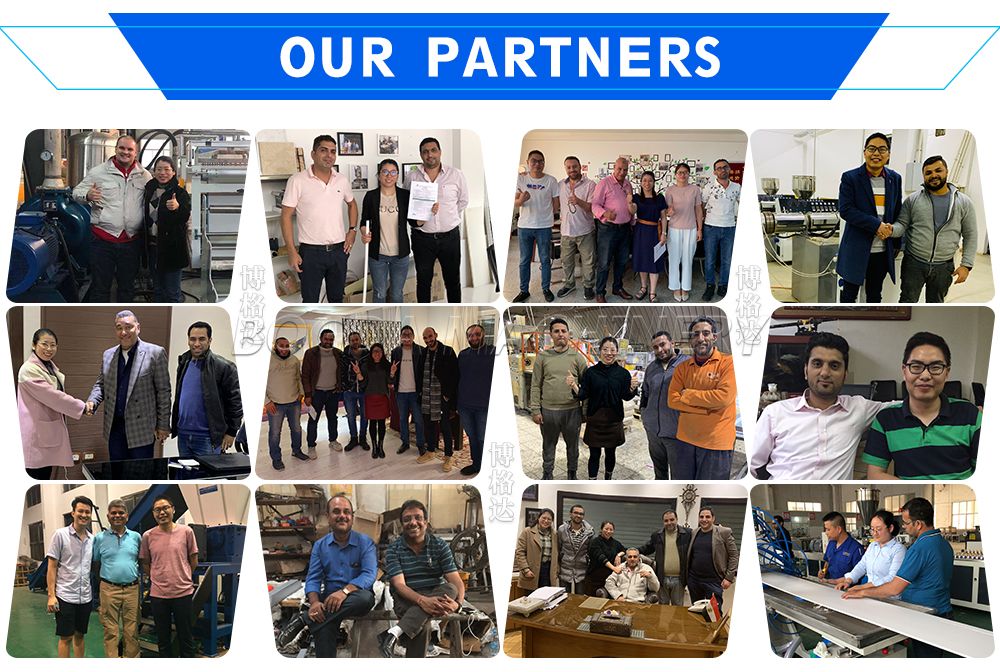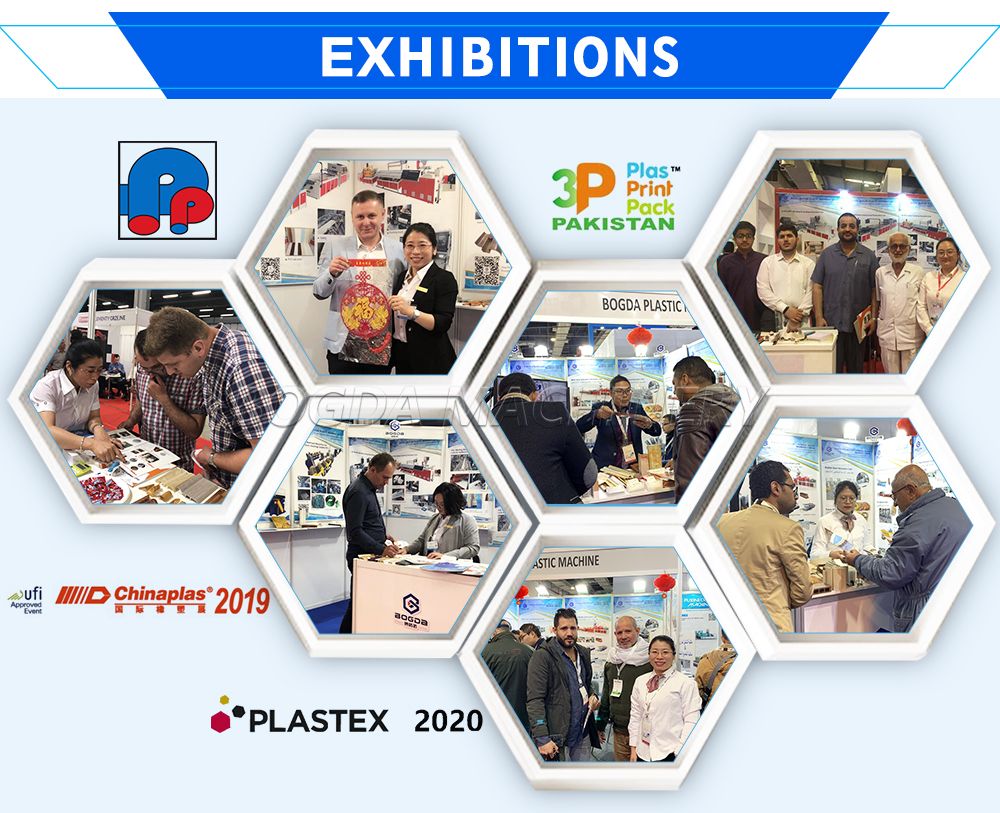 Customer Review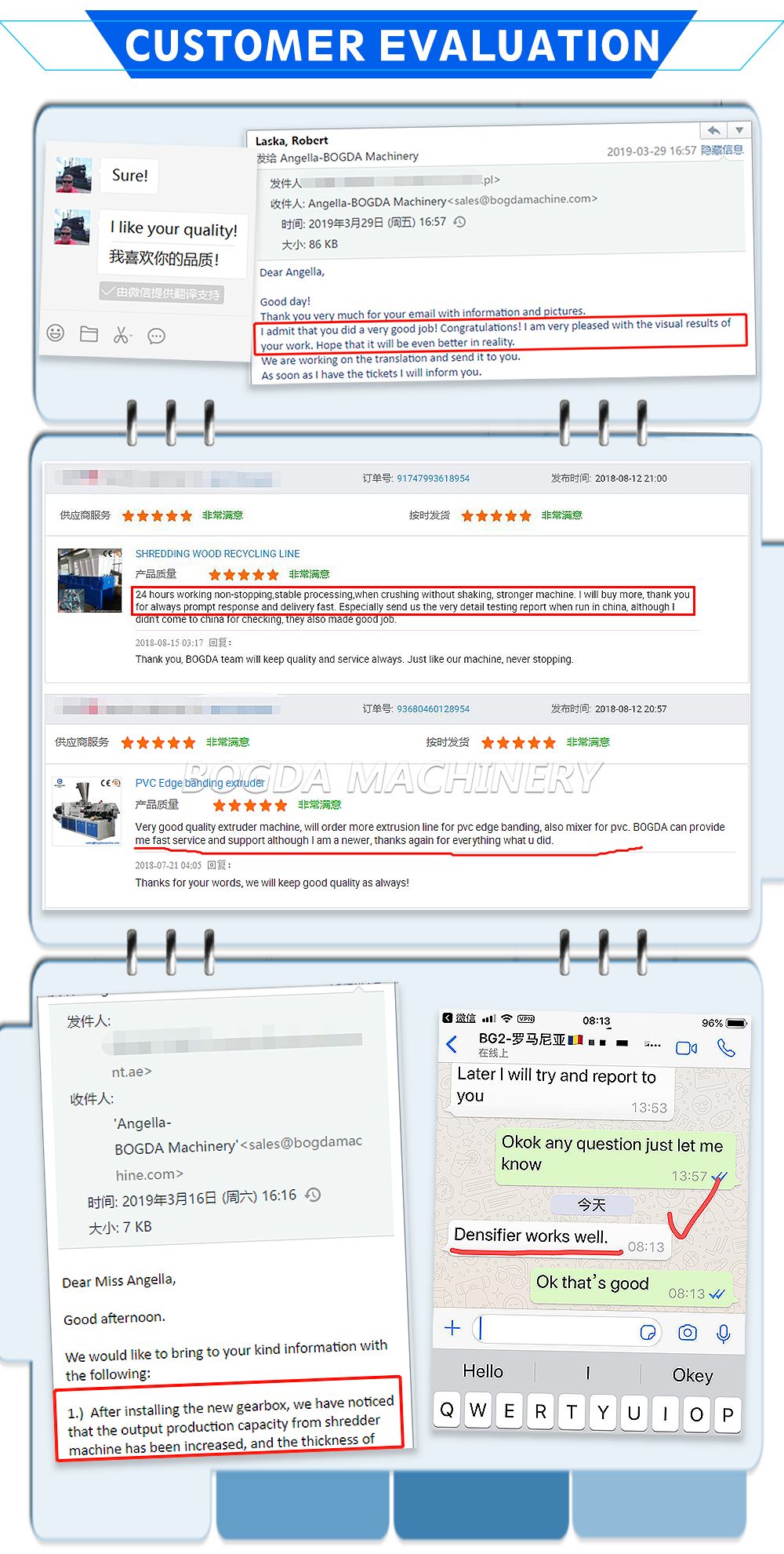 FAQ
Q: Where can we get spare part?
A: We choose International Brand that customer can find it in everywhere, such as Siemens, Schneider, Omron, Delixi etc, or send parts by DHL, Fedex, TNT and other express.
Q: How can I help you when face some technical problem?
A: 24 hours by e-mail, message, calling. If problems happens need engineer we will arrange the closest or agent in local country, or send Chinese Engineers to solve in 2 weeks.
Q: How long is the guarantee?
A: 12 months since the first day customer operates (except wear parts).
Q: Any quality checking before shipment?
A: 100% confirm, run and test machines before shipment with quality certificate.
Q: Can I operate machine if don't have experienced engineers?
A: (1) Short-time engineers to customer company (5-15days) (2) Year-time working as requirements
Q: How many electric, water, air need for the machines?
A: Technical department supply the whole layout for workshop details.
Company Introduction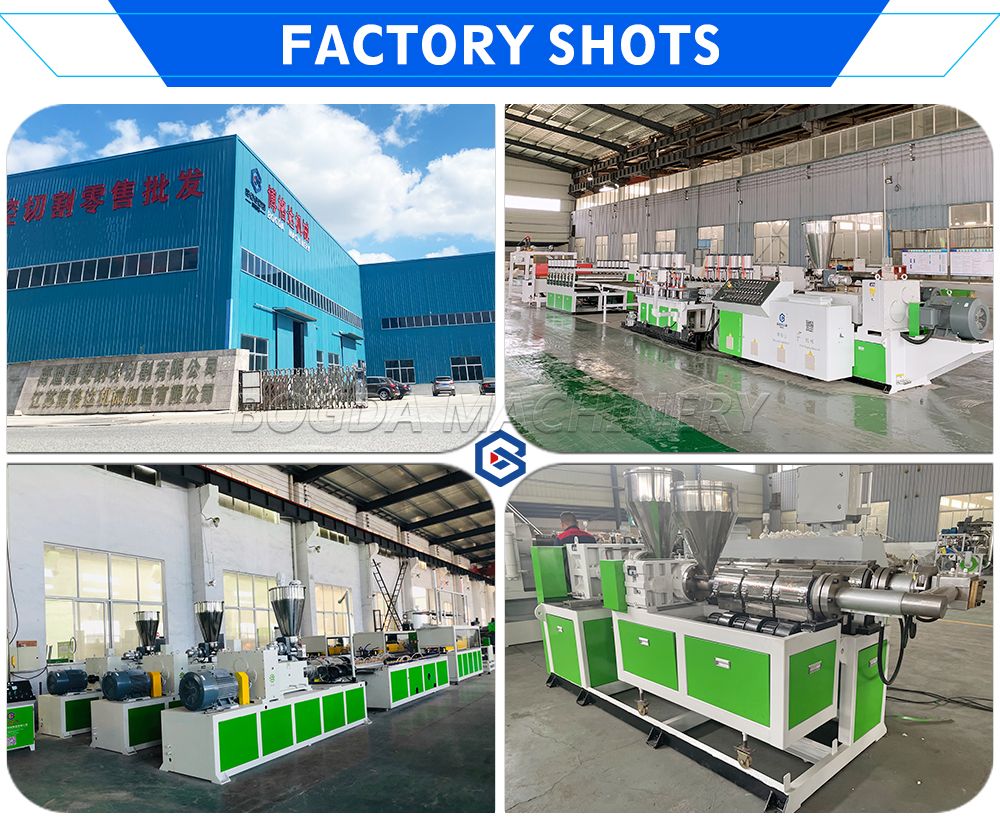 BOGDA Machinery Group is located in Europe and America (Hai'an) Industrial Park and Shanghai Fengxian (Hai'an) Industrial Park. It is a high-tech and innovative company dedicated to the research and development and manufacturing of plastic extrusion molding equipment. The company is people-oriented and innovative Development, with its unique corporate culture that has been brewing for many years, and the company's eager attention to global economic development, it has continued to grow with its majestic momentum and quick response, making itself a large-scale and highly anticipated industry in this industry.

Leading technology and excellent quality have been highly recognized by authoritative departments and markets. Products are exported to more than 110 countries and regions such as Europe, America, the Middle East, Southeast Asia, South America, Russia, Turkey, Italy, Poland, Brazil, Romania, etc. Deeply trusted and praised by customers, the company has many subsidiaries such as pipeline equipment, sheet film intelligent equipment, intelligent automation, and granulation equipment. The company has a high-quality talent R&D team and more than 20 years of experience in the industry. A team of mechanical and electrical commissioning engineers, as well as an advanced machining base and a standardized assembly workshop. More than 600 sets of high-end plastic extrusion lines are produced every year.

The main products of the company are:
1. PVC/PP/PE wood plastic production lines
2. PVC/PP/ wide sheet production lines
3. PVC/UPVC door and window profiles, ceiling panels, wall panels, window sill panels, wall hanging panels and other profiles extrusion production lines
4. PC/PA/ABS and other profiles production lines
5. PVC pipe production lines
6. HDPE/PE/PVC/PPR/PERT solid wall pipe production lines, as well as HDPE/PE gas pipe production lines
7. Vertical and horizontal HDPE/PP/PVC corrugated pipe production lines & reinforced winding pipe production lines
8. Multi-layer and single-layer PE/PP/PS/HIPS/GPPS/PC/ABS/PLA/PET/PMMA/GPPS/APET/PETG sheet production line
9. EVA/POE/PVB/SGP film production line; TPU/TVB film and lithium battery separator production line
10. All kinds of PE/PP/PLA/PET pelletizing units
11. PVC/PE/PP automated centralized feeding system
12. PP meltblown fabric and various spunbond non-woven fabric production lines
13. SPC LVT PVC Floor Production Line
14. PVC foamed board extrusion production lines
15. Recycling auxiliary equipment related to extrusion line, such as extrusion mold, plastic shredder, plastic crusher, plastic pulverizer, cooling tower, automatic screw loader, hopper dryer, plastic mixer and etc.

BOGDA has advanced design concepts in the extrusion field, strives for perfection in product quality, and continues to improve in technology. It can provide customized solutions for each customer to meet the different needs of customers. Project planning, product positioning, plant planning, equipment installation and commissioning, customer staff training, equipment after-sales maintenance and other all-round services. Our advantage is to provide customers with desired, satisfactory, and high-quality products to help customers create the greatest Profits and business opportunities, customer success is our ultimate goal.