Product Description
Production Application
What Is Solar EVA Film?
EVA is the abbreviation for Ethylene Vinyl Acetate. Solar EVA film, that is, solar cell encapsulation film (EVA) is a

thermosetting adhesive film that is used to put in the middle of laminated glass.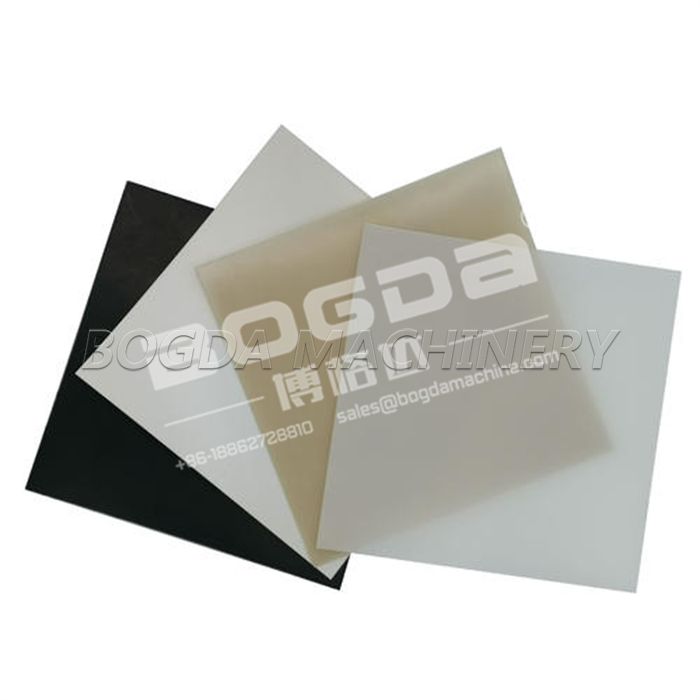 Application of EVA Glass Sandwich Layer Film
Safety plate laminated glass, arc laminated glass, process laminated glass, bulletproof glass, color changing laminated glass, conductive intelligent glass, solar cell and other special glass deep processing and other application fields.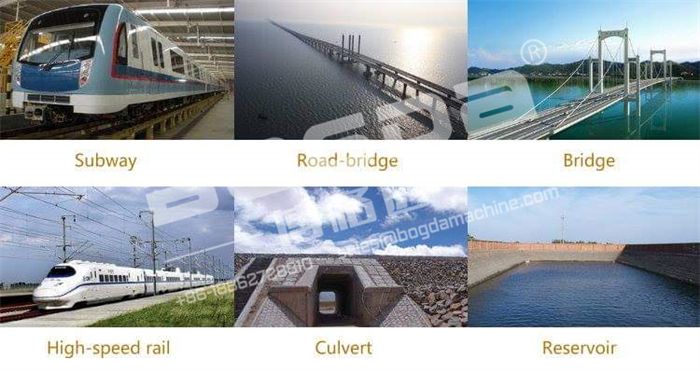 Product Characteristics
Advantages Of Solar Cell Encapsulation Film (EVA)
Due to the superiority of EVA film in terms of adhesion, durability, optical properties, etc., it has been more and more widely

used in current components and various optical products. The advantages of solar cell encapsulation film (EVA) are summarized as follows:
1. High transparency and high adhesion can be applied to various interfaces, including glass, metal and plastic such as
PET.
2. Good durability can resist high temperature, moisture, ultraviolet rays and so on.
3. Easy to store. Stored at room temperature, the adhesion of EVA is not affected by humidity and water-absorbent film.
4. Compared with PVB, it has stronger sound insulation effect, especially high frequency sound effect
5. Low melting point, easy to flow, suitable for various glass laminating processes, such as embossed glass, tempered glass, curved glass and so on.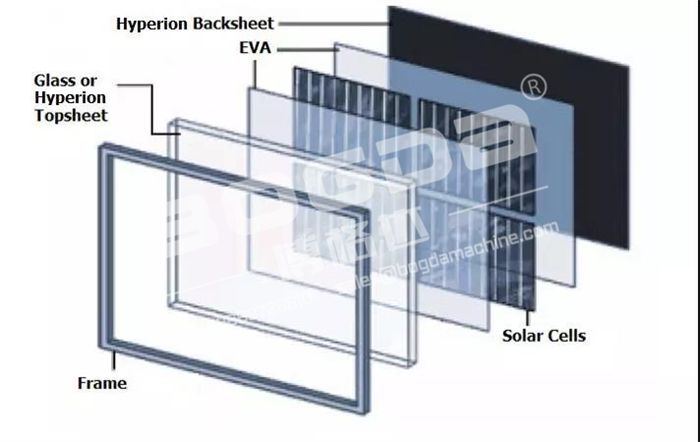 Product Description
Features of EVA Solar Adhesive Film Low Temperature Process Extrusion Production Line
EVA solar cell adhesive film is used for solar cell encapsulation. After being laminated and cured, it is glued and sealed. It has high light transmittance, prevents water vapor penetration, resistance to high and low temperatures, and ultraviolet light, ensuring the stability and efficiency of the cell module. It is a durable and reliable packaging material. Our BOGDA machinery EVA packaging film production line is in a monopolistic global leader position.
The performance characteristics of BOGDA EVA film production line:
(1) The cast extruder adopts EVA single screw extrusion, and the screw barrel constant temperature circulating water cooling system solves the technical difficulties of EVA plasticization and non-crosslinking.
(2) The roller body adopts double-sided embossing, and solves the technical difficulties of glue film sticking to the roller. (3) The cooling part adopts cooling rolls and stress-relieving cooling beds to make the film run smoothly and fully shaped to ensure that the shrinkage rate is less than 3%.
(4) The whole line adopts PLC fully automatic control to realize the operation of man-machine interface.
(5) The production line is equipped with an online quality monitoring and control system to ensure the product qualification rate.
(6) Patent design micro-tension winder, the line speed of the whole machine production line can reach 14m/min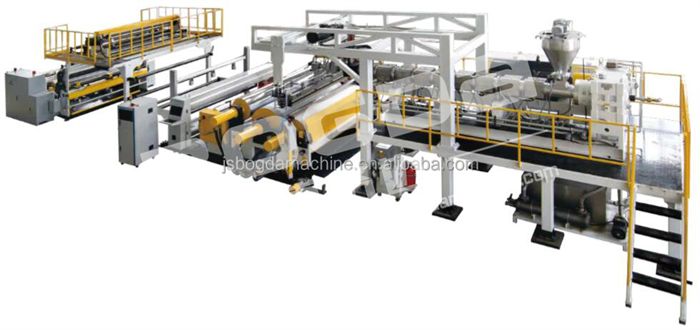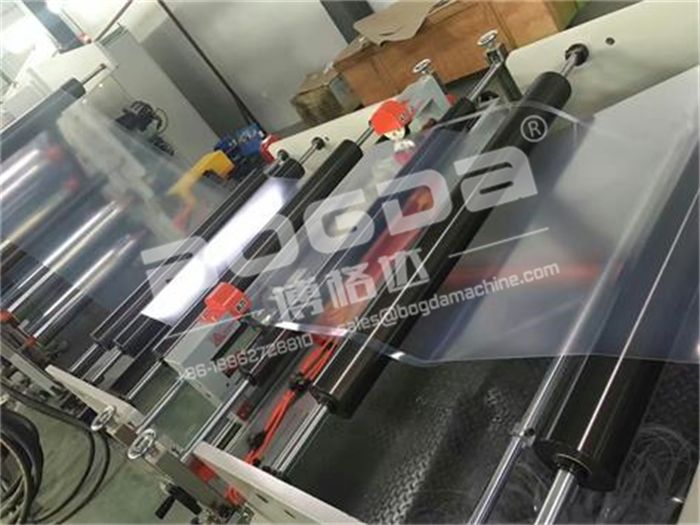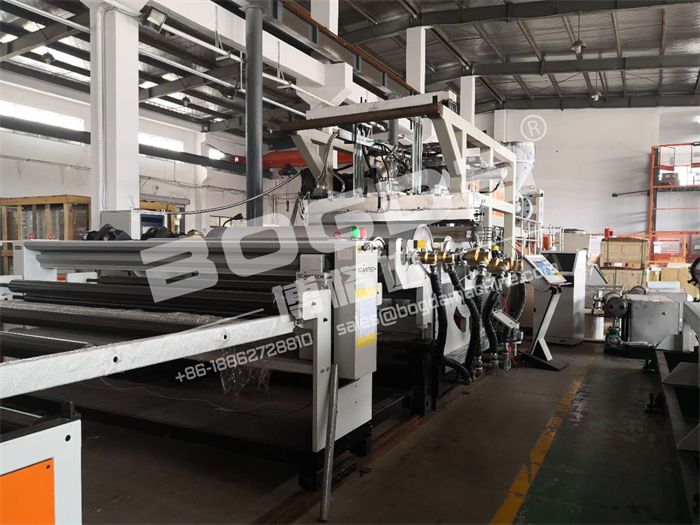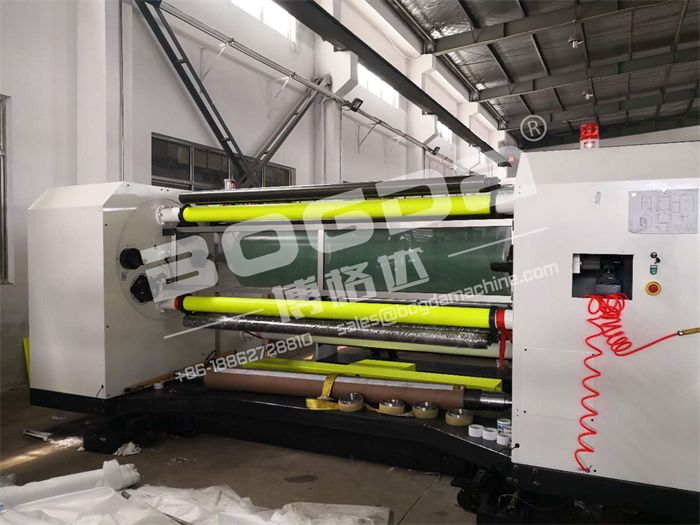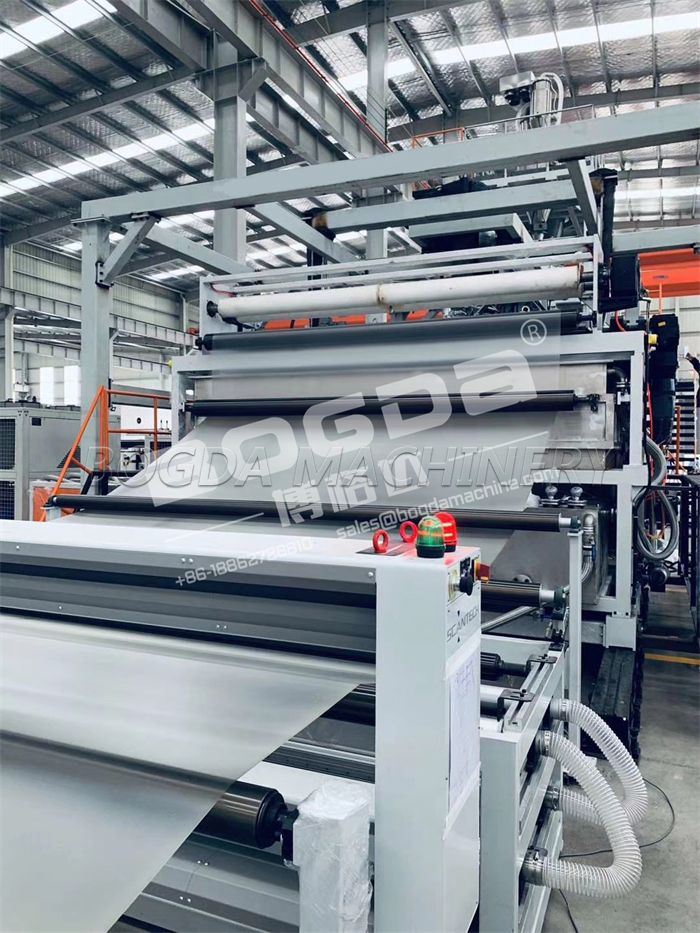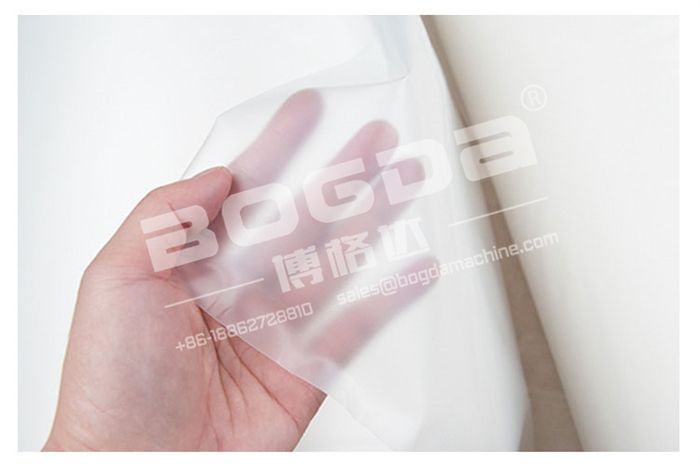 Specification

Hot Selling Good Quality Packaging EVA POE film extrusion line
Extruder model
SJ150
SJ160
SJ180
Main motor power
200KW
260KW
300KW
Product width
2000MM
2240MM
2800MM
Capacity
700-1200kg/h
700-1200kg/h
700-1200kg/h
Packaging and Shipping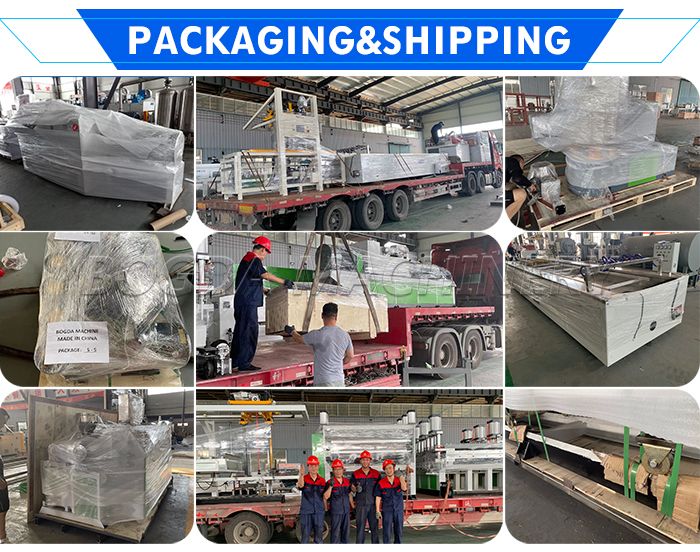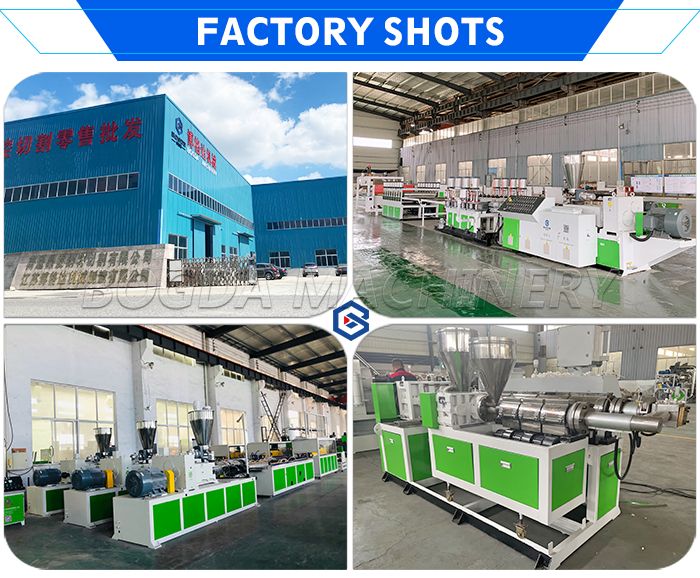 BOGDA Machinery Technology Co., Ltd is a leader of plastic machine and raw material, such as plastic profile/pipe/sheet/board extrusion equipment, waste PP/PE film/PET bottle washing recycling machine,recyclying production line, as well as plastic granulating line. Meanwhile, we are familiar with kinds of raw materials to help you choose the most suitable machine on best quality by economically.

BOGDA has different production factory and strong technical departments to study each customer's requirements until meeting final order. Serious sales and after-sale department to reply inquiry and solve problems for custom in 24 hours, which already exported machine and materials to Russia, Venezuela, Kazakhstan, Turkey, Brazil, Dubai, Philippine, Malaysia, Thailand, Vietnam, Poland, India and so on.

Fast response, good quality, best price and perfect service are our advantages and culture.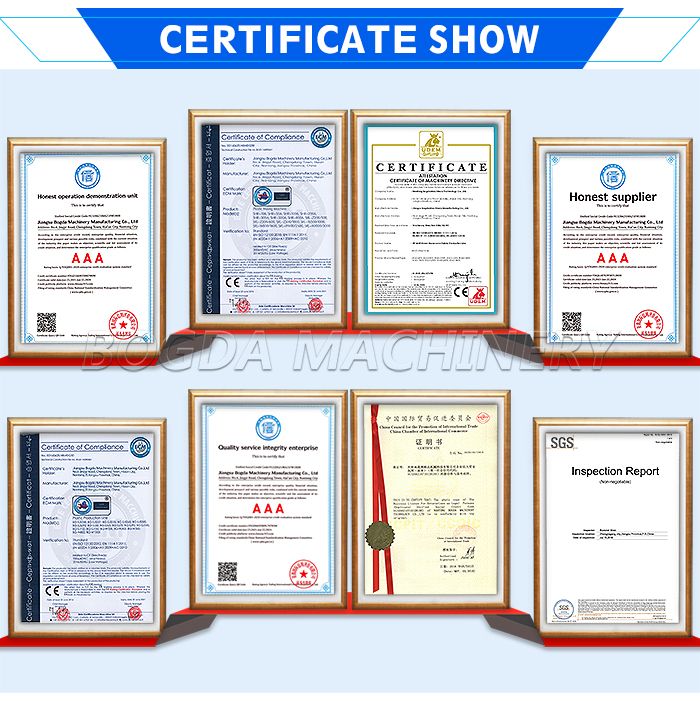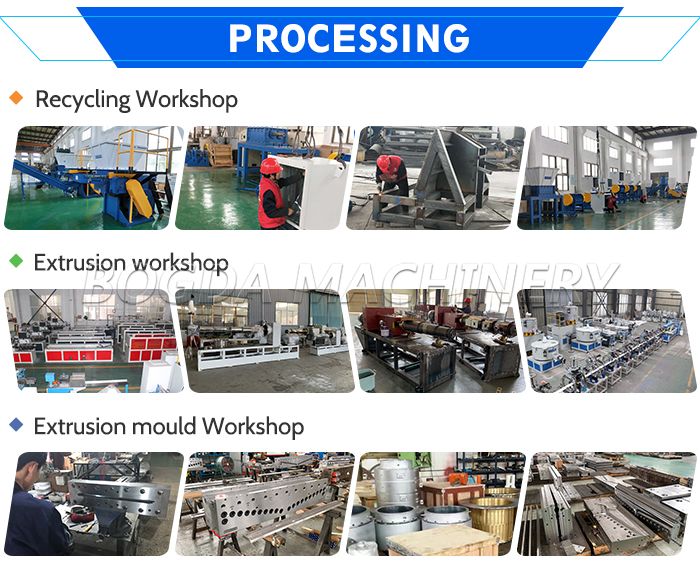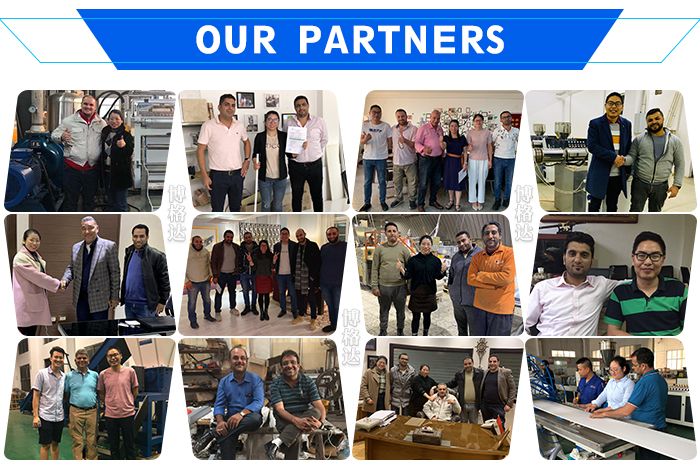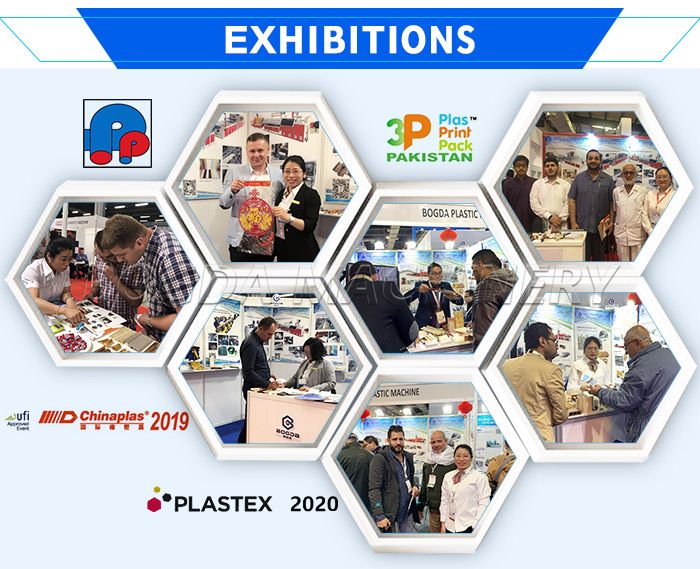 FAQ
Q: Where can we get spare part?
A: We choose International Brand that customer can find it in everywhere, such as Siemens, Schneider, Omron, Delixi etc, or send parts by DHL, Fedex, TNT and other express.
Q: How can I help you when face some technical problem?
A: 24 hours by e-mail, message, calling. If problems happens need engineer we will arrange the closest or agent in local country, or send Chinese Engineers to solve in 2 weeks.
Q: How long is the guarantee?
A: 12 months since the first day customer operates (except wear parts).
Q: Any quality checking before shipment?
A: 100% confirm, run and test machines before shipment with quality certificate.
Q: Can I operate machine if don't have experienced engineers?
A: (1) Short-time engineers to customer company (5-15days) (2) Year-time working as requirements
Q: How many electric, water, air need for the machines?
A: Technical department supply the whole layout for workshop details.