Product Description
Production Application

Due to the centralized storage or stacking of raw materials, centralized collection of dust, away from the processing and production site, the working conditions beside the main engine have been significantly improved, greatly reducing dust pollution, thus improving production efficiency and product quality.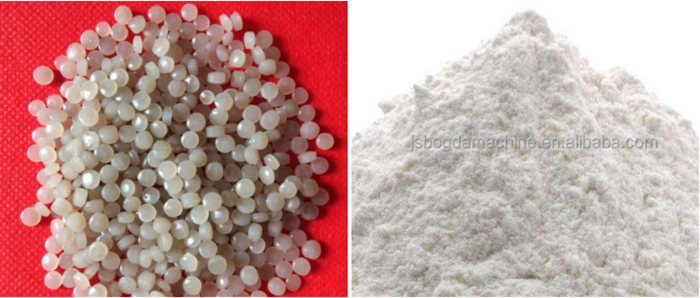 Product Description
BOGDA Full Automatic Gravimetric Blending Dosing System PVC Compounding Powder Mixer
Whole machine control system by SIEMENS newest model PLC control system, include CPE, stabilier, ACR ( and other additives) auto dosing, PVC and Caco3 vacuum loading, all raw materials mixing according to setted formula. Control part include auto dosing, vacuum loading, heating mixing, cooling mixing, auto and manula discharge, conveyor mixing material to final storage. PLC screen touch to operate, English / local langue freedom to switch, clear division of regional functions, very easy operate.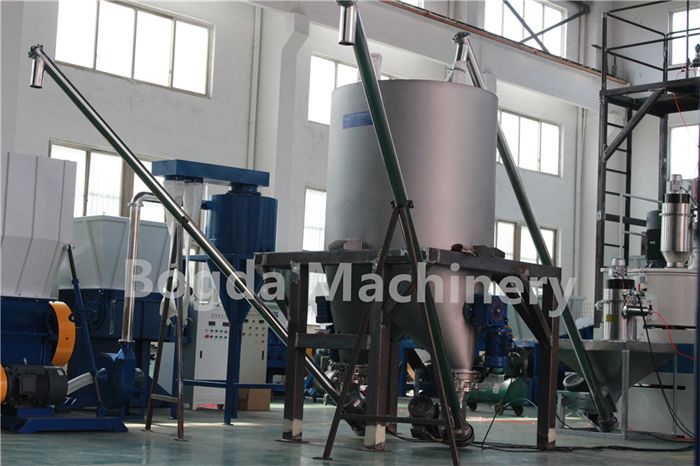 BOGDA Full Automatic Gravimetric Blending Dosing System PVC Compounding Powder Mixer
1
Calcium carbonate ton bag feeding system system
2
Resin raw material silo and accessories
3
PVC calcium powder vacuum suction and automatic metering system
4
Spiral feeding and automatic metering system for auxiliary material dumping bin
5
Liquid metering manual feeding system
6
Others, please inquire us to know more details soon.
Part 1 - Whole machine control system
SIEMENS brand PLC control by screen touch to operate, whole process all fully automatic, from auto dosing, vacuum feeding, heating and cooling mixing, discharge to final storage.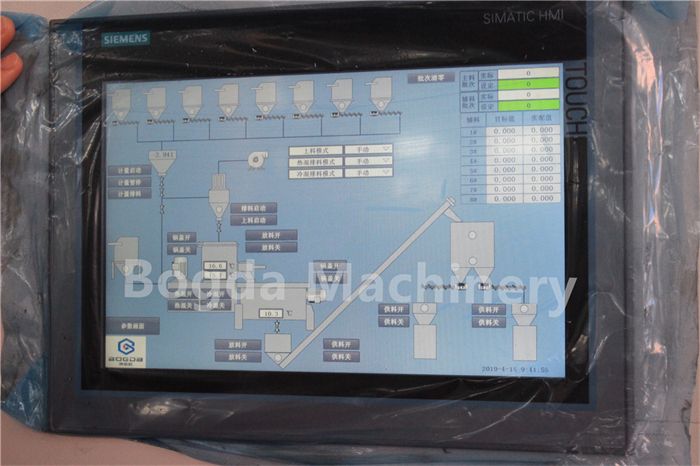 Part 2- Automatic dosing part
PVC powder + Caco3 + CPE + Foam agent + Stabilizer, etc... mixing by PLC control system
Additives plastic raw materials for automatic weighing by electronic balance sensor

Advantages:
• Anti-bridging device avoid raw materials stick to the wall of batch
• Filter adsorb powder, and finally pour the material into the batch
• Auto sensing weighing until all additives conveyor together in one batch, weight control by SIEMENS control system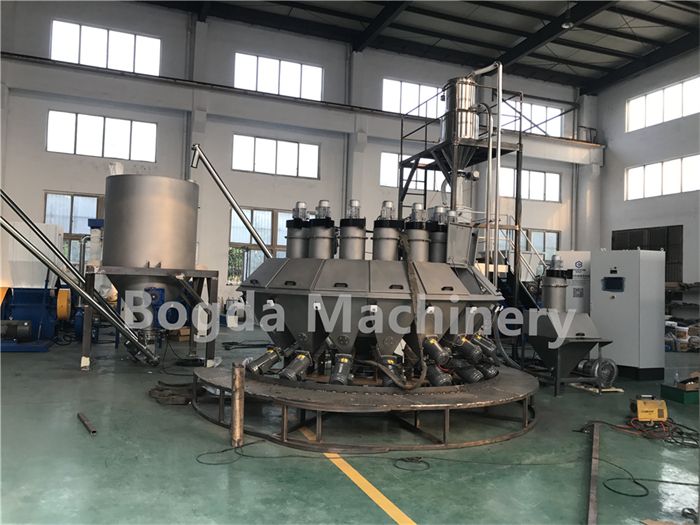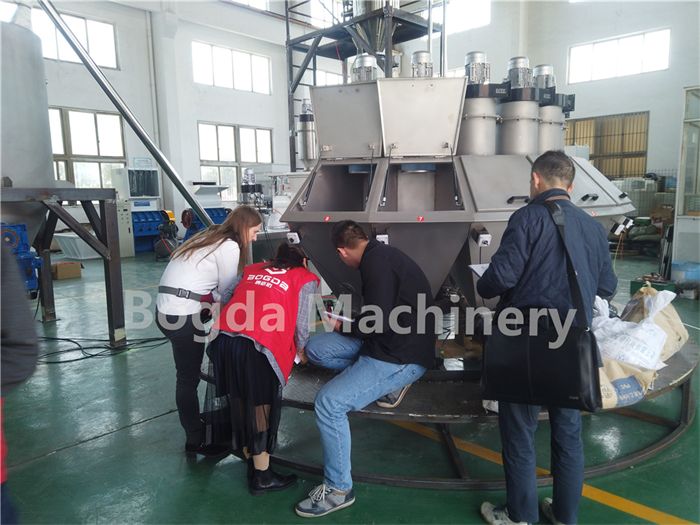 Part 3- Vacuum feeding system
Vacuum feeding PVC powder and Caco3 station, additives raw materials after weighting to heating mixing part

1- Heating by with self-friction or electric heating raw materials to 120℃, the first batch mixing time about 15 minutes, then the second mixing time about 8 minutes
2- Temperature monitoring by thermocouple transfer to PLC system
3- Heating mixing can choose manual discharge or automatic discharge
4- Cooling by cooling water and, cooling mixing about 8 minutes to 40℃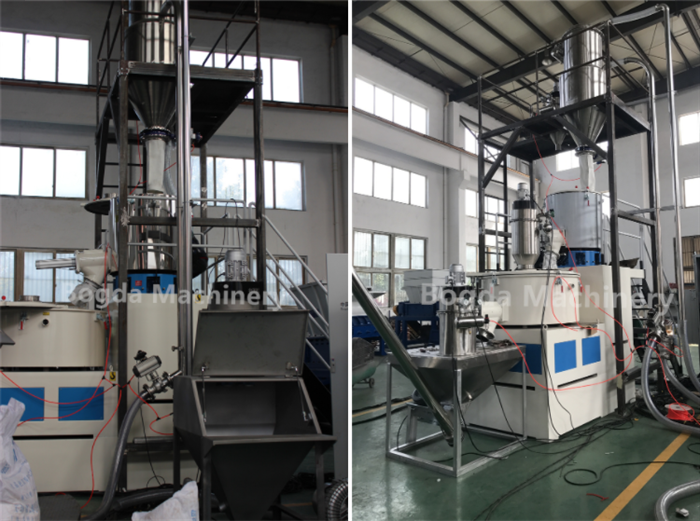 Part 4- Dust problem
Not problem. Whole automatic dosing and mixing system we equip 4 dust collector, one for station, one for heating mixing, one for cooling mixing, last one for transit storage. Also doing part have filter to avoid powder.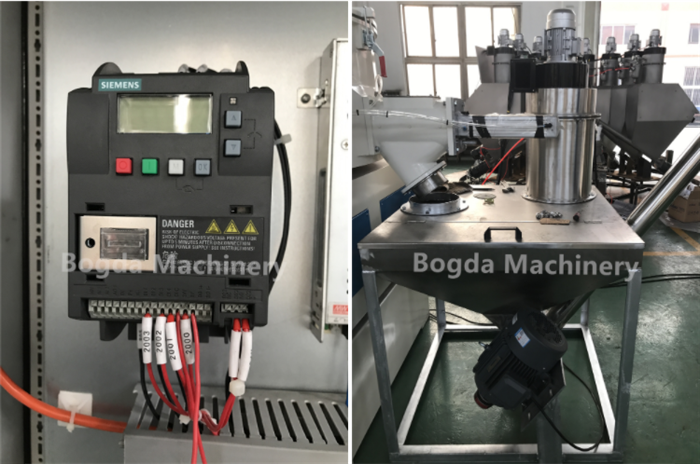 Part 5- Final storage
1. Inner part equip with anti-bridging device, that won't stick to the wall storage even raw materials mixed one week
2. 2 screw conveyors for 2 extrusion lines fully automatic, no need worker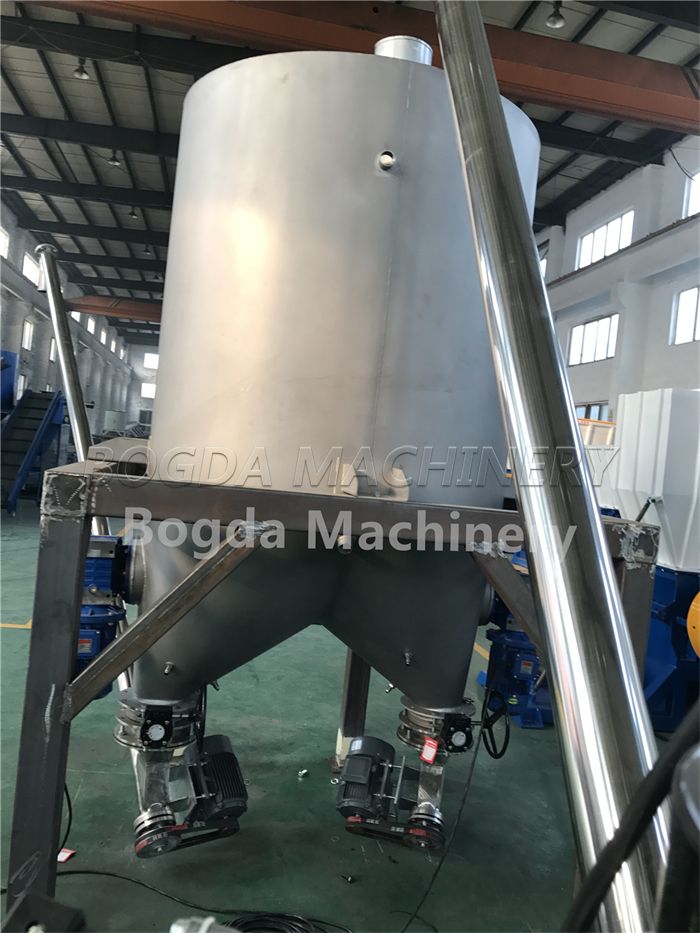 Packaging and Shipping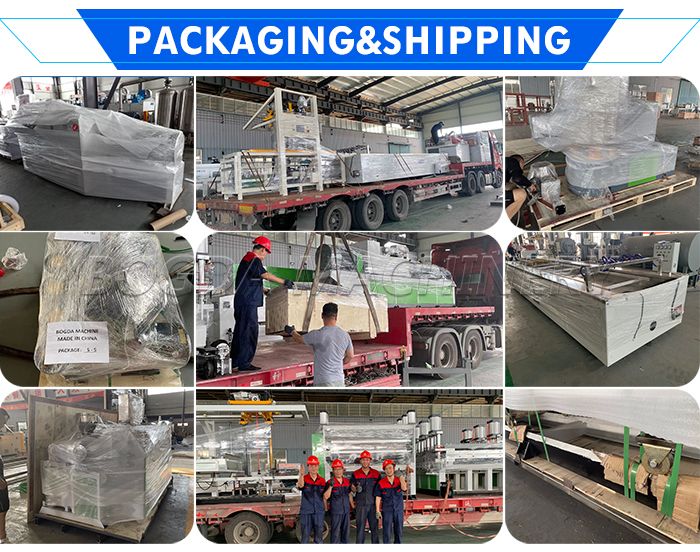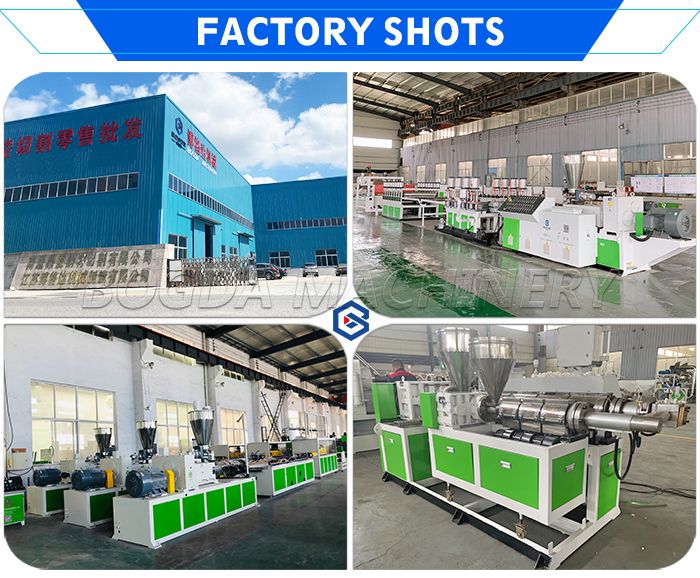 BOGDA Machinery Technology Co., Ltd is a leader of plastic machine and raw material, such as plastic profile/pipe/sheet/board extrusion equipment, waste PP/PE film/PET bottle washing recycling machine,recyclying production line, as well as plastic granulating line. Meanwhile, we are familiar with kinds of raw materials to help you choose the most suitable machine on best quality by economically.

BOGDA has different production factory and strong technical departments to study each customer's requirements until meeting final order. Serious sales and after-sale department to reply inquiry and solve problems for custom in 24 hours, which already exported machine and materials to Russia, Venezuela, Kazakhstan, Turkey, Brazil, Dubai, Philippine, Malaysia, Thailand, Vietnam, Poland, India and so on.

Fast response, good quality, best price and perfect service are our advantages and culture.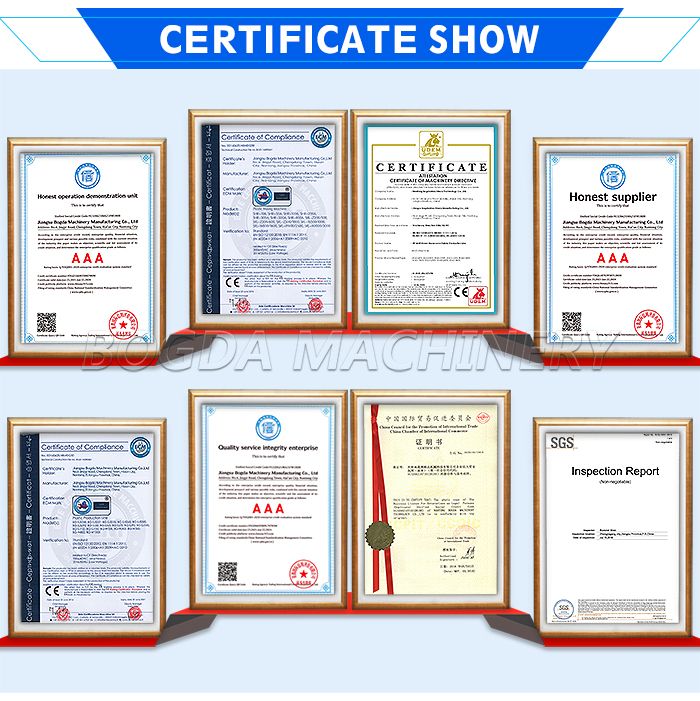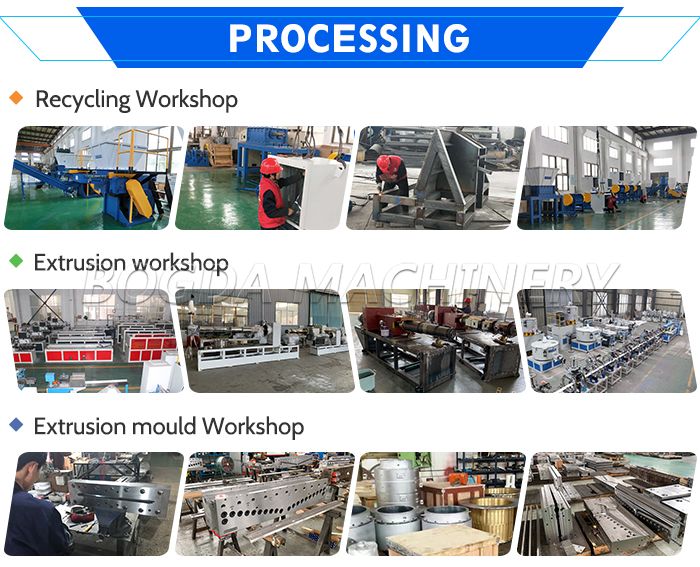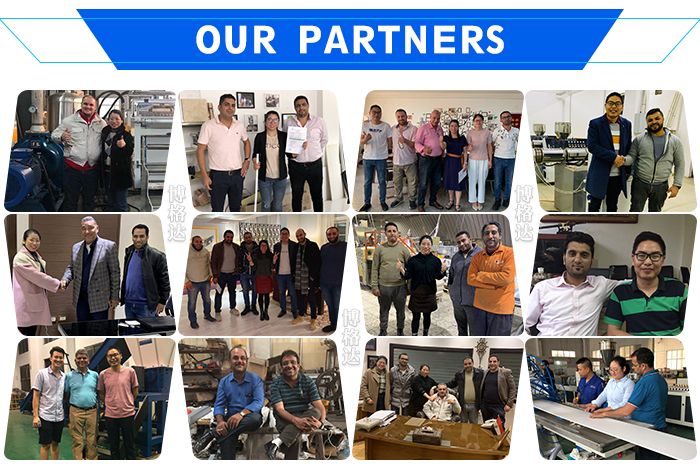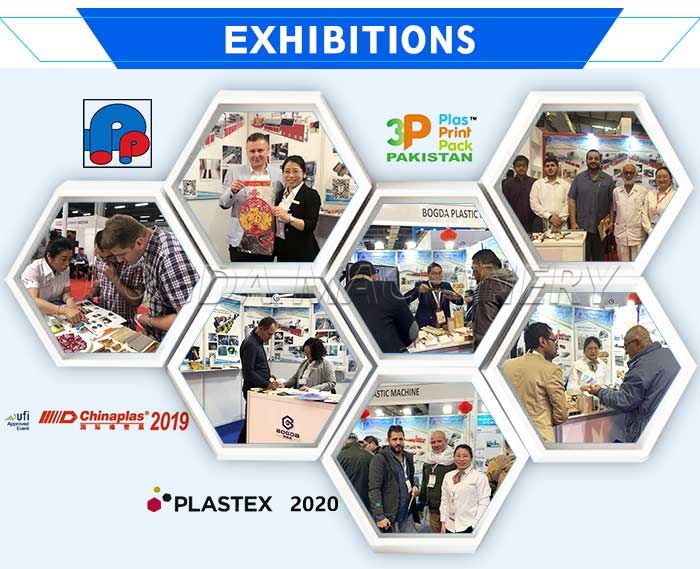 FAQ
Q: Where can we get spare part?
A: We choose International Brand that customer can find it in everywhere, such as Siemens, Schneider, Omron, Delixi etc, or send parts by DHL, Fedex, TNT and other express.
Q: How can I help you when face some technical problem?
A: 24 hours by e-mail, message, calling. If problems happens need engineer we will arrange the closest or agent in local country, or send Chinese Engineers to solve in 2 weeks.
Q: How long is the guarantee?
A: 12 months since the first day customer operates (except wear parts).
Q: Any quality checking before shipment?
A: 100% confirm, run and test machines before shipment with quality certificate.
Q: Can I operate machine if don't have experienced engineers?
A: (1) Short-time engineers to customer company (5-15days) (2) Year-time working as requirements
Q: How many electric, water, air need for the machines?
A: Technical department supply the whole layout for workshop details.