PLA PBS PBAT biodegradable materials granules machine
PLA PBS PBAT biodegradable materials granules, also known as biodegradable plastics, refer to the degradation caused by the action of microorganisms existing in nature under natural conditions such as soil and / or sandy soil, and / or specific conditions such as composting, anaerobic digestion or aqueous culture medium
Product Description
Product Description
PLA PBS PBAT biodegradable materials granules, also known as biodegradable plastics, refer to the degradation caused by the action of microorganisms existing in nature under natural conditions such as soil and / or sandy soil, and / or specific conditions such as composting, anaerobic digestion or aqueous culture medium, and finally completely degrade into carbon dioxide (CO2) or / and methane (CH 4) Mineralized inorganic salts of water (H 2O) and its elements and plastics of new biomass.
Biodegradable compostable plastic granules making machine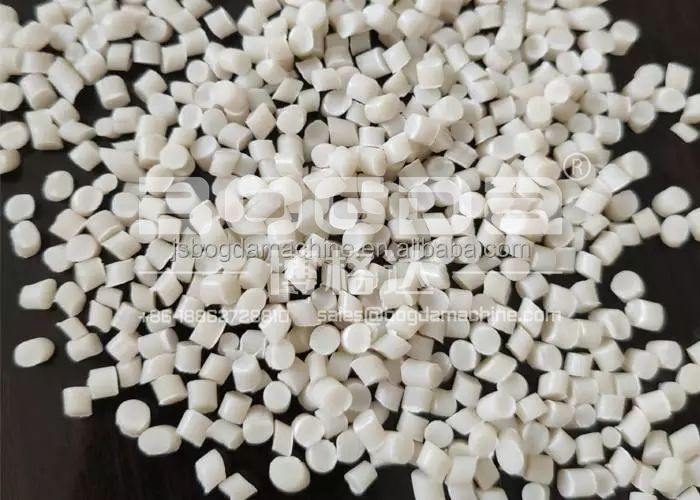 Biodegradable plastics are mainly made from natural polymers (such as starch, cellulose, chitin) or agricultural and sideline products through microbial fermentation or synthesis of biodegradable polymers, such as thermoplastic starch plastics, aliphatic polyester, polylactic acid, starch / polyvinyl alcohol, etc.
At present, biodegradable plastics based on natural substances such as starch mainly include the following products: polylactic acid (PLA), polyhydroxyalkanoate (PHA), starch plastics, bioengineering plastics and biological general plastics (polyolefin and polyvinyl chloride).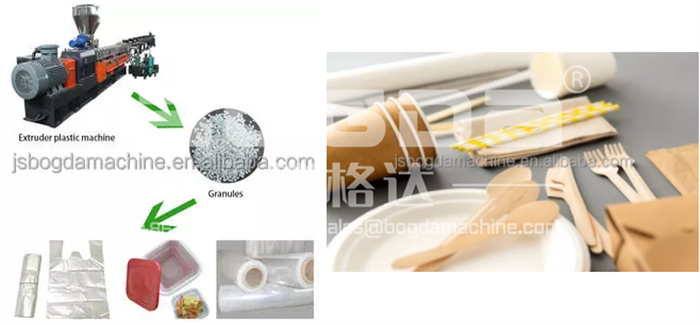 Machine Details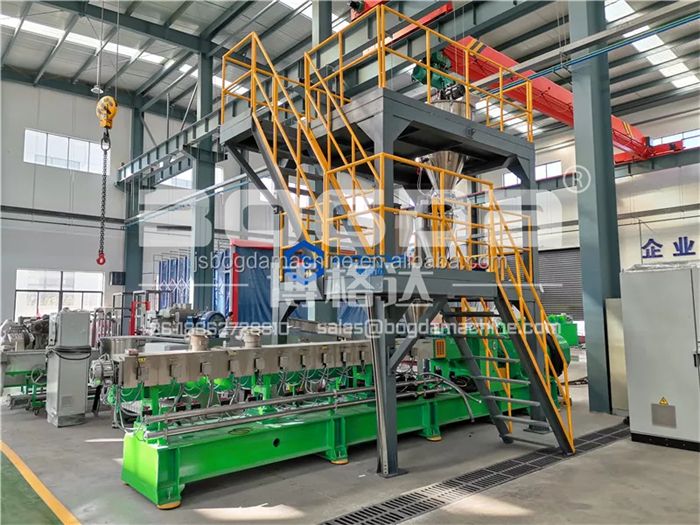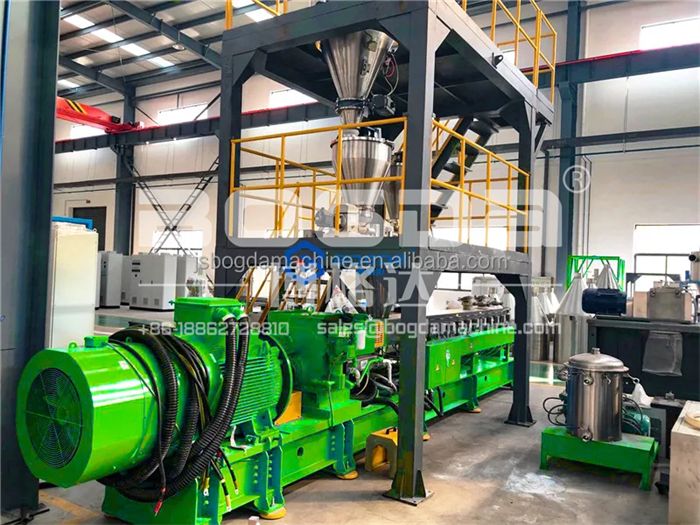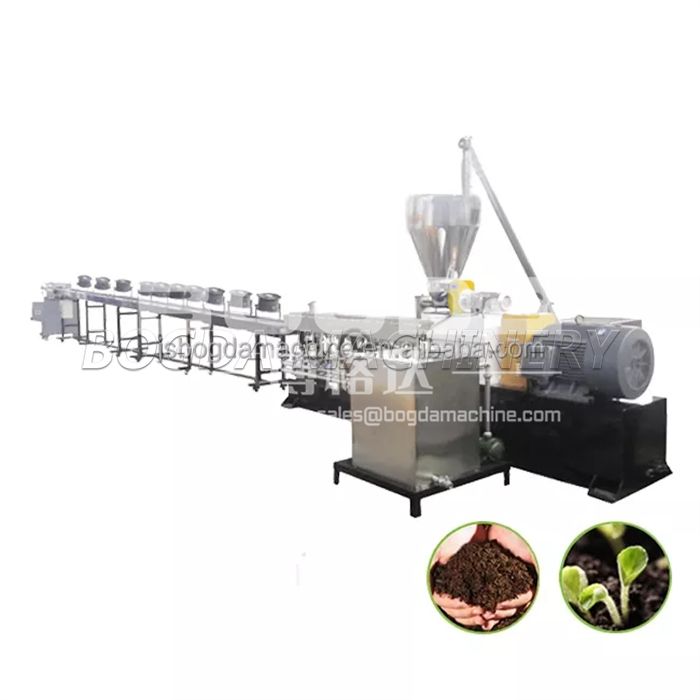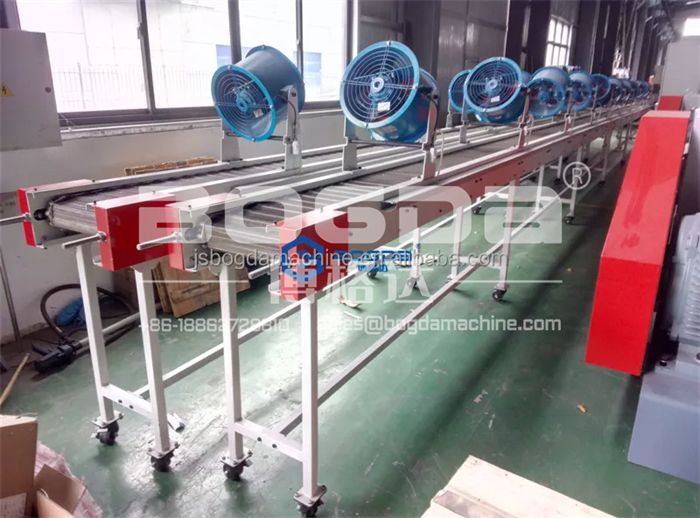 Product Paramenters
| | | | |
| --- | --- | --- | --- |
| S/N | Item | Content | Remarks |
| 1 | Machine name | Biodegradable plastic granules production line | 52 |
| 2 | Application | Biodegardable resin making | compound |
| 3 | Production capacity | 100-150kg per hour | |
| 4 | Processing type | compounding, extrusion, pelletizing | |
| 5 | Cutting method | air cooling, strands cutting | stainless steel belt |
| 6 | Main parts brands | Siemens, ABB, Schneider, Omron, ... | |
Packaging and Shipping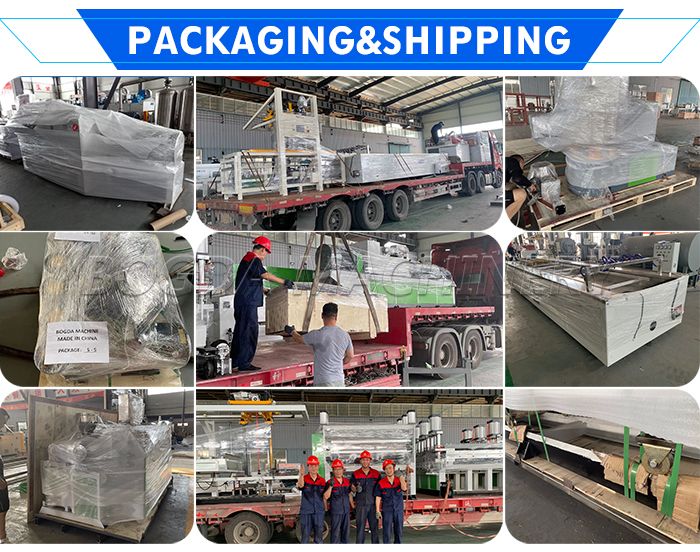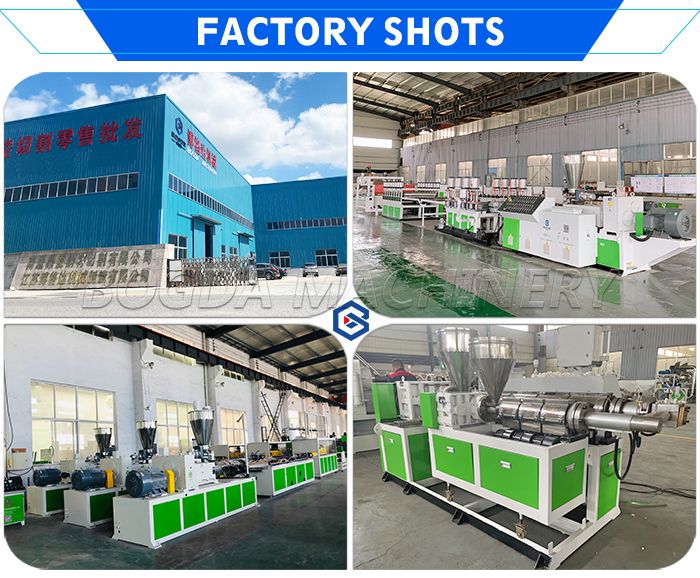 BOGDA Machinery Technology Co., Ltd is a leader of plastic machine and raw material, such as plastic profile/pipe/sheet/board extrusion equipment, waste PP/PE film/PET bottle washing recycling machine,recyclying production line, as well as plastic granulating line. Meanwhile, we are familiar with kinds of raw materials to help you choose the most suitable machine on best quality by economically.

BOGDA has different production factory and strong technical departments to study each customer's requirements until meeting final order. Serious sales and after-sale department to reply inquiry and solve problems for custom in 24 hours, which already exported machine and materials to Russia, Venezuela, Kazakhstan, Turkey, Brazil, Dubai, Philippine, Malaysia, Thailand, Vietnam, Poland, India and so on.

Fast response, good quality, best price and perfect service are our advantages and culture.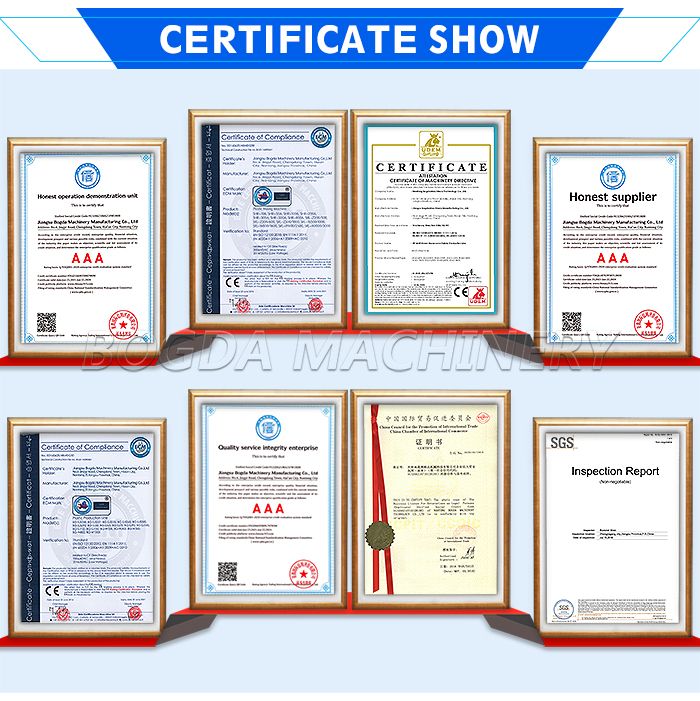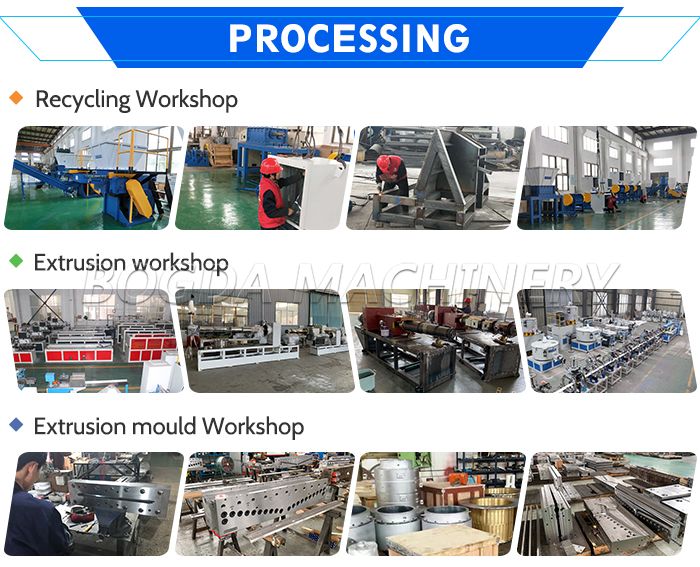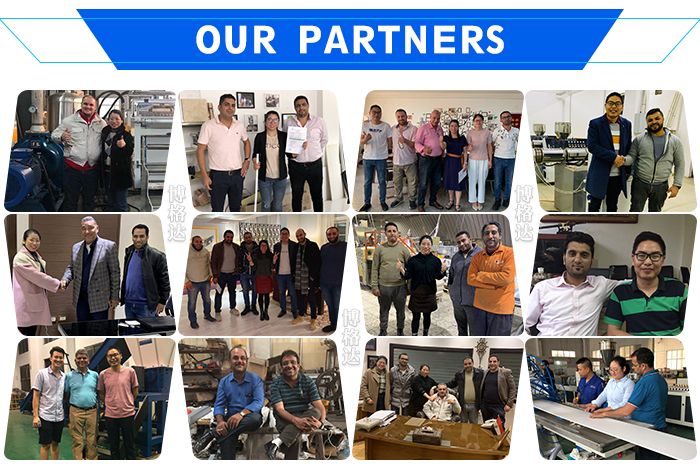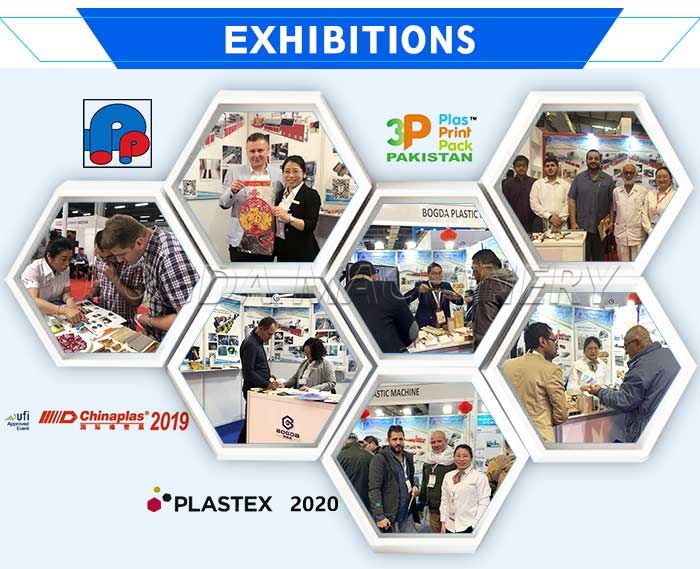 Customer Review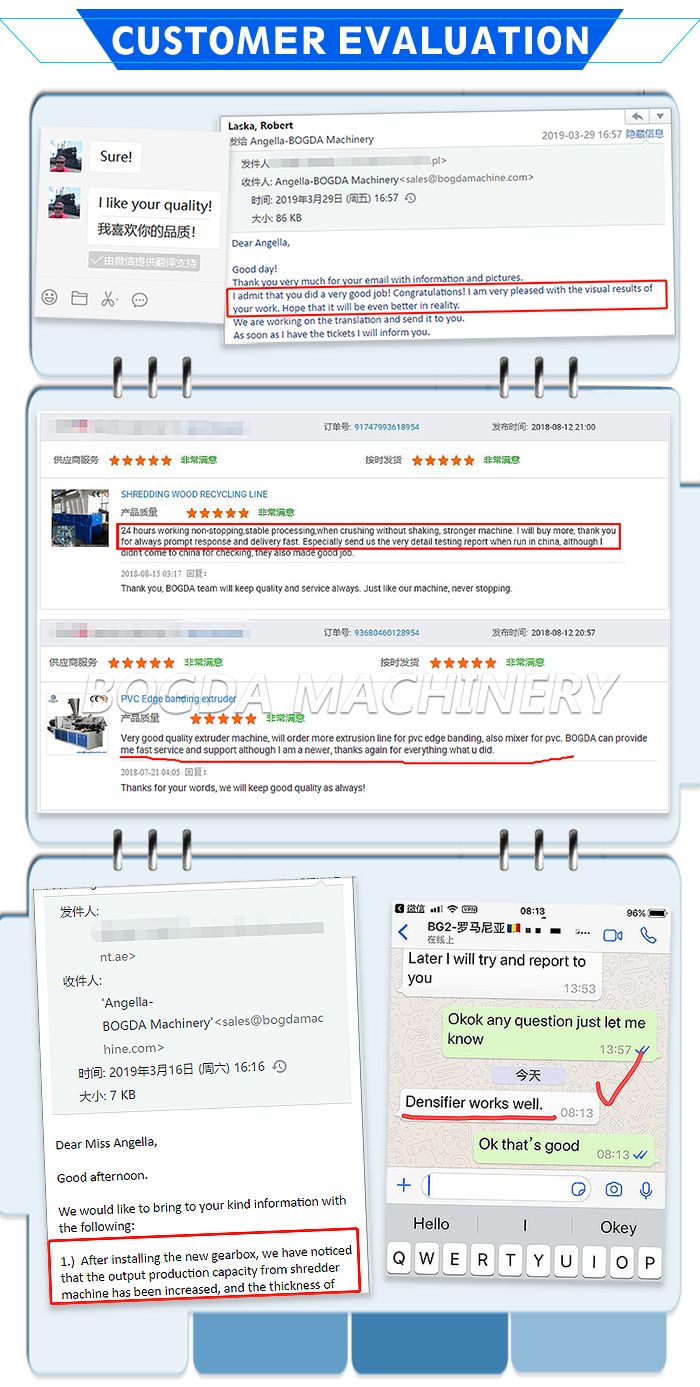 FAQ
Q: Where can we get spare part?
A: We choose International Brand that customer can find it in everywhere, such as Siemens, Schneider, Omron, Delixi etc, or send parts by DHL, Fedex, TNT and other express.
Q: How can I help you when face some technical problem?
A: 24 hours by e-mail, message, calling. If problems happens need engineer we will arrange the closest or agent in local country, or send Chinese Engineers to solve in 2 weeks.
Q: How long is the guarantee?
A: 12 months since the first day customer operates (except wear parts).
Q: Any quality checking before shipment?
A: 100% confirm, run and test machines before shipment with quality certificate.
Q: Can I operate machine if don't have experienced engineers?
A: (1) Short-time engineers to customer company (5-15days) (2) Year-time working as requirements
Q: How many electric, water, air need for the machines?
A: Technical department supply the whole layout for workshop details.