Product Description
Product Description
HDPE/PVC double wall corrugated pipe extrusion line adopts extruding and forming process, it has the featuresof reliable quality and high efficiency.Compared with other plastic pipe wall structure ,double wall corrugated pipe has excellent wall structure design,its low weight reach the lower production cost and improve the market competitiveness.The pipe is widely used in various field instead of concrete pipe and iron pipes,because it has excellent features such as:easy connected and accessories installed,and quality reliable.

wall corrugated pipe production line can continuously produce PVC double - wall corrugated pipe and this line can achieve on-line belling.The machine has the function of automatic de-molding when power is off.The extruder adopt high-efficiency screw, the die head adopts double-layer spiral structure, mold die and core die being nitrided .The forming
machine adopts vacuum forming type, equipped with automatic lubrication system.Forming mold is made of aluminiumalloy, adopt watercooling type.The pipe can be cut by on-line cutting machine automatically.

Our double wall corrugated pipe machine can use the aluminum module which with water cooling can vacuum cooling for high speed.We have professional designers and sophisticated processing machine to ensure the accuracy of the mold block.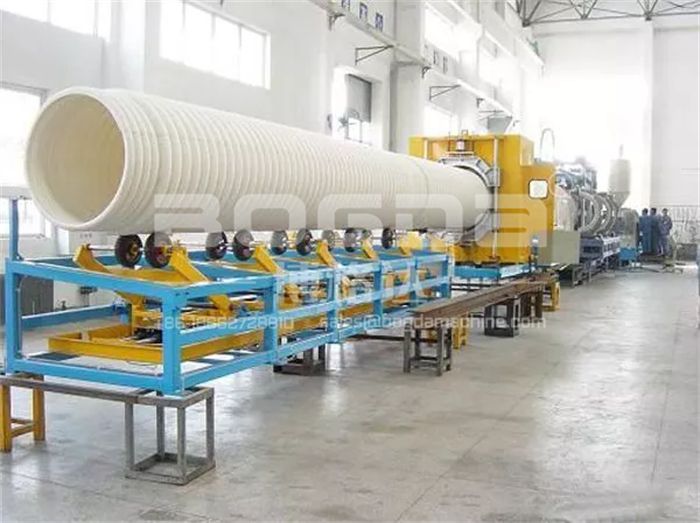 Advantage of our Plastic double wall corrugated pipe machine
1. The main machine adopts special designed high efficiency screw which is specially used for HDPE,it has the features of stableperformance and high efficient. The machine has two independence extruder ,which can realize both inside and outside layer with different material and colors.

2. Composite extrusion die head with specially helical structure to make the wall thickness uninfom and stable production.

3. The forming machine has automatic power-off protection device.The forming machine an antumatically exit from the die head to avoid equipment failure in case of electricity cut off suddenly.It also equipped with new type high transmitting ratio reducer,easy to operate and maintain

4. The corrugated forming system is in combination with water cooling and air cooling to ensure high production speed
continuously.Advanced programmable lubricating system minimizes the molds wear so as to increase the life of service and ensure work smoothly with high precision to ensure the products quality stability.

5. Mold adopts specially aluminum alloy material and high precision die casting forming mold method,it has the advantages of high precision,high strength,good wear-ability and better heat dissipation performance.

6. Wave structure launched a comprehensive new optimization design to reach the best combination of high-rigidity and low weight.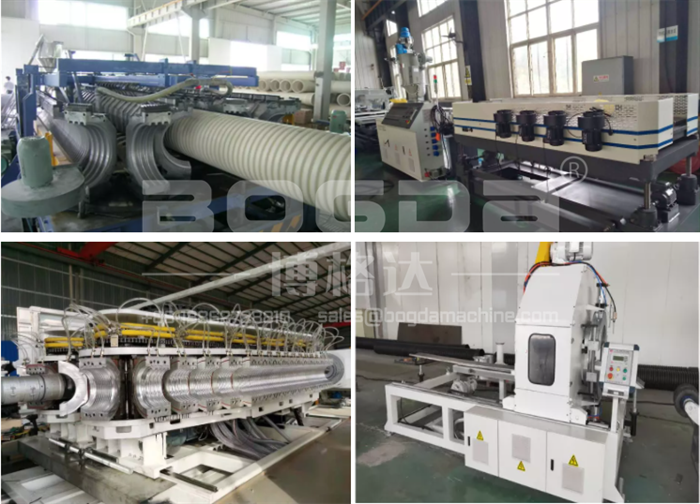 machine list and details of PVC corrugated pipe line O.D 160mm pipe
The equipment uses a twin-screw extruder to produce PVC double wall corrugated pipe
* material:PVC

* capacity:400kg/h

The output capacity varies with the materials and the operation conditions.

* Speed:5m/min(according to the pipe diameter and the thickness)
* Operation direction:From right to Left
* The color of the line:BAccording to BOGDA's standard.color
| | |
| --- | --- |
| No. | Equipment name |
| 1 | Screw feeder |
| 2 | SJZ80/156 double screw extruder with forced cooling. |
| 3 | Extruder die mould |
| 4 | O.D.160 mould(including calibrator) |
| 5 | BGD-PVC160 corrugated pipe forming machine |
| 6 | Spray cooling tank |
| 7 | cutter |
| 8 | stacker |
| 9 | PLC control system |
FAQ
Q: Where can we get spare part?
A: We choose International Brand that customer can find it in everywhere, such as Siemens, Schneider, Omron, Delixi etc, or send parts by DHL, Fedex, TNT and other express.
Q: How can I help you when face some technical problem?
A: 24 hours by e-mail, message, calling. If problems happens need engineer we will arrange the closest or agent in local country, or send Chinese Engineers to solve in 2 weeks.
Q: How long is the guarantee?
A: 12 months since the first day customer operates (except wear parts).
Q: Any quality checking before shipment?
A: 100% confirm, run and test machines before shipment with quality certificate.
Q: Can I operate machine if don't have experienced engineers?
A: (1) Short-time engineers to customer company (5-15days) (2) Year-time working as requirements
Q: How many electric, water, air need for the machines?
A: Technical department supply the whole layout for workshop details.