Product Description
Application of Final Products
What is MPP pipe ?
MPP pipe, also known as MPP power cable protection pipe, is divided into excavation type and trenchless type. MPP trenchless pipe is also known as MPP pipe jacking or drawpipe. The main raw material of MPP tube is modified polypropylene. It has the characteristics of high temperature resistance and external pressure resistance. It is suitable for low and medium voltage power transmission lines and cables under 10kV.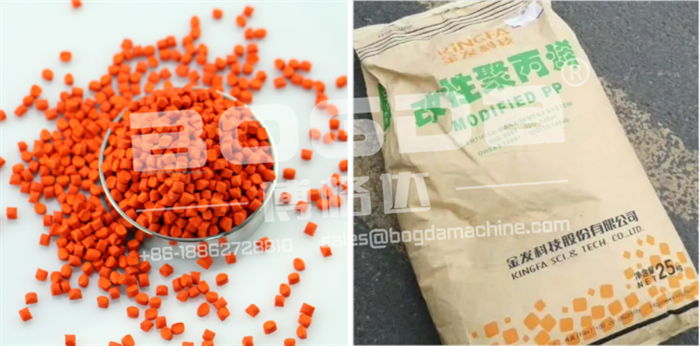 Characteristics For MPP Pipes
The common specification of the pipe is 110mm ~ 250mm in diameter, which is divided into ordinary type and reinforced type. The common type is suitable for excavation and laying construction and trenchless crossing construction with buried depth less than 4M. The enhanced type is suitable for trenchless crossing construction projects with buried depth greater than 4M.

1. MPP tube has excellent electrical insulation. 2. MPP tube has high thermal deformation temperature and low temperature impact performance. 3. MPP tube tensile resistance, compression performance is higher than HDPE. 4. MPP pipe quality is light, smooth, friction resistance is small, can be hot fusion welding butt. 5. MPP tube long-term use temperature of a 5 ~ 70℃.

Application Fields
MPP USES modified polypropylene as the main raw material, is without a lot of dredging, digging and damage to the road surface, in roads, railways, buildings, river bed and other special sections of the pipeline, cable and other construction projects. Compared with the traditional "excavated buried pipe method", trenchless power to meet the environmental requirements of the current pipe engineering, remove caused by the traditional construction of the dust float in the sky, a nuisance factors such as traffic jam, this technique can also be laying pipelines in some areas can not be implemented excavation work, such as sites protected areas, downtown, crops and farmland protection areas, highways, rivers and so on.

unicipal, telecommunication, electric power, gas, water supply, heat and other pipeline projects. 2. Urban and Rural Trenchless Horizontal Directional Drilling and Open Excavation Electric Drainage Projects. 3. Urban and rural trenchless horizontal directional drilling sewer, sewage and drainage pipe projects, industrial wastewater discharge projects.

Product Description

Plastic MPP Power Cable Protection Pipe Extrusion Machine Production Line

MPP pipe production line selection of PP, MPP pipe special efficient extruder, screw with a barrier and mixing head structure, the barrel using a new slotting machine barrel, plasticizing and mixing effect is good, the extrusion capacity is large and very stable. Special screw structure, good plasticizing quality, the inner and outer wall of the extrusion pipe is bright.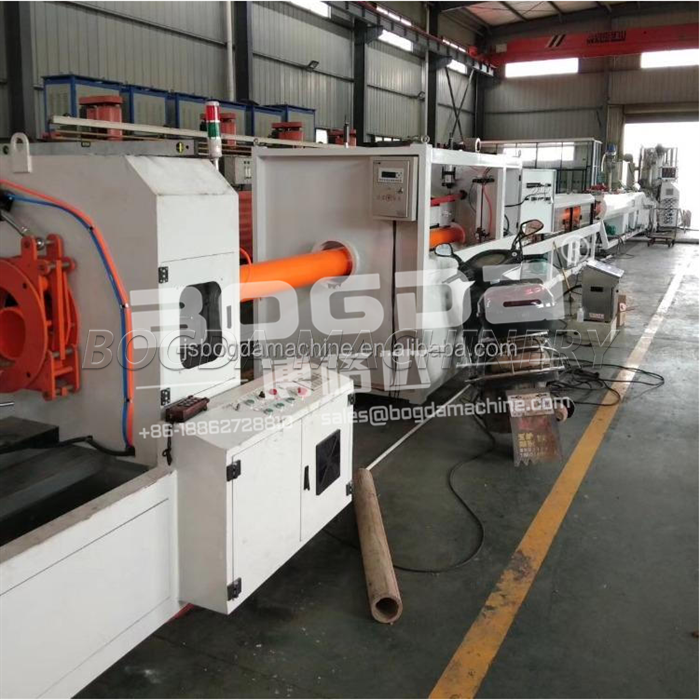 The operation and time of the whole production line are programmed controlled by PLC. It has a good man-machine interface. All process parameters can be set and displayed through the touch screen.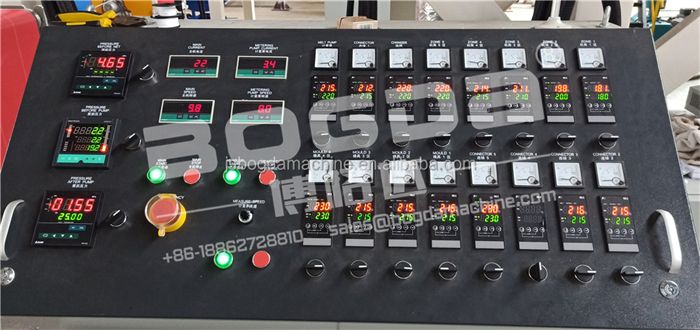 Complete MPP Pipe Production Line
1
Raw material feeding system
1 set
2
single screw extruder
1 set
3
Pipe extrusion mold
1 set
4
Calibrator
1 set
5
Spray vacuum shaping tank
1 set
6
Cooling water tank
2 set
7
Ink printer (choosable)
1 set
8
Pipe haul off machine
1 set
9
Pipe cutting machine
1 set
10
Stacker
1 set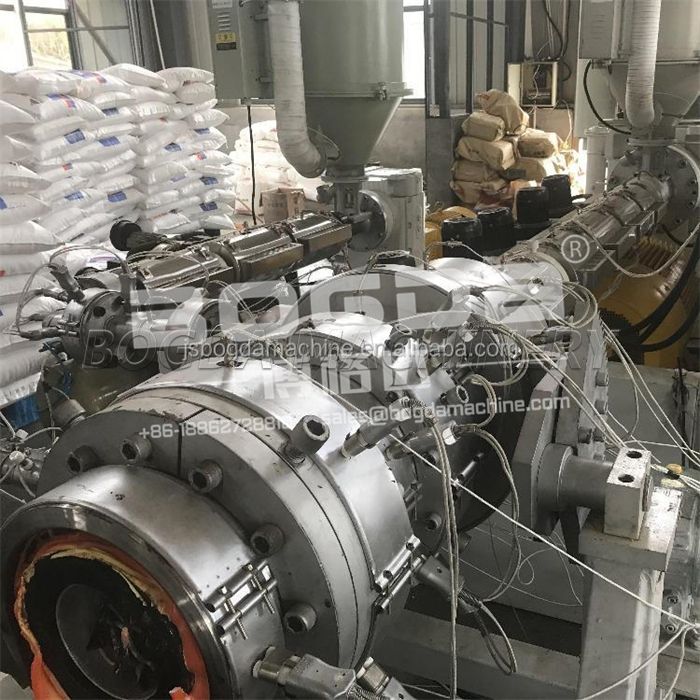 The die head has the characteristics of low temperature of solution, good mixing performance, low pressure of die cavity and stable production.
The whole machine head mould can produce pipes in the range of 50-250. Different specifications of pipes can be produced by changing different specifications of molds. The mold is made of tin bronze.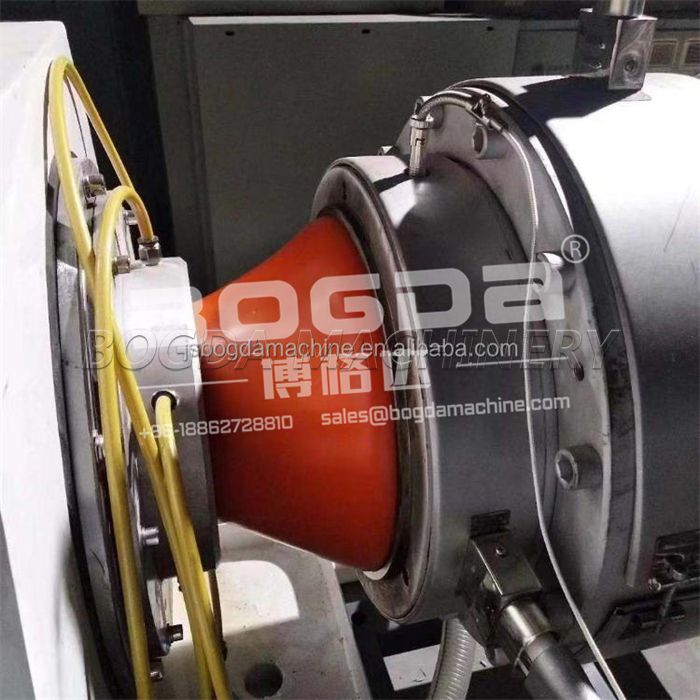 The vacuum sizing box specially designed to control the vacuum degree ensures the dimensional stability and roundness of the pipe.

True empty box is mainly used with plastic extruder, used for vacuum sizing of PVC, PP-R, PE, PP, PE-RT and other pipe materials, so that the surface finish of the pipe is good. This machine box is made of stainless steel SUS304 material, the body up and down, left and right, front and rear three-dimensional movement, spray using four to six nozzle cooling. Real empty box automatic water and drainage function. Box models can be made according to customer requirements of different requirements of specifications, fixed pipe straight mold can be made from 16-630mm.
No chip cutting machine, smooth cutting surface without burr.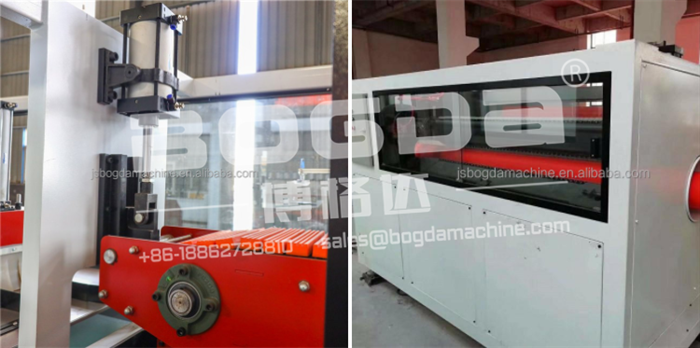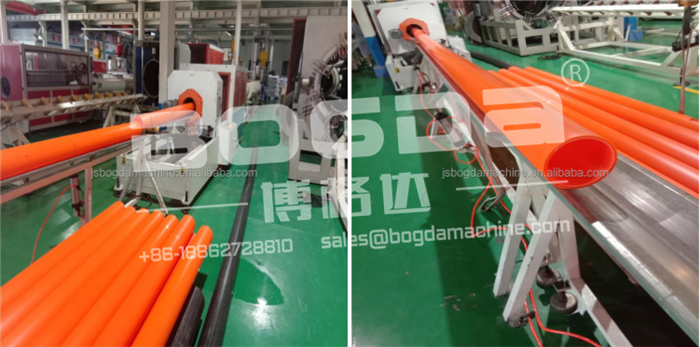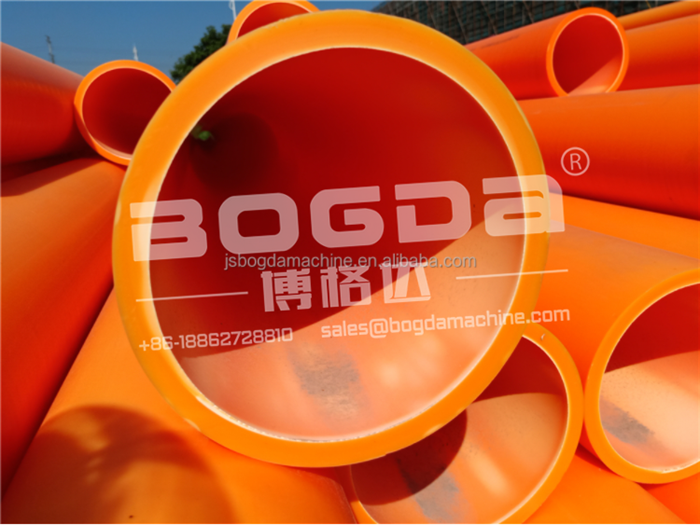 Specification

Name
Extruder model
Machine dimension (mm)
Max. total power (kw)
Total weight (kg)
Single screw extruder
SJ90/30
3780X600X3000
110
6000
Extrusion mold (inner dia.)
90
2000xφ326
50
1200
110
1500
160
1800
175
2300xφ440
1950
200
2100
250
2300
Forming machine
model 315
4300x1750x1800
30
5000
Cutting machine
Model 315
2900x1400x2060
7.5
2500
Stacker
Model 315
5220x2100x830


230
Packaging and Shipping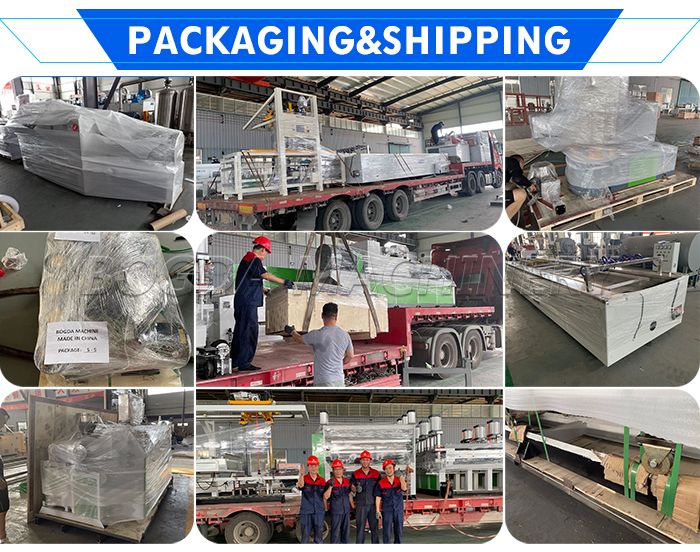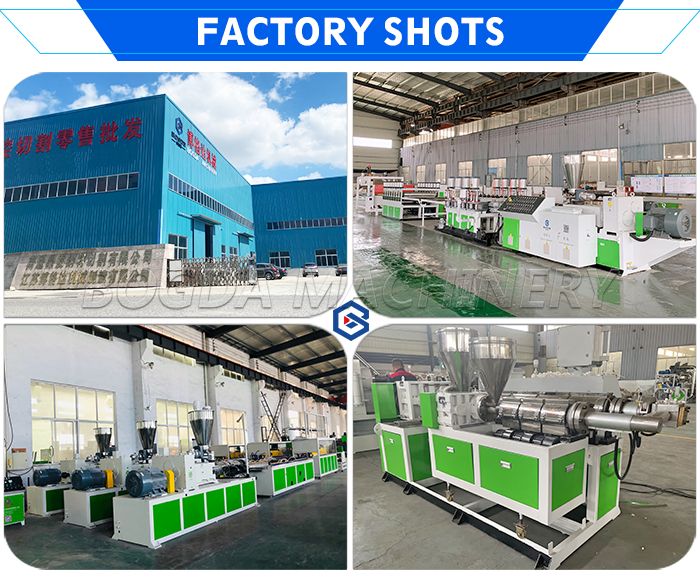 BOGDA Machinery Technology Co., Ltd is a leader of plastic machine and raw material, such as plastic profile/pipe/sheet/board extrusion equipment, waste PP/PE film/PET bottle washing recycling machine,recyclying production line, as well as plastic granulating line. Meanwhile, we are familiar with kinds of raw materials to help you choose the most suitable machine on best quality by economically.

BOGDA has different production factory and strong technical departments to study each customer's requirements until meeting final order. Serious sales and after-sale department to reply inquiry and solve problems for custom in 24 hours, which already exported machine and materials to Russia, Venezuela, Kazakhstan, Turkey, Brazil, Dubai, Philippine, Malaysia, Thailand, Vietnam, Poland, India and so on.

Fast response, good quality, best price and perfect service are our advantages and culture.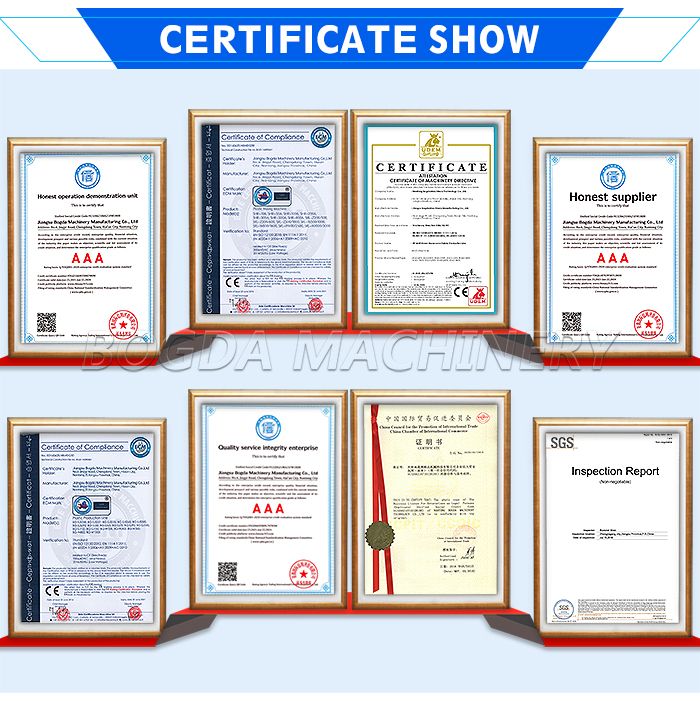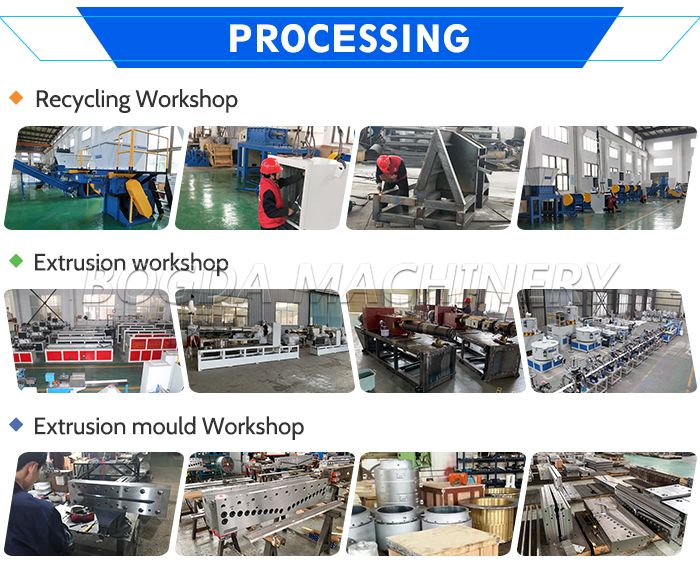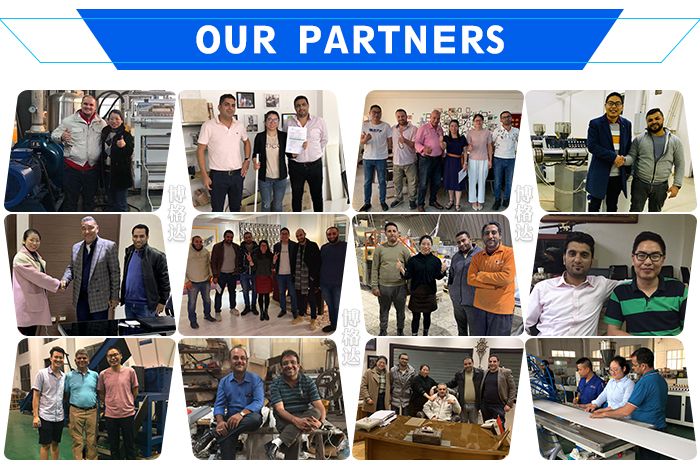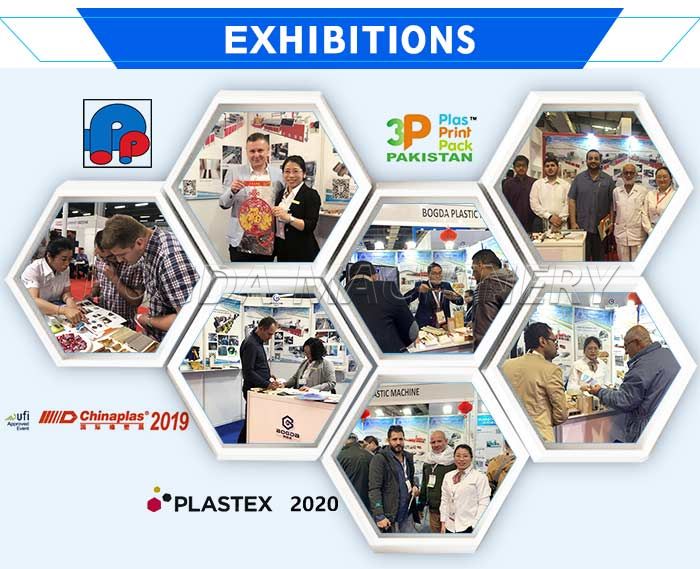 FAQ
Q: Where can we get spare part?
A: We choose International Brand that customer can find it in everywhere, such as Siemens, Schneider, Omron, Delixi etc, or send parts by DHL, Fedex, TNT and other express.
Q: How can I help you when face some technical problem?
A: 24 hours by e-mail, message, calling. If problems happens need engineer we will arrange the closest or agent in local country, or send Chinese Engineers to solve in 2 weeks.
Q: How long is the guarantee?
A: 12 months since the first day customer operates (except wear parts).
Q: Any quality checking before shipment?
A: 100% confirm, run and test machines before shipment with quality certificate.
Q: Can I operate machine if don't have experienced engineers?
A: (1) Short-time engineers to customer company (5-15days) (2) Year-time working as requirements
Q: How many electric, water, air need for the machines?
A: Technical department supply the whole layout for workshop details.