Building Material Formwork PP Plastic Concrete Formwork Construction Making Extrusion Machine
Hollow plastic building formwork is a kind of energy-saving and green environmental protection product, pp plastic combined with macromolecule nano-technology. It is a new product after wood formwork, composite steel formwork, bamboo-wood bonding formwork and all-steel large formwork. It is energy saving and environmental protection,and can complet
Product Description
Product Description
Building Material Formwork PP Plastic Concrete Formwork Construction Making Extrusion Machine
Hollow plastic building formwork is a kind of energy-saving and green environmental protection product, pp plastic combined with macromolecule nano-technology. It is a new product after wood formwork, composite steel formwork, bamboo-wood bonding formwork and all-steel large formwork. It is energy saving and environmental protection,and can completely replace the traditional steel formwork, wood formwork.

It can reuse over 60 times. USD 0.5 per time.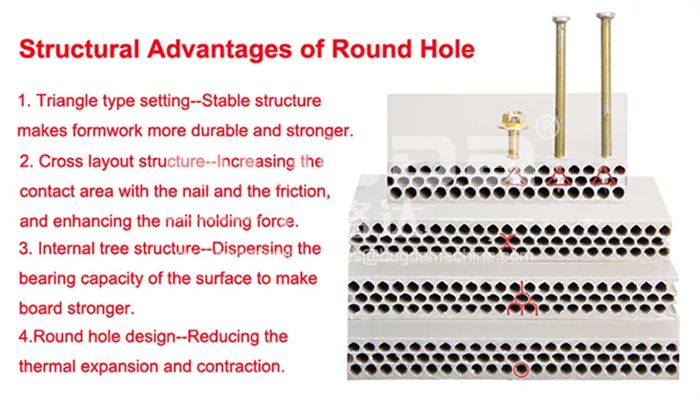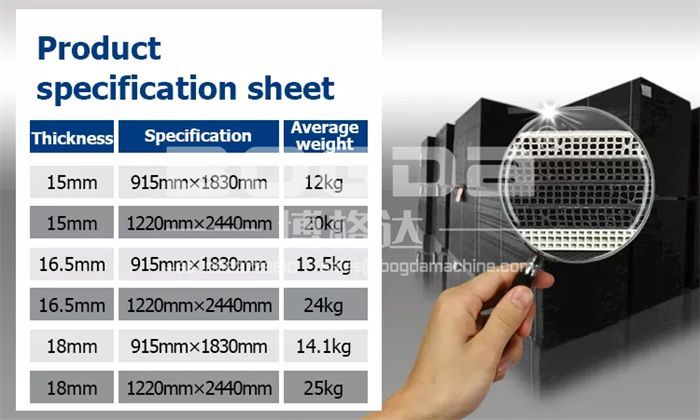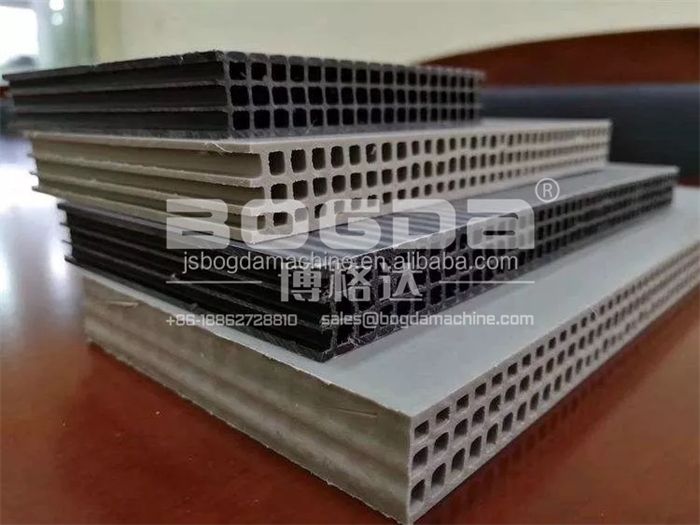 Plastic PP Hollow Formwork Board Wall Concrete Construction Advantage
1. Good water resistance.Even if it is completely immersed in water for many days, it will not be deformed by dampness.It will not rot and rust.

2. It is not friendly to cement and is sticky. It is easy to remove the mold after construction and will not be deformed due to cement adhesion. 3. High construction efficiency and good quality.The surface of the building constructed with it is smooth and smooth, without secondary modification. 4. The working procedure is saved and the construction efficiency is improved.At the same time, the surface of the template can be pretreated to get the desired metope pattern. 5. Light weight, convenient construction and high efficiency. 6. High support strength, not easy to deform. 7. Low cost. 8. Long life and repeated use.The final damaged plastic template can still be smashed again and reprocessed into a new template, saving resources and meeting the requirements of "Green industry "Requirements. 9. Good thermal insulation, which is conducive to shorten the construction period.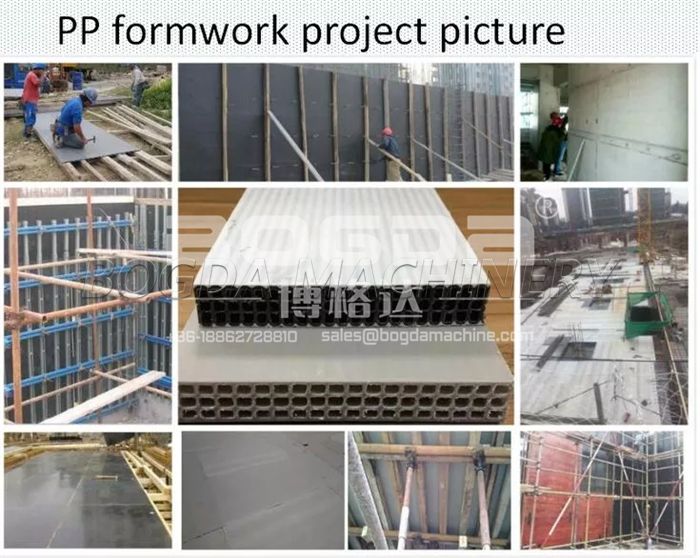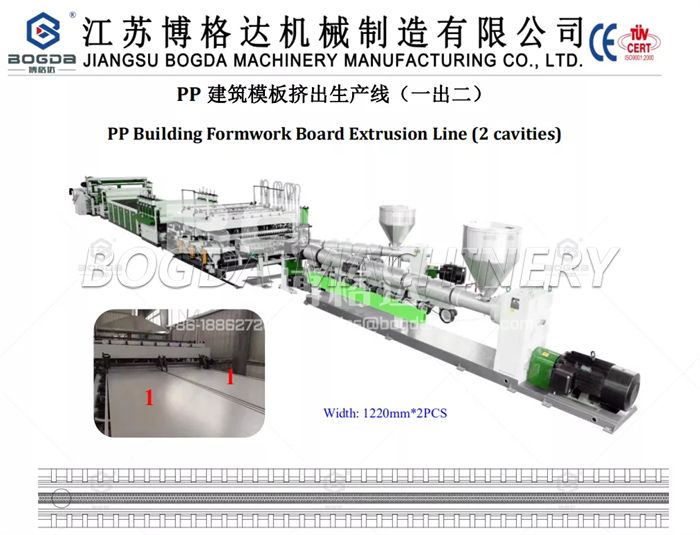 Building Material Formwork PP Plastic Concrete Formwork Construction Making Extrusion Machine
PP plastic building template production line equipment production of plastic building template, can add straw, corn cob, wheat pole, sawdust and other powder, mixed in PP raw materials through special process to produce a variety of new construction template for construction site needs. This machine consists of two single screw extruder, hydraulic net changer, mould, setting machine, primary tractor,annealing furnace, cooling box, secondary tractor, cross cutting machine and conveyor.
| | |
| --- | --- |
| 1 | SJSZ-120/36 Single screw extruder |
| 2 | SJSZ80/33 Single screw extruder |
| 3 | Hydraulic screen changer |
| 4 | Distributor |
| 5 | Mold (customized by client requirement) |
| 6 | Vacuum calibration table |
| 7 | First haul-off device |
| 8 | Cooling bracket |
| 9 | Second haul-off device |
| 10 | Cutter |
| 11 | Stacker |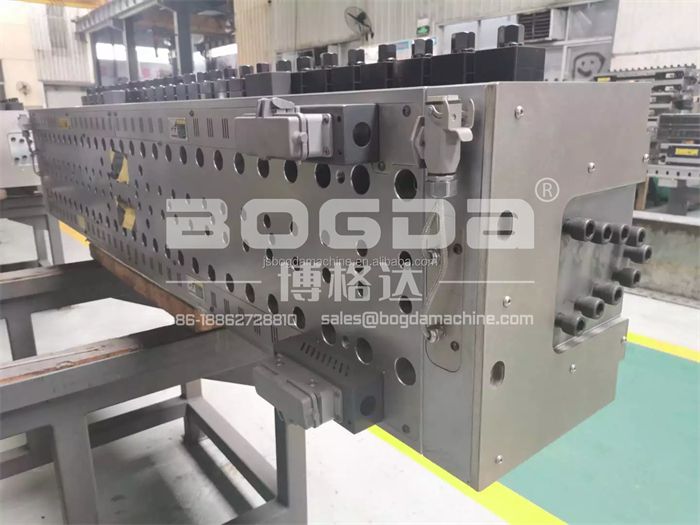 Mould for Building Material Formwork PP Plastic Concrete Formwork Construction Making Extrusion Machine
1- Width: 1220mm
2- Thickness:15-18mm
3- 13 zones
4- Alloy Steel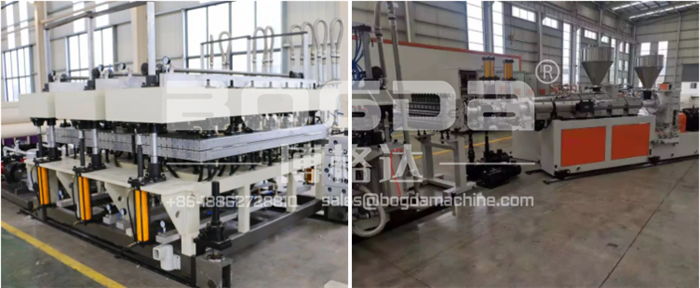 | | | | |
| --- | --- | --- | --- |
| Thickness | Size | Weight | Area |
| 15mm | 915mm*1830mm | 13.5kgs+_0.5kgs | 1.67m2 |
| 15mm | 1220mm*2440mm | 24.5+_0.5kgs | 2.98m2 |
| 17mm | 915mm*1830mm | 14.5+_0.5kgs | 1.67m2 |
| 17mm | 1220mm*2440mm | 25.5+_0.5kgs | 2.98m2 |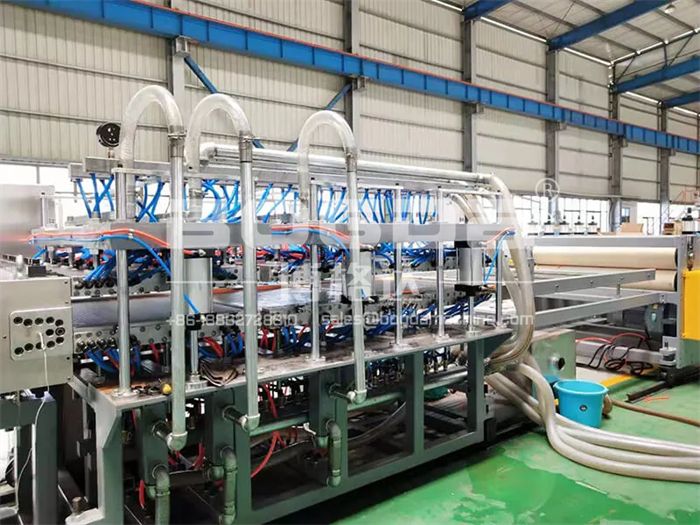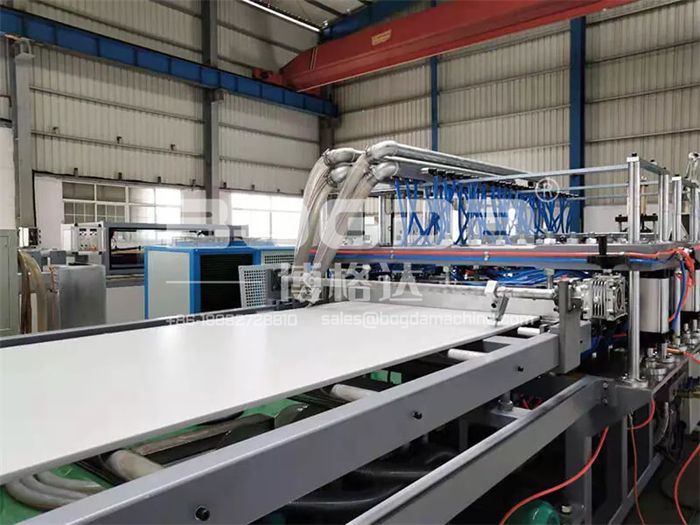 Packaging and Shipping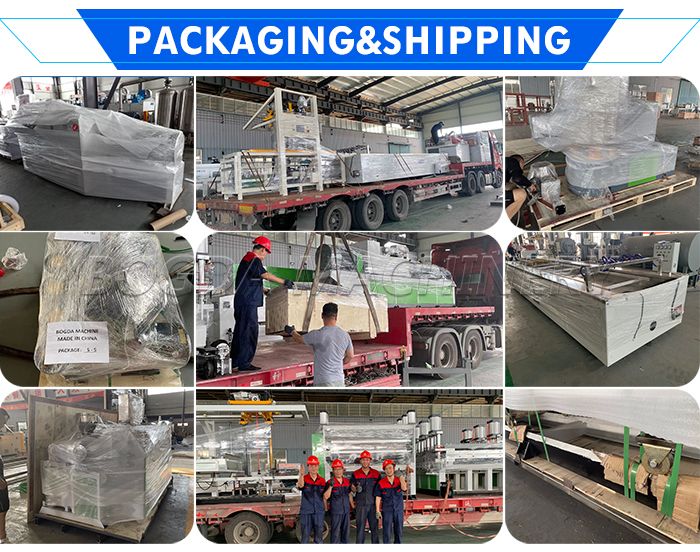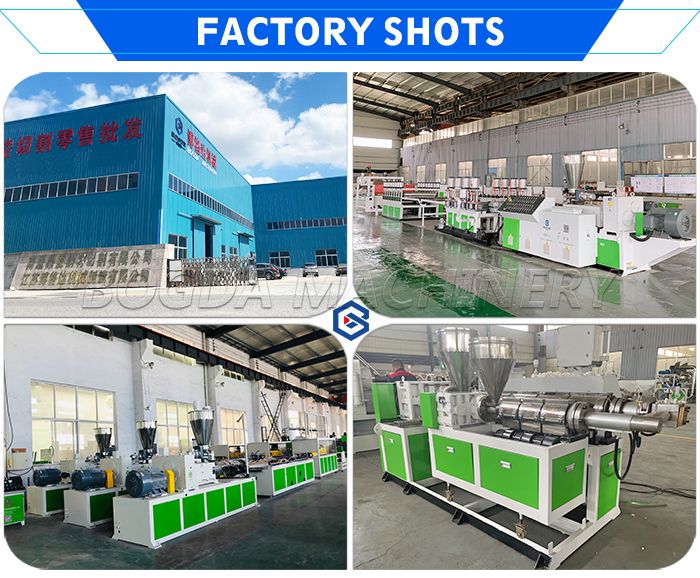 BOGDA Machinery Technology Co., Ltd is a leader of plastic machine and raw material, such as plastic profile/pipe/sheet/board extrusion equipment, waste PP/PE film/PET bottle washing recycling machine,recyclying production line, as well as plastic granulating line. Meanwhile, we are familiar with kinds of raw materials to help you choose the most suitable machine on best quality by economically.

BOGDA has different production factory and strong technical departments to study each customer's requirements until meeting final order. Serious sales and after-sale department to reply inquiry and solve problems for custom in 24 hours, which already exported machine and materials to Russia, Venezuela, Kazakhstan, Turkey, Brazil, Dubai, Philippine, Malaysia, Thailand, Vietnam, Poland, India and so on.

Fast response, good quality, best price and perfect service are our advantages and culture.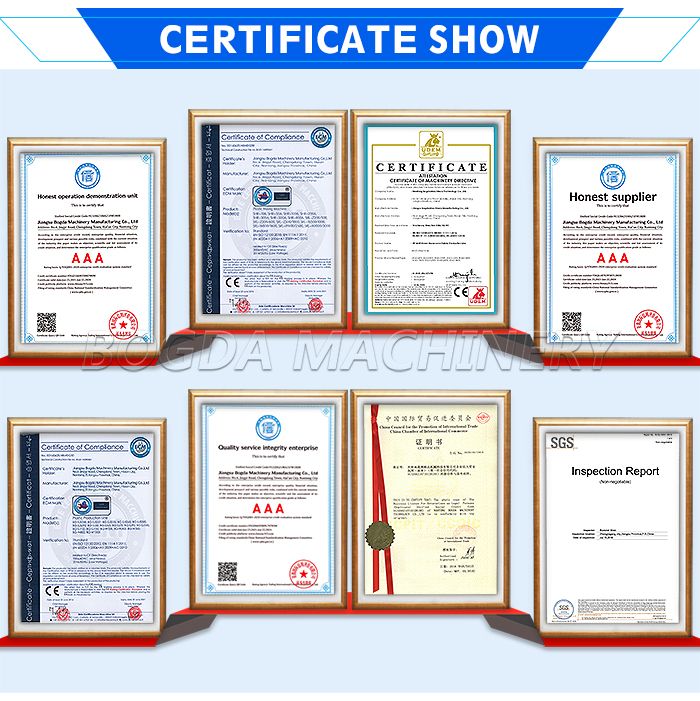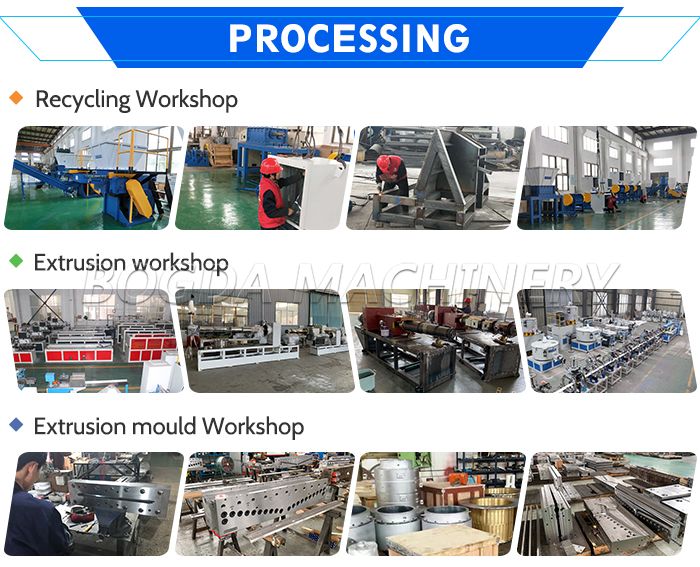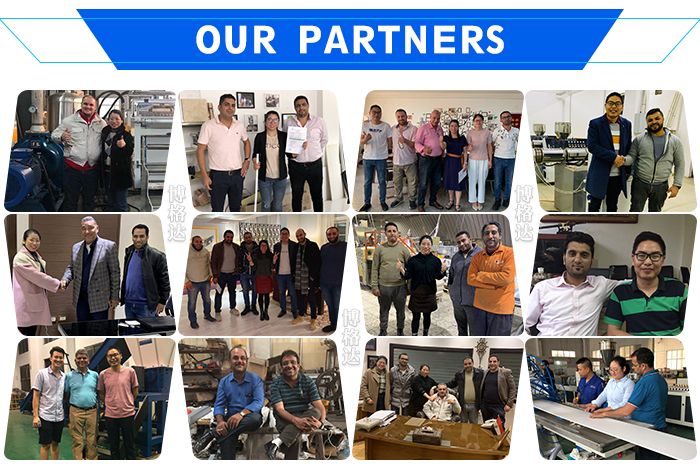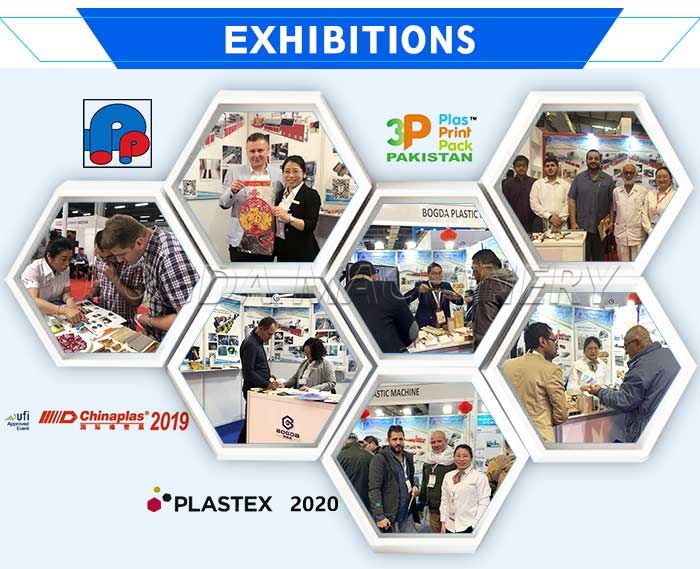 Customer Review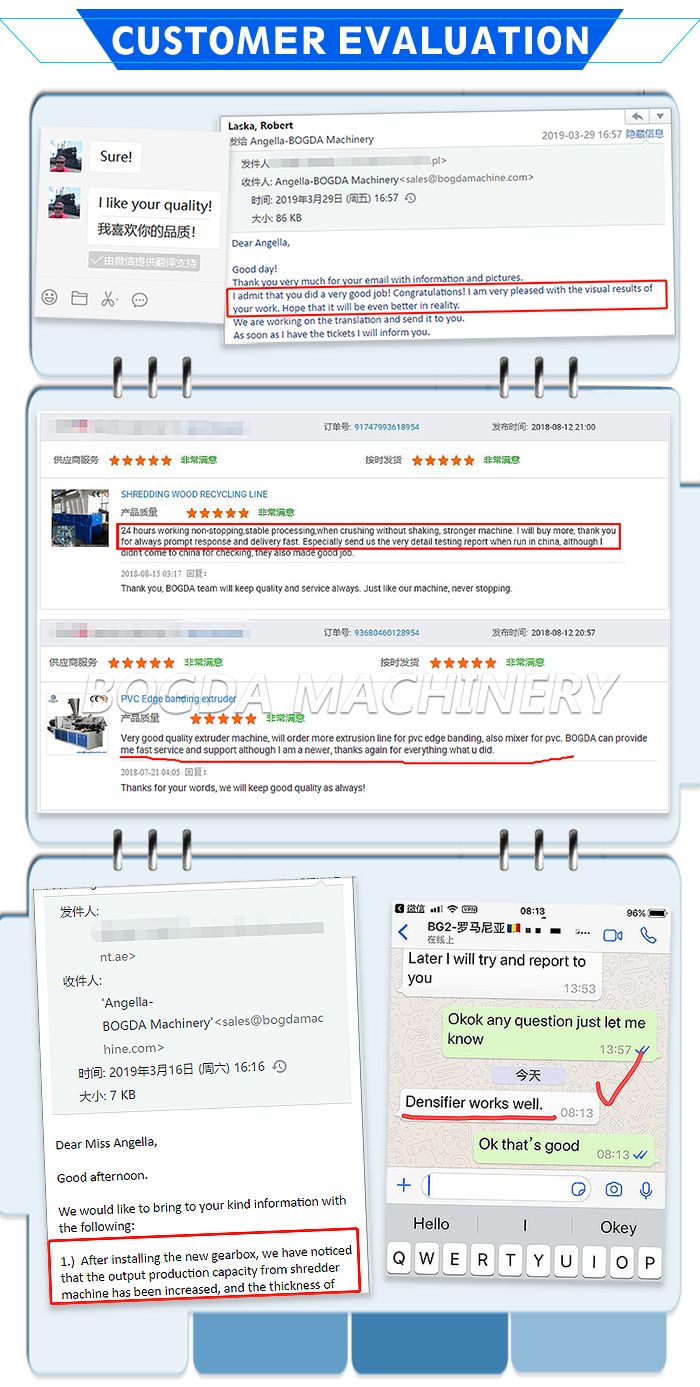 FAQ
Q: Where can we get spare part?
A: We choose International Brand that customer can find it in everywhere, such as Siemens, Schneider, Omron, Delixi etc, or send parts by DHL, Fedex, TNT and other express.
Q: How can I help you when face some technical problem?
A: 24 hours by e-mail, message, calling. If problems happens need engineer we will arrange the closest or agent in local country, or send Chinese Engineers to solve in 2 weeks.
Q: Any quality checking before shipment?
A: 100% confirm, run and test machines before shipment with quality certificate.
Q: Can I operate machine if don't have experienced engineers?
A: (1) Short-time engineers to customer company (5-15days) (2) Year-time working as requirements
Q: How many electric, water, air need for the machines?
A: Technical department supply the whole layout for workshop details.