Product Description
Production Application

Co-rotating Parallel Twin-screw Extruder PP PE TPU TPE TPO
POE EVA PET Plastic Recycling Pelletizing Extrusion Machine
Parallel twin screw extruder is widely used in rubber and plastic and engineering resin filling, blending, modification, enhancement, chlorinated polypropylene and superabsorbent resin debranching treatment; Degradable masterbatch, polyamide polycondensation, polyurethane polycondensation reaction extrusion; Granulation of toner, magnetic powder, cable insulation material, sheath material, low smoke and low halogen flame retardant PVC cable material and the preparation of various silane cross-linking materials, etc.

Small models are mainly used for scientific research and teaching.

Product Description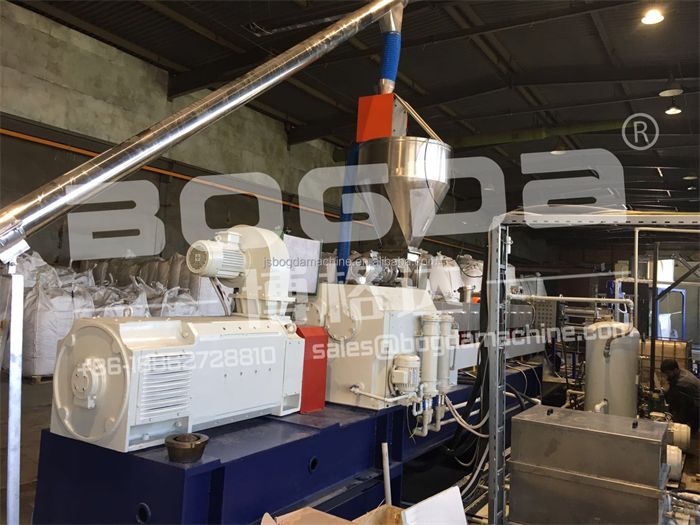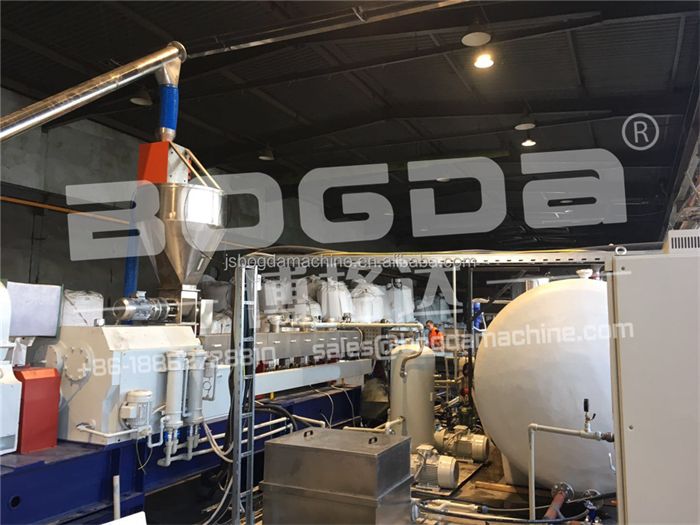 Heating system: Cast aluminum, cast copper, ceramic resistance heating device, heating uniform, fast temperature, high precision temperature control.
Temperature control system: Adopt double channel temperature control meter, sensitive response, convenient temperature setting and adjustment, high temperature control precision.
Cooling system: Adopt water cooling, oil cooling, wind cooling two forms, cooling fast, uniform, good effect.
Vacuum system: Built-in vacuum system, vacuum degree up to -- 0.09Mpa., so as to ensure the material fully plasticized, improve product quality.

Parallel Twin Screw and barrel
1. The screw and cylinder adopts "building block" structure, which has good interchangeability, and can be used in combination according to the different processing technology of materials; 2. The cylinder is made of nitride steel and bimetallic materials, which are wear-resistant and corrosion-resistant to prolong the service life; 3. The thread components are made of nitride steel and high-speed steel, and the curve is designed with computer aided design. With the unique processing technology, the normal tooth surface clearance of the thread working section is guaranteed, and the self-cleaning is good. The specially designed connection mode and transmission device enhance the strength of threaded components and core shaft. The above measures realize the purpose of uniform material dispersion, good mixing and plasticizing effect, short material retention time and high conveying efficiency.

Deceleration system
Special reducer for plastic machinery is used. [1] Transmission parts are made of high quality and ultra-high alloy carburizing steel, combined with carburizing, quenching and tooth grinding process. Key parts are added with surface strengthening treatment, tooth surface strength HRC54 -- 62, core hardness HRC30 -- 40, gear level 6, the system has high speed, high torque, low noise and other characteristics.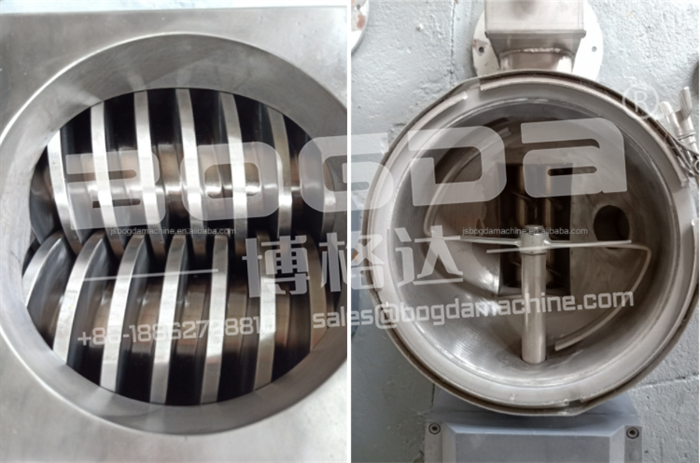 Feeding system
Adopt double screw stirrer quantitative feeding system, feeding uniform, accurate, no material phenomenon.

Electronic control system
Imported electrical components, the control panel for the man-machine interface, equipment parts "module" type control (can also be configured according to user requirements), multi-function module structure is clear, with a safety interlock device (such as loss of pressure lubrication protection, head pressure protection, over-current protection, etc.), reflect the equipment running status, control accuracy, high sensitivity, easy to operate.
Product Paramenters

| | | | | | | |
| --- | --- | --- | --- | --- | --- | --- |
| Extruder model | SJSH35 | SJSH50 | SJSH65 | SJSH75A | SJSH75B | SJSH95 |
| Screw diameter (mm) | 35.6 | 50.5 | 62.4 | 71.2 | 75 | 91 |
| Screw speed (r/min) | 600 | 500/600 | 400/500 | 400/500 | 300/500 | 400 |
| Main motor power (kw) | 11/15 | 36/45 | 55/75 | 75/110 | 110/140 | 220/250 |
| L/D | 32-48 | 32-48 | 32-48 | 32-48 | 32-48 | 32-40 |
| Capacity (kg/h) | 40-100 | 50-200 | 150-375 | 200-500 | 200-600 | 800-1000 |
Packaging and Shipping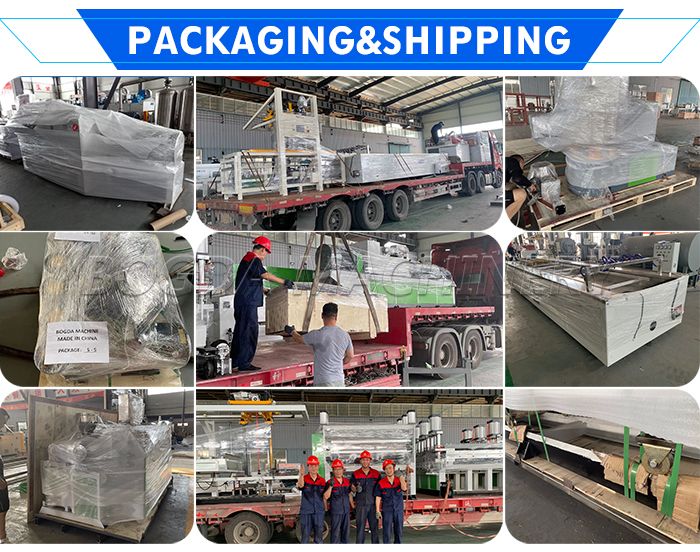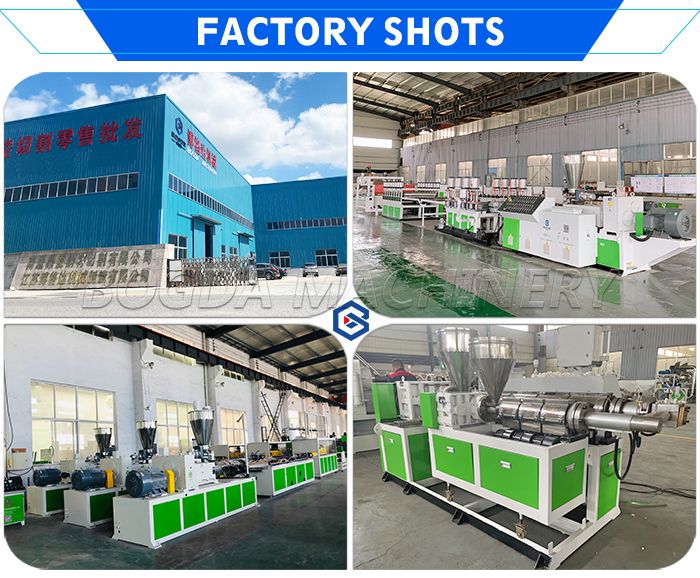 BOGDA Machinery Technology Co., Ltd is a leader of plastic machine and raw material, such as plastic profile/pipe/sheet/board extrusion equipment, waste PP/PE film/PET bottle washing recycling machine,recyclying production line, as well as plastic granulating line. Meanwhile, we are familiar with kinds of raw materials to help you choose the most suitable machine on best quality by economically.

BOGDA has different production factory and strong technical departments to study each customer's requirements until meeting final order. Serious sales and after-sale department to reply inquiry and solve problems for custom in 24 hours, which already exported machine and materials to Russia, Venezuela, Kazakhstan, Turkey, Brazil, Dubai, Philippine, Malaysia, Thailand, Vietnam, Poland, India and so on.

Fast response, good quality, best price and perfect service are our advantages and culture.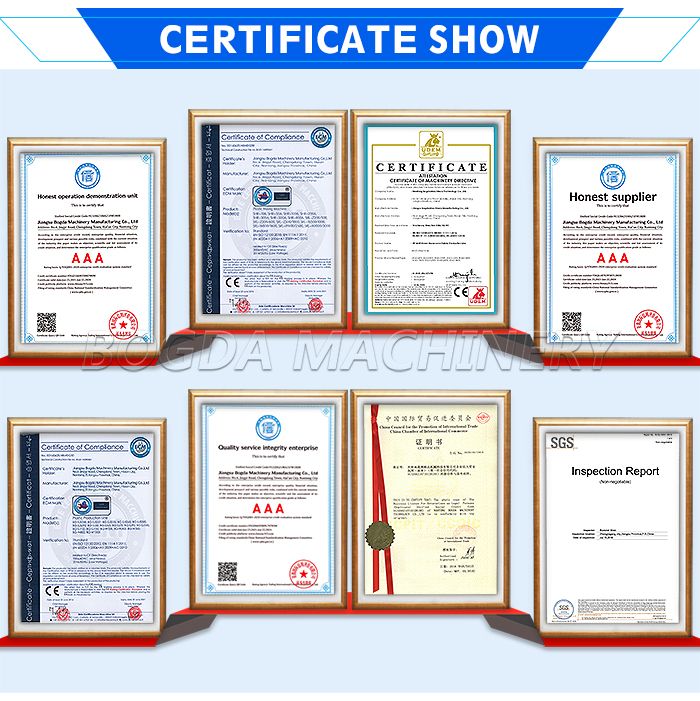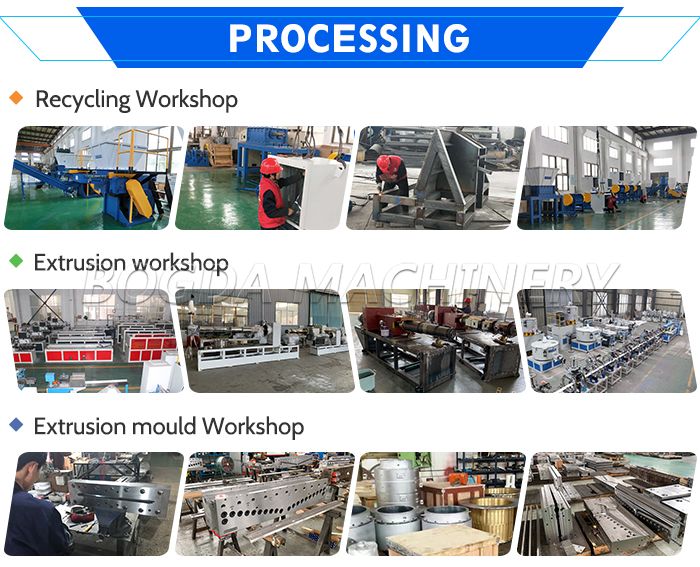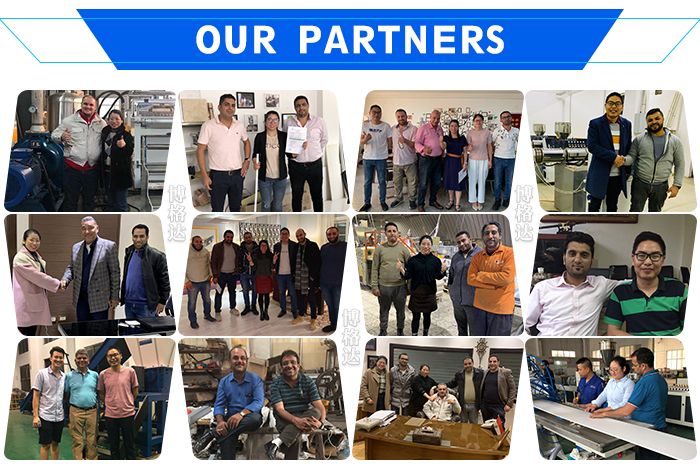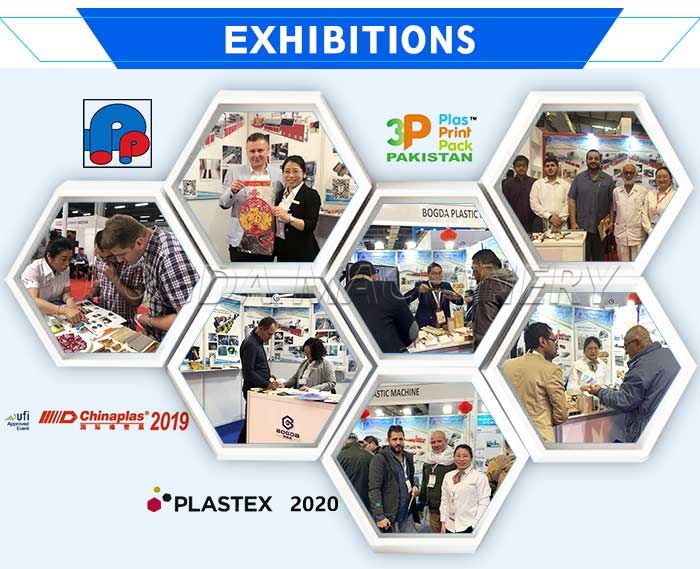 FAQ
Q: Where can we get spare part?
A: We choose International Brand that customer can find it in everywhere, such as Siemens, Schneider, Omron, Delixi etc, or send parts by DHL, Fedex, TNT and other express.
Q: How can I help you when face some technical problem?
A: 24 hours by e-mail, message, calling. If problems happens need engineer we will arrange the closest or agent in local country, or send Chinese Engineers to solve in 2 weeks.
Q: How long is the guarantee?
A: 12 months since the first day customer operates (except wear parts).
Q: Any quality checking before shipment?
A: 100% confirm, run and test machines before shipment with quality certificate.
Q: Can I operate machine if don't have experienced engineers?
A: (1) Short-time engineers to customer company (5-15days) (2) Year-time working as requirements
Q: How many electric, water, air need for the machines?
A: Technical department supply the whole layout for workshop details.