Product Description
Application of Final Products
What is ppr pipe ?
PP-R (Polypropylene Random) pipe, also known as three type polypropylene pipe and random copolymer polypropylene pipe or PPR pipe, has the advantages of energy saving, material saving, environmental protection, light weight, high strength, corrosion resistance, smooth inner wall and no scaling, easy construction and maintenance, long service life, etc. Widely used in building water supply and drainage, urban and rural water supply and drainage, urban gas, electric power and optical cable sheath, industrial fluid transportation, agricultural irrigation and other construction, municipal, industrial and agricultural fields. The PP-R pipe is made of random copolymer polypropylene by extrusion and injection into pipe fittings.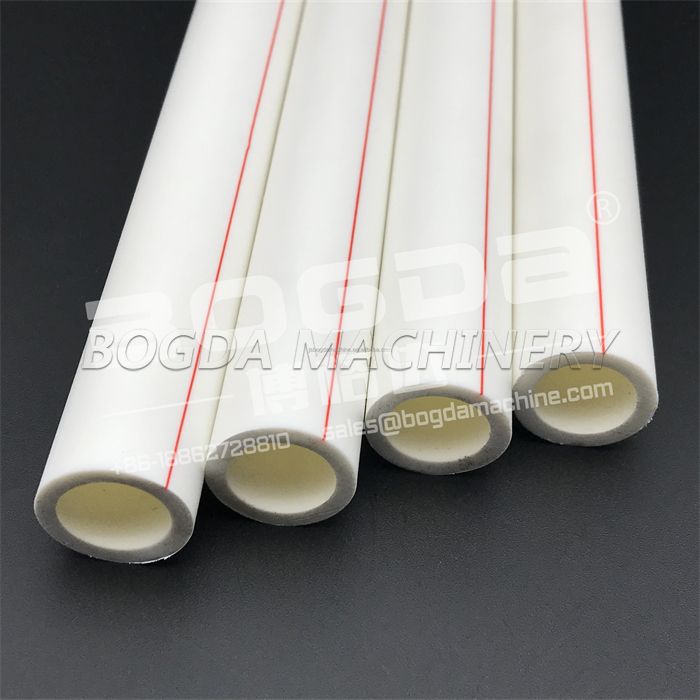 Characteristics For PPR Pipes
1. Non-toxic and health. The raw material molecules of PP-R only have carbon and hydrogen elements, and there are no harmful and toxic elements. It is sanitary and reliable, not only for cold and hot water pipelines, but also for pure drinking water systems.
2. Heat preservation and energy saving. The thermal conductivity of PP-R pipe is 0.21W/MK, which is only 1/200 of steel pipe.
3. Good heat resistance. The Vica softening point of PP-R tube was 131.5℃. The highest working temperature can reach 95℃, which can meet the requirements of the hot water system in the building water supply and drainage code.
4. Long service life. PP-R tube in the working temperature of 70℃, working pressure (P.N)1.0MPa conditions, the service life can reach more than 50 years (the premise is that the pipe must be S3.2 and S2.5 series above); The service life can reach more than 100 years at normal temperature (20℃).
5. Convenient installation, reliable connection. PP-R has good welding performance, pipes, pipe fittings can be connected by hot melt and electric fusion, easy installation, reliable joints, the strength of the connecting parts is greater than the strength of the pipe itself.
6. The material can be recycled. After cleaning and crushing, PP-R waste is recycled and utilized in the production of pipe and pipe fittings. The amount of recycled material should not exceed 10% of the total quantity, which does not affect the quality of products.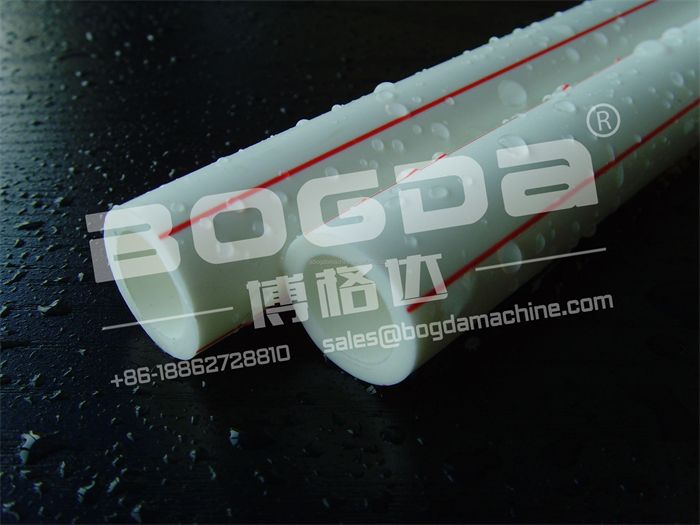 Application Fields
1. Cold and hot water system of buildings, including central heating system;
2. Heating system in the building, including floor, panel and radiant heating system;
3, can be directly drinkable pure water supply system;
4. Central (centralized) air conditioning system;
5, conveying or discharging chemical medium and other industrial pipeline system.
6, used for cylinder transmission of gas path and other pipeline system.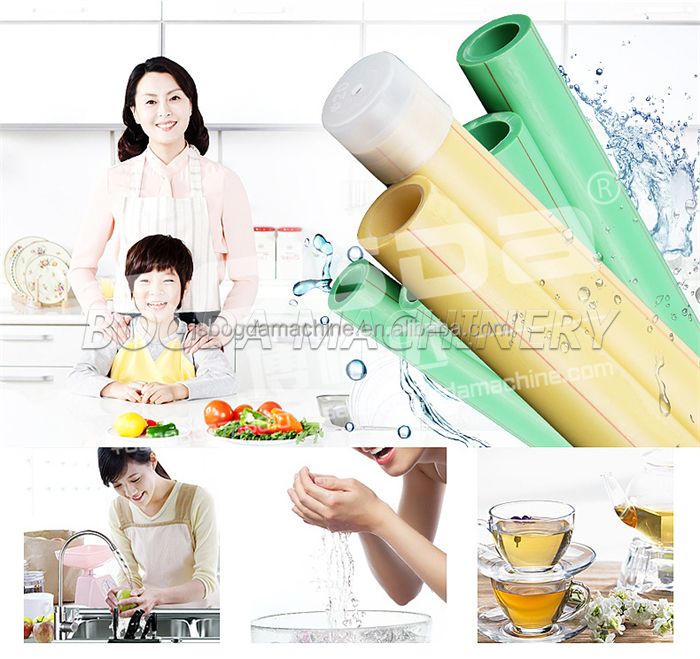 Product Description
One Cavity HDPE PP PPR Pipe Pipe Extrusion Production Machine Making Machinery Manufacturer
The host screw adopts cast aluminum heater for heating and wind cooling. The temperature is controlled by precision electronic control instrument. The drive motor is frequency conversion for speed regulation. Hard tooth surface reducer can run continuously for a long time without trouble. Integrative design of whole unit, synchronous operation of main and auxiliary machines, with high efficiency, high performance, high stability and other characteristics.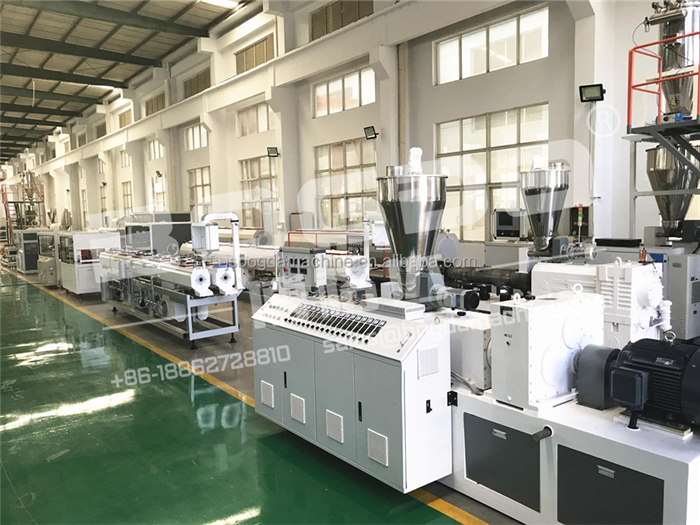 Complete PPR Pipe Production Line
1
Automatic Feeder and Drier
1 set
2
SJ65/33 Single Screw Extruder
1 set
3
SJ25/25 Color Strip Co-Extruder
1 set
4
Pipe Mould(including heater and calibrator)
1 set
5
Vacuum Tank
1 set
6
Cooling tank
2 set
7
Haul-off machine unit
1 set
8
Non-dust cutting machine
1 set
9
Stacker machine
1 set
10
Electric control system
1 set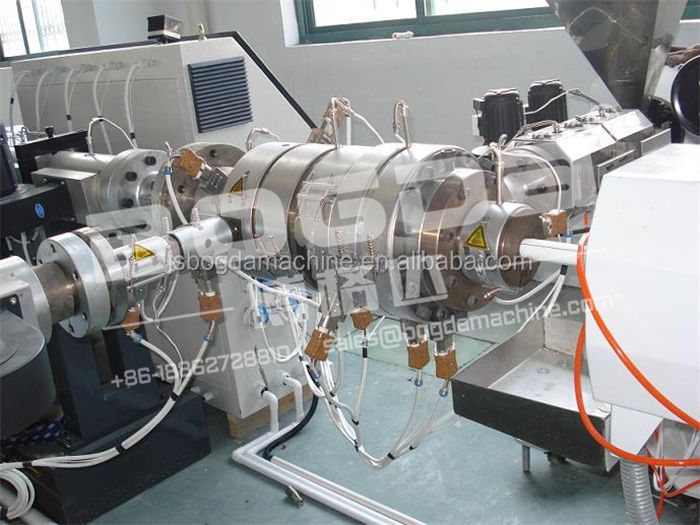 PPR tube production line designed by BOGDA specifically for PPR material characteristics, using efficient single screw extruder, equipped with Siemens PLC control system, can achieve automatic control of the entire production line from the extruder to the auxiliary machine, high output, stable extrusion.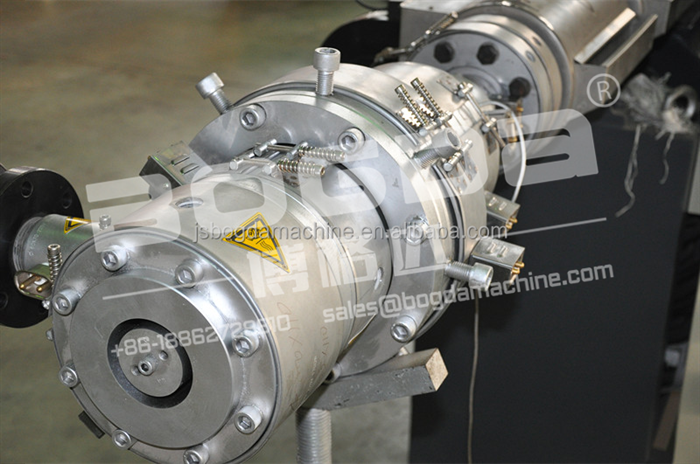 Using high performance alloy steel 38CrMoAla professional processing, so that the machine has the advantages of uniform plasticizing, stable extrusion, high output, long life and so on.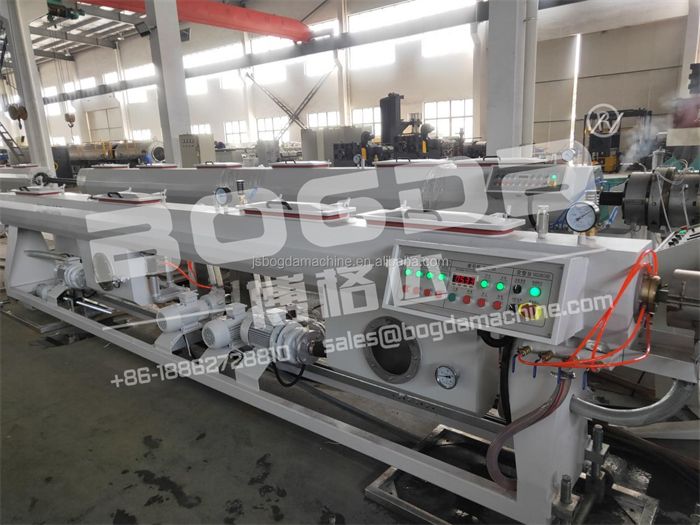 True empty box is mainly used with plastic extruder, used for vacuum sizing of PVC, PP-R, PE, PP, PE-RT and other pipe materials, so that the surface finish of the pipe is good. This machine box is made of stainless steel SUS304 material, the body up and down, left and right, front and rear three-dimensional movement, spray using four to six nozzle cooling. Real empty box automatic water and drainage function. Box models can be made according to customer requirements of different requirements of specifications, fixed pipe straight mold can be made from 16-630mm.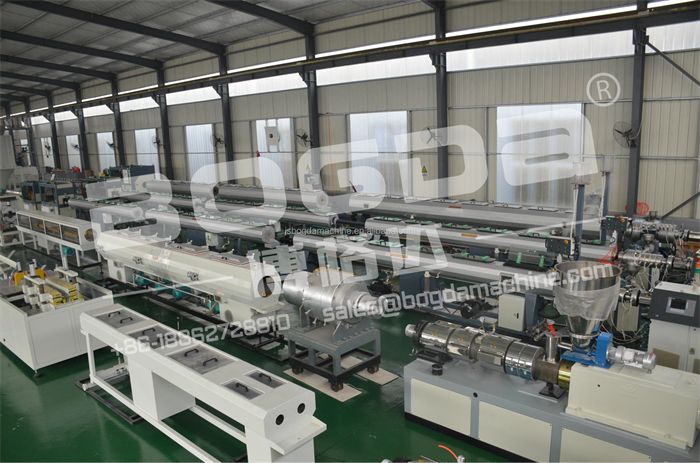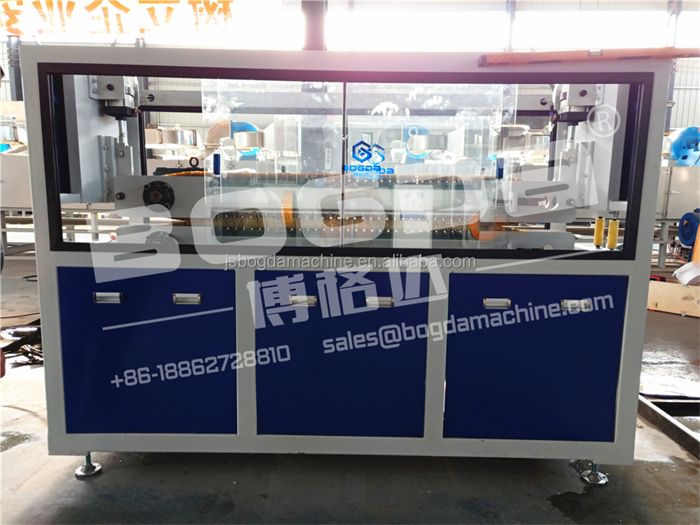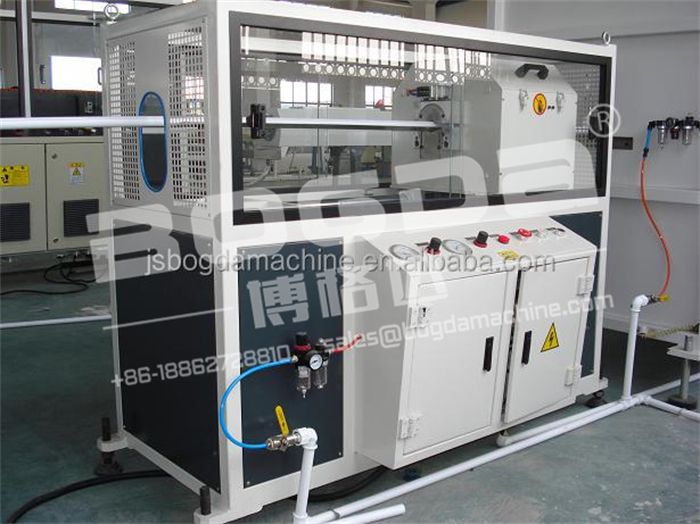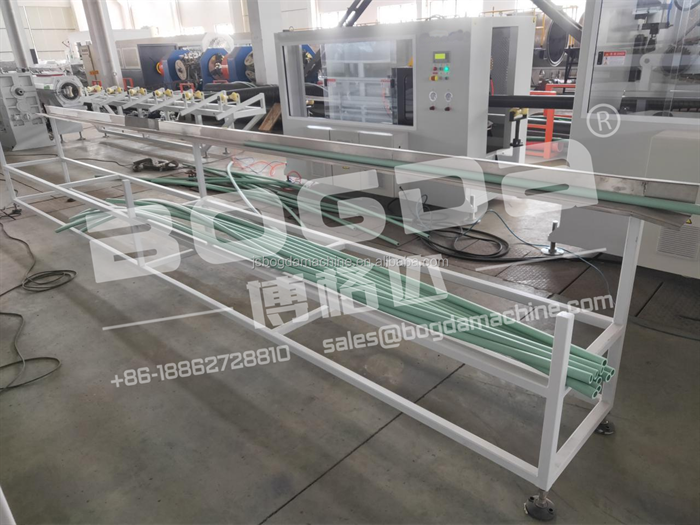 Specification
Main Parameters For PPR Pipe Production Line
Model
Pipe Diameter (mm)
Extruder model
Max. capacity (kg/h)
Total power (kw)
PPR-63 (single)
φ20-63
SJ65/33, SJ25/25
150-180
110
FAQ
Q: Where can we get spare part?
A: We choose International Brand that customer can find it in everywhere, such as Siemens, Schneider, Omron, Delixi etc, or send parts by DHL, Fedex, TNT and other express.
Q: How can I help you when face some technical problem?
A: 24 hours by e-mail, message, calling. If problems happens need engineer we will arrange the closest or agent in local country, or send Chinese Engineers to solve in 2 weeks.
Q: How long is the guarantee?
A: 12 months since the first day customer operates (except wear parts).
Q: Any quality checking before shipment?
A: 100% confirm, run and test machines before shipment with quality certificate.
Q: Can I operate machine if don't have experienced engineers?
A: (1) Short-time engineers to customer company (5-15days) (2) Year-time working as requirements
Q: How many electric, water, air need for the machines?
A: Technical department supply the whole layout for workshop details.