BOGDA PVC Cable Trunking Machine Production
A mixing section is added on the screw structure of the extruder to facilitate the full and uniform mixing of materials. The increase of thread pitch in the exhaust section facilitates the discharge of gas through the exhaust port located in the front of the barrel. The thread of metering section is optimized to achieve constant pressure extrusion
Product Description
Production Application
Wire troughs are generally called line troughs, wire troughs, square troughs, open troughs, crimping troughs, wire troughs, bus ducts, decorative troughs, electrical wiring troughs, etc. It is mainly used for internal wires of electrical equipment (such as power distribution cabinets and internal wires of distribution boxes). In electrical equipment of 1200V and below, the wires are laid for mechanical protection and electrical protection. After using this product, the wiring is convenient, the wiring is neat and beautiful, the installation is reliable, and it is easy to find, repair and exchange lines.

Machine Specification
BOGDA PVC Cable Trunking Machine Production With Plastic Trunking Punching
1. A mixing section is added on the screw structure of the extruder to facilitate the full and uniform mixing of materials. The increase of thread pitch in the exhaust section facilitates the discharge of gas through the exhaust port located in the front of the barrel. The thread of metering section is optimized to achieve constant pressure extrusion without shear overheating, and to achieve stable extrusion of materials. 2. The feeding system of our equipment is equipped with stainless steel screw automatic feeder and screw type quantitative feeding device. In order to prevent the material from "bridging" phenomenon, a stirring device is added. The quantitative feeding device adopts frequency conversion speed regulation, which can continuously and evenly extrude the material. 3. The temperature control system is mainly composed of barrel heater, fan and screw core temperature regulating device. Automatic temperature control can be realized through the electrical control system.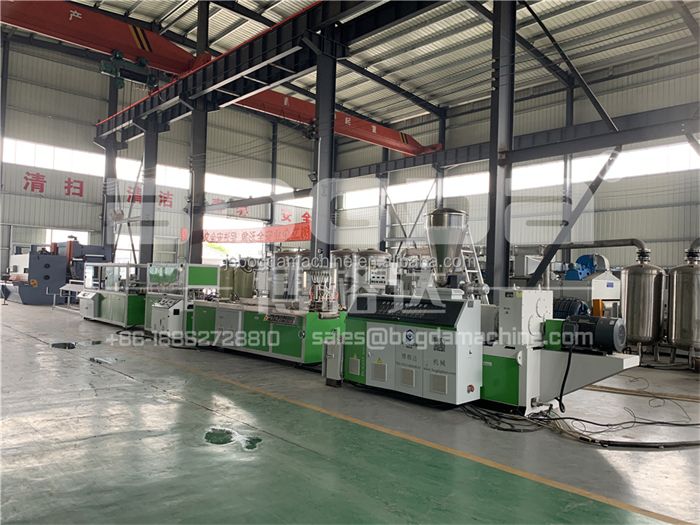 Complete Double Cavities PVC Cable Trunking Machine Production With Plastic Trunking Punching
1. SJSZ55/120 conical twin screw pvc trunking extruder machine with automatic screw loader
2. PVC trunking extrusion mould, less than 40mm (two cavities)
3. Stainless steel vacuum table (two cavities)
4. Haul-off machine (two cavities)
5. Automatic cutting machine for pvc cable trunking (two cavities)
6. Stacker for pvc trunking
7. PVC trunking punching machine (two cavities)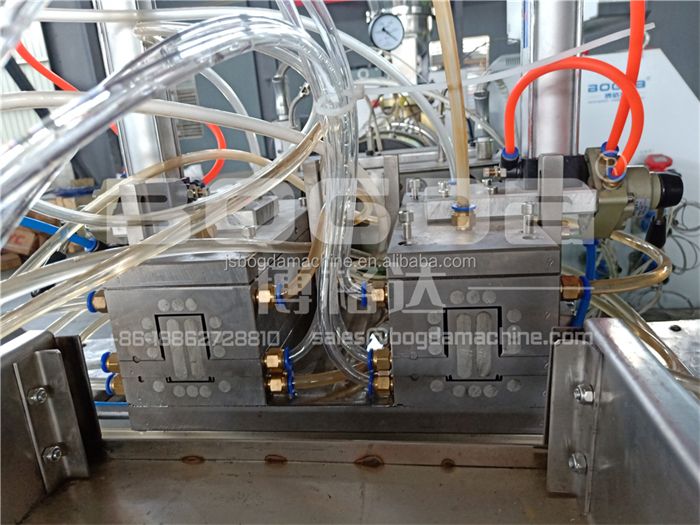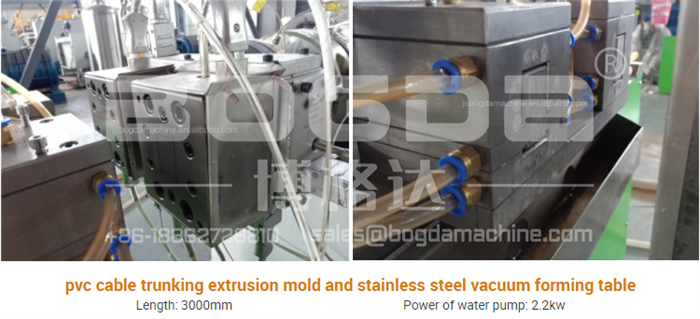 Online plastic cable trunking punching machine
Punch by bottom, according to customer's demand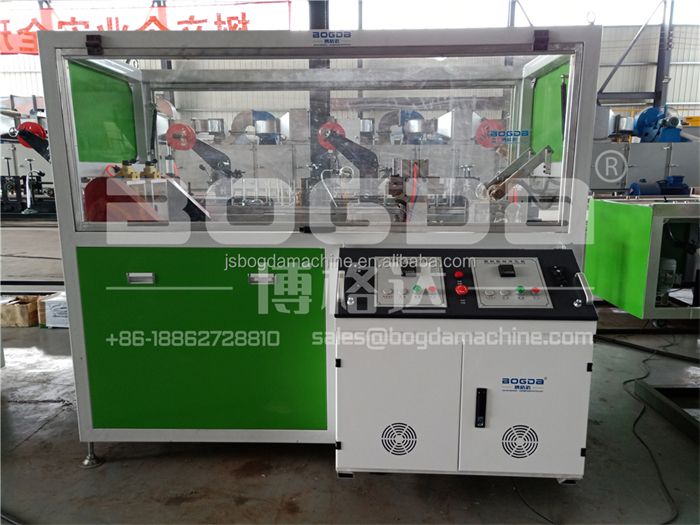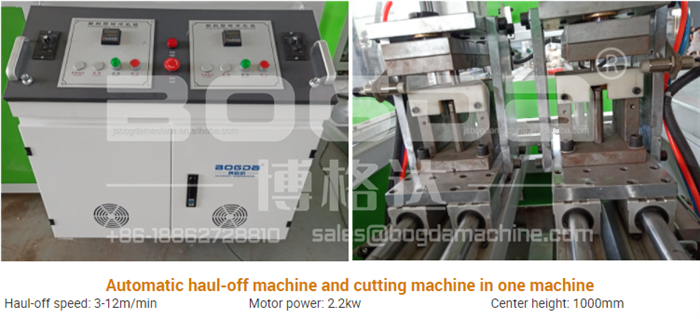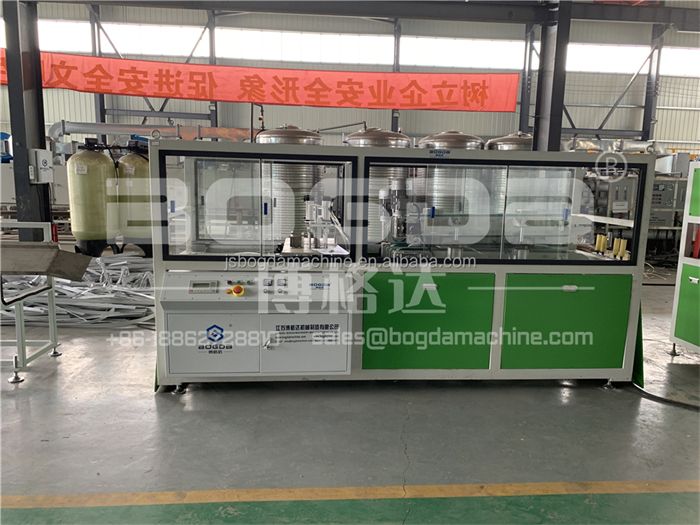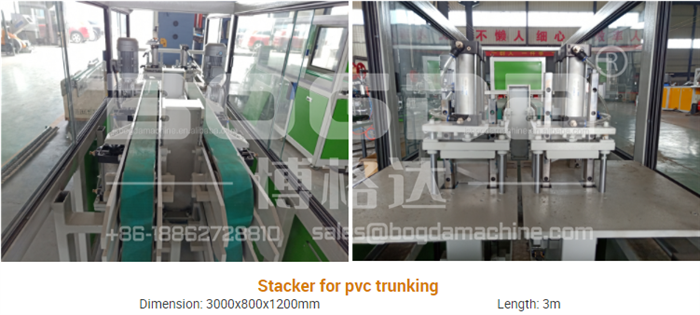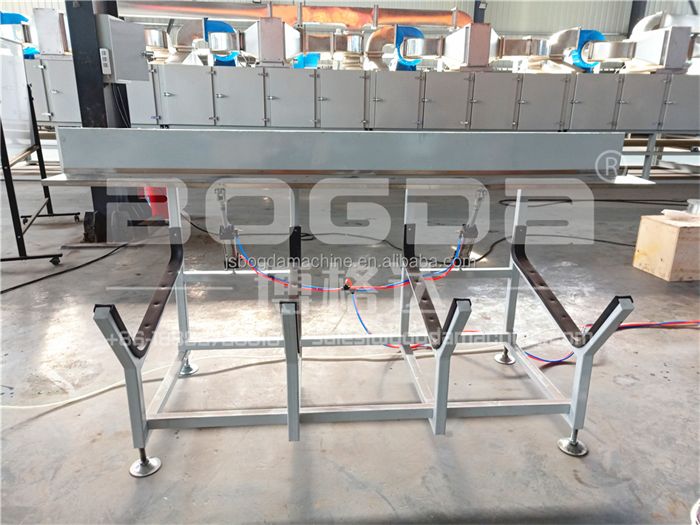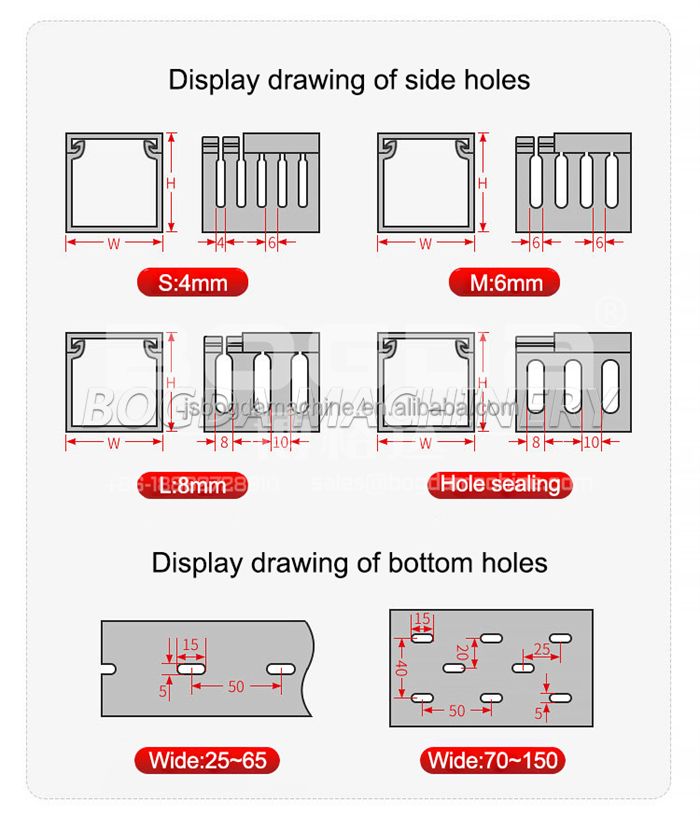 Product Paramenters
BOGDA PVC Cable Trunking Machine Production
Model
SJSZ55/120
Screw Size
55/120
Motor Power (kw)
22
Capacity (kg/h)
200-250
Packaging and Shipping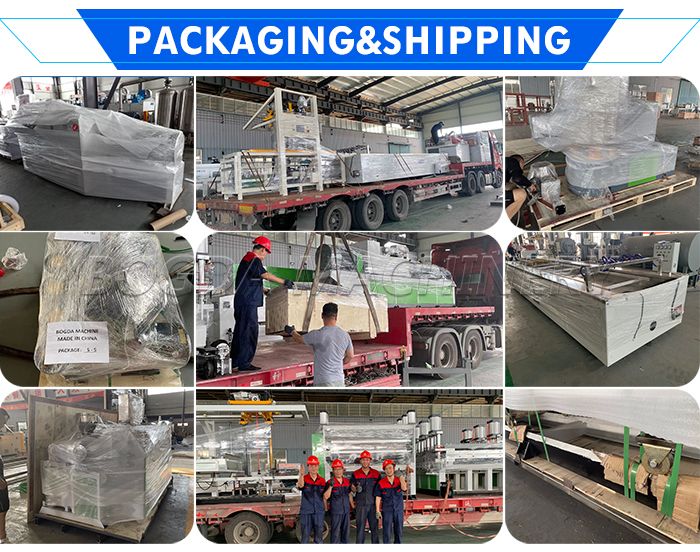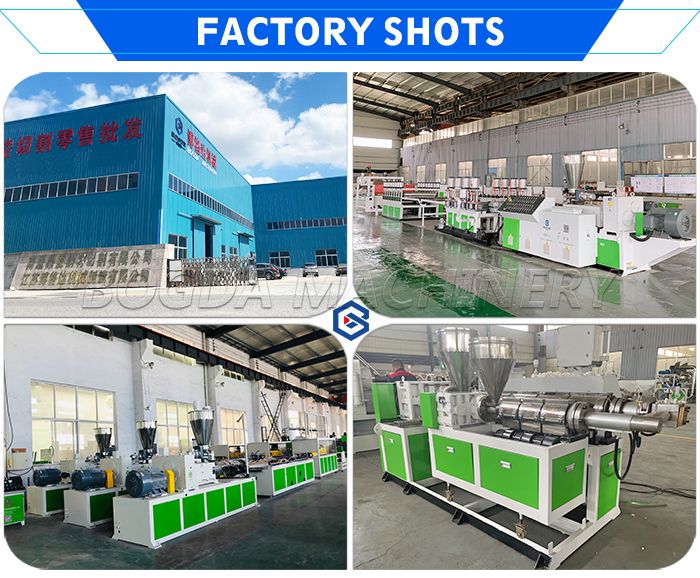 BOGDA Machinery Technology Co., Ltd is a leader of plastic machine and raw material, such as plastic profile/pipe/sheet/board extrusion equipment, waste PP/PE film/PET bottle washing recycling machine,recyclying production line, as well as plastic granulating line. Meanwhile, we are familiar with kinds of raw materials to help you choose the most suitable machine on best quality by economically.

BOGDA has different production factory and strong technical departments to study each customer's requirements until meeting final order. Serious sales and after-sale department to reply inquiry and solve problems for custom in 24 hours, which already exported machine and materials to Russia, Venezuela, Kazakhstan, Turkey, Brazil, Dubai, Philippine, Malaysia, Thailand, Vietnam, Poland, India and so on.

Fast response, good quality, best price and perfect service are our advantages and culture.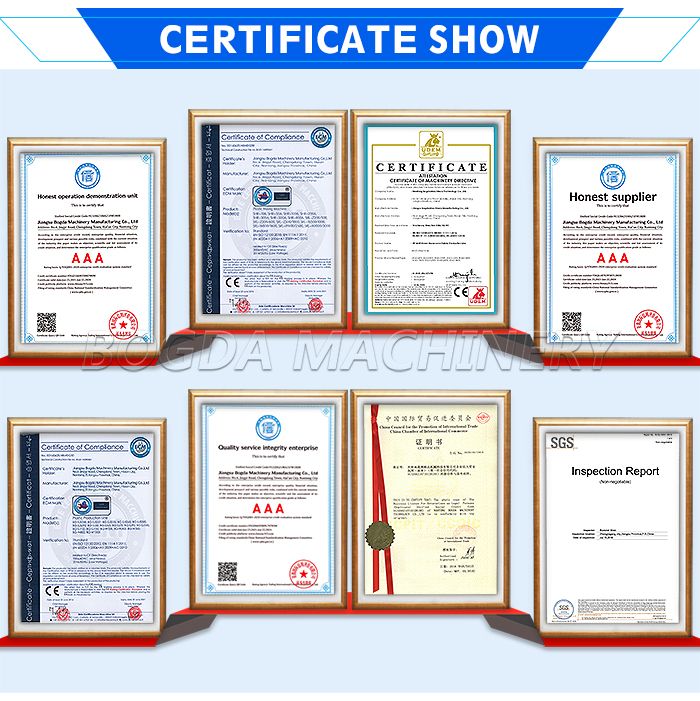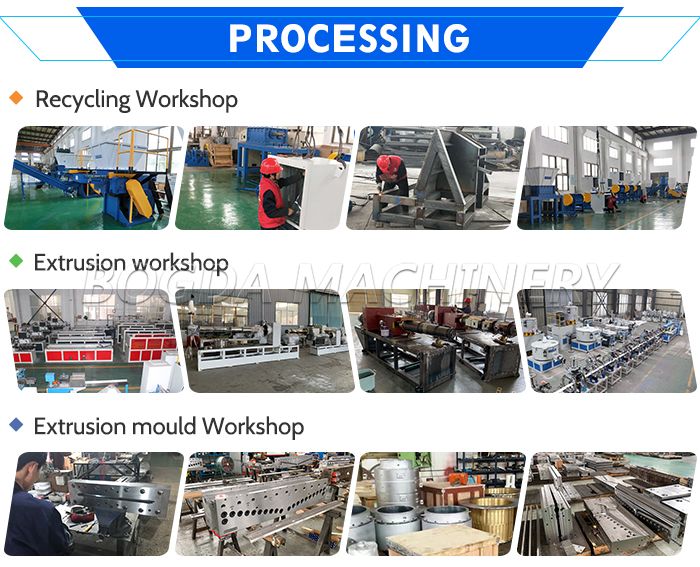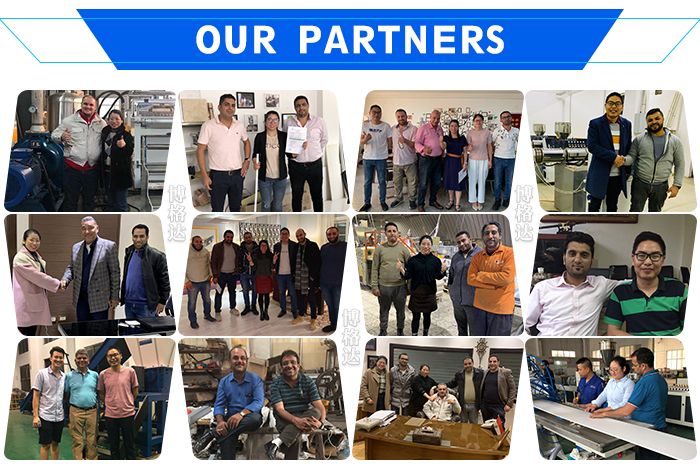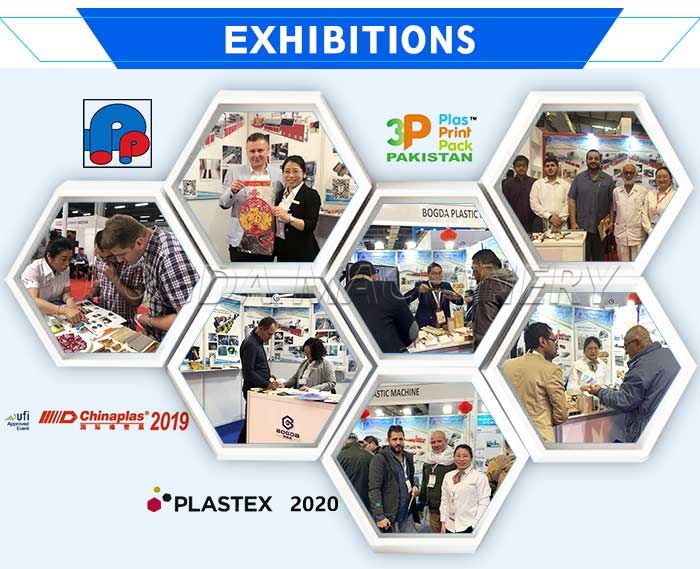 Customer Review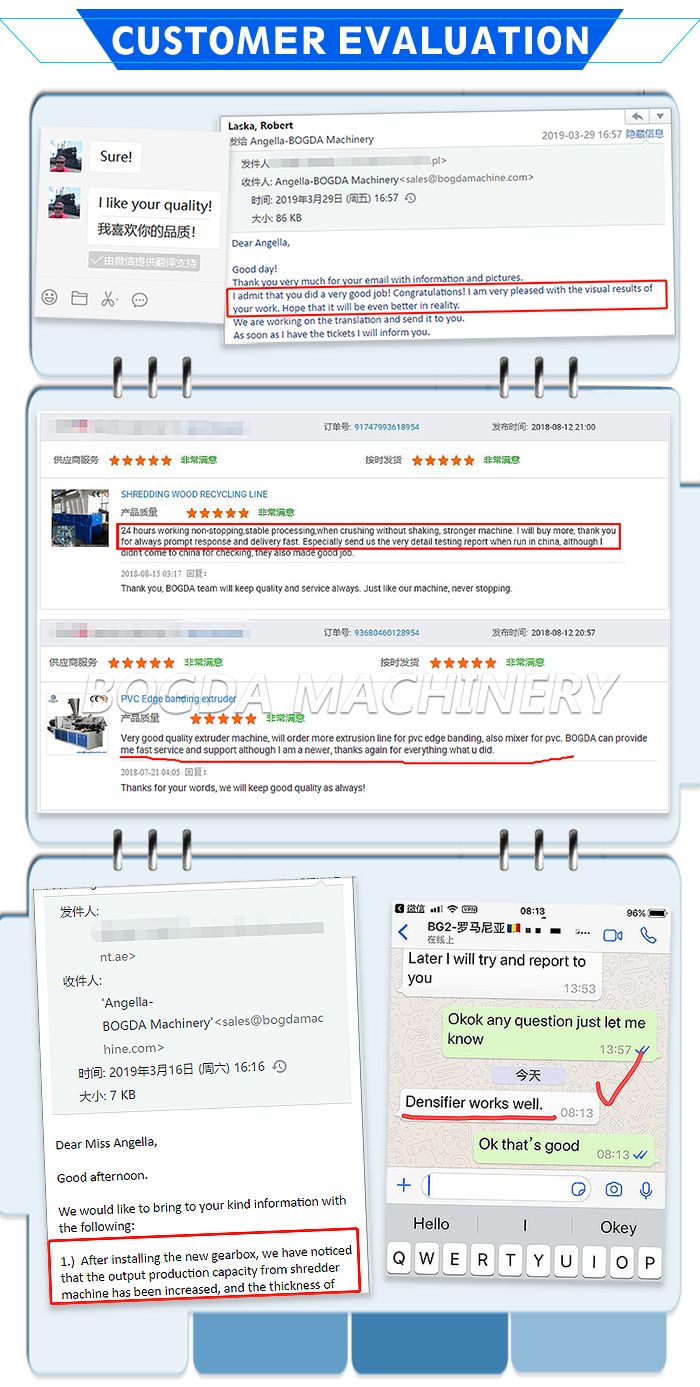 FAQ
Q: Where can we get spare part?
A: We choose International Brand that customer can find it in everywhere, such as Siemens, Schneider, Omron, Delixi etc, or send parts by DHL, Fedex, TNT and other express.
Q: How can I help you when face some technical problem?
A: 24 hours by e-mail, message, calling. If problems happens need engineer we will arrange the closest or agent in local country, or send Chinese Engineers to solve in 2 weeks.
Q: How long is the guarantee?
A: 12 months since the first day customer operates (except wear parts).
Q: Any quality checking before shipment?
A: 100% confirm, run and test machines before shipment with quality certificate.
Q: Can I operate machine if don't have experienced engineers?
A: (1) Short-time engineers to customer company (5-15days) (2) Year-time working as requirements
Q: How many electric, water, air need for the machines?
A: Technical department supply the whole layout for workshop details.