UPVC PVC Rain Gutter Sink Profiles Extrusion Line
1. The water tank sink is made of stainless steel 2. Pump power and quantity: 4KW × 1 set, 3. Number of vacuum nozzles: 24 (marked in red) 4. The number of cooling nozzles: 24 (marked in blue) 5. Shaped table rail material form and section form: stainless steel sink, mold connecting rail with aluminum alloy profiles
Product Description
Production Application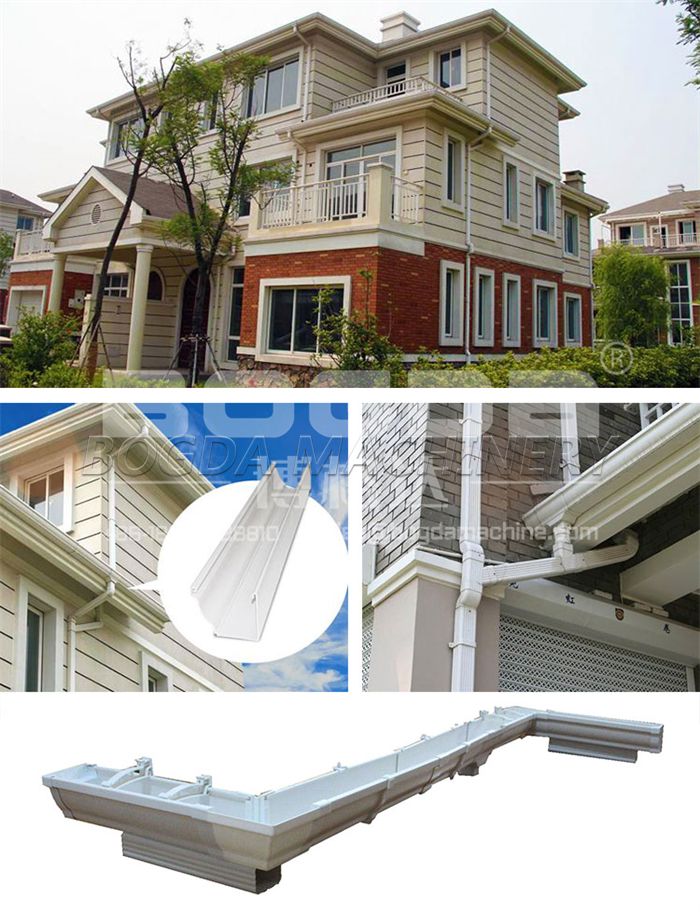 Machine Specification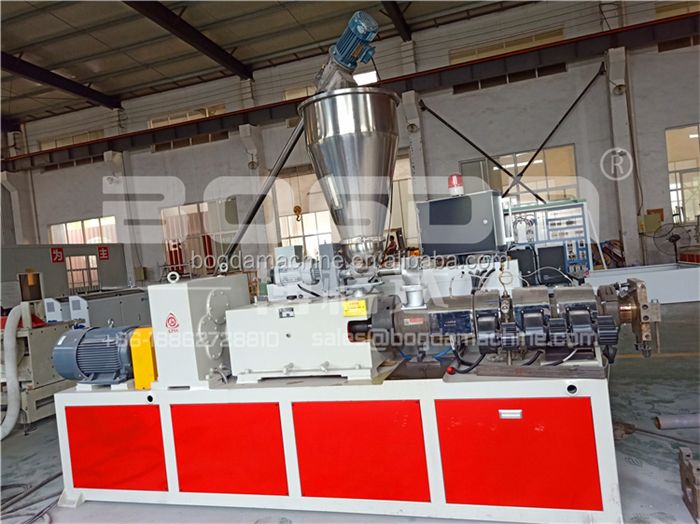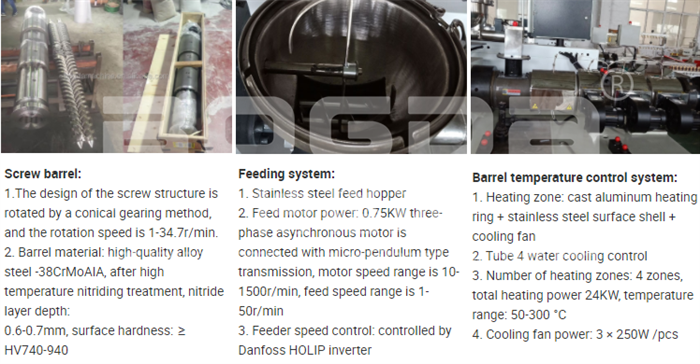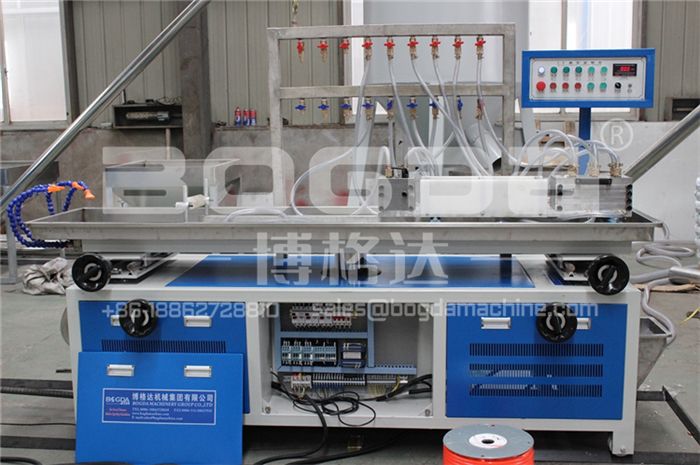 Vacuum calibration tank
1. The water tank sink is made of stainless steel
2. Pump power and quantity: 4KW × 1 set,
3. Number of vacuum nozzles: 24 (marked in red)
4. The number of cooling nozzles: 24 (marked in blue)
5. Shaped table rail material form and section form: stainless steel sink, mold connecting rail with aluminum alloy profiles, bracket and water collection pipe as one.
6. Position and mode of gas and water nozzle joints: the gas ball valve is below the fuselage, and the water nozzle is on the square tube bracket of the water tank.
7. Electrical control cabinet and operation panel are waterproof
8. Eddy current hair dryer: 1.1KW, used to blow dry surface water stains
9. The front and rear moving device of the shaping table: connected to the shaping table by the screw rod, the screw gear motor power: 0.75KW motor control setting table moves back and forth
10. Position adjustment of the upper and lower positions of the table: screw worm gear box control
11. The other two direction adjustment: the horizontal tilt of the sink and the fine adjustment of the left and right position of the table can be manually controlled
12. The vacuum gauge and water temperature of each zone are displayed by the
vacuum gauge water temperature gauge. 18, shaping station electrical part: contactor: Siemens, air switch: Chint

13. Calibration and cooling flume (10m)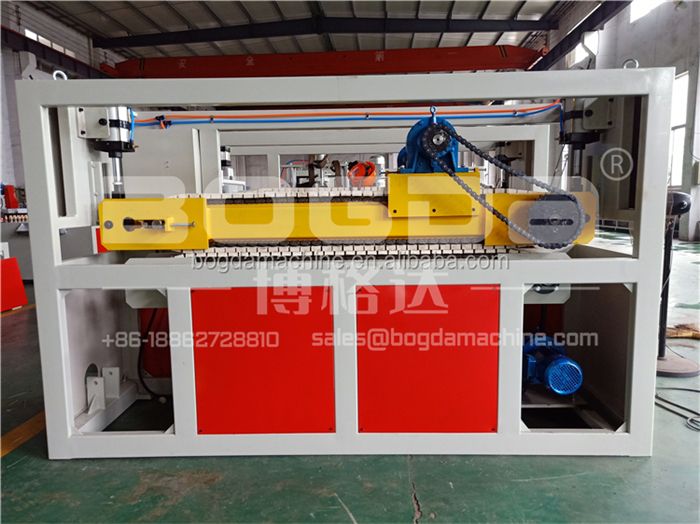 Model 400 haul-off machine
The haul-off machine is multifunctional to be suitable for various pvc profiles, only to exchange the rubber blocks.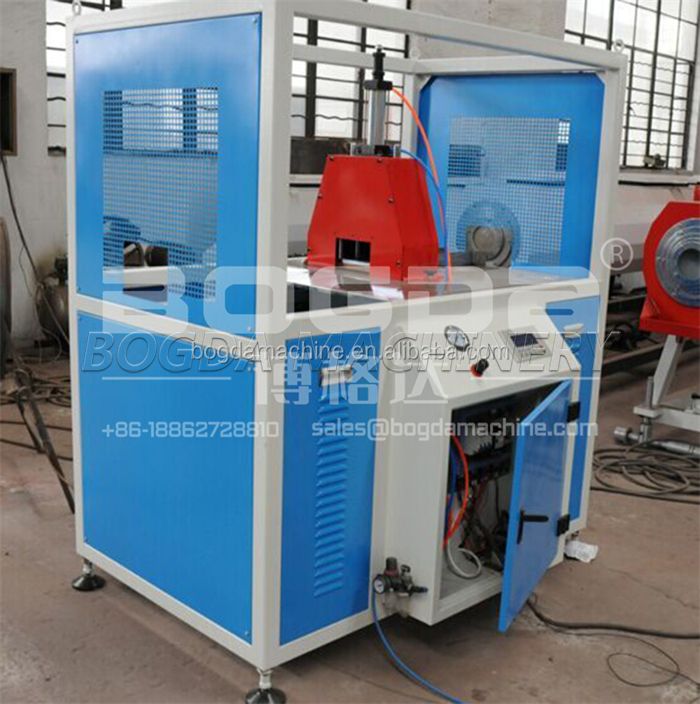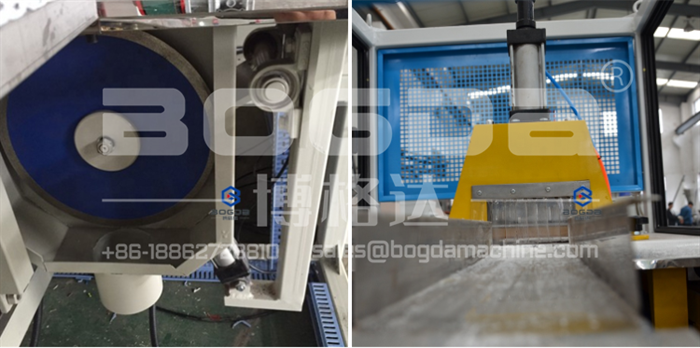 Plastic profile cutting machine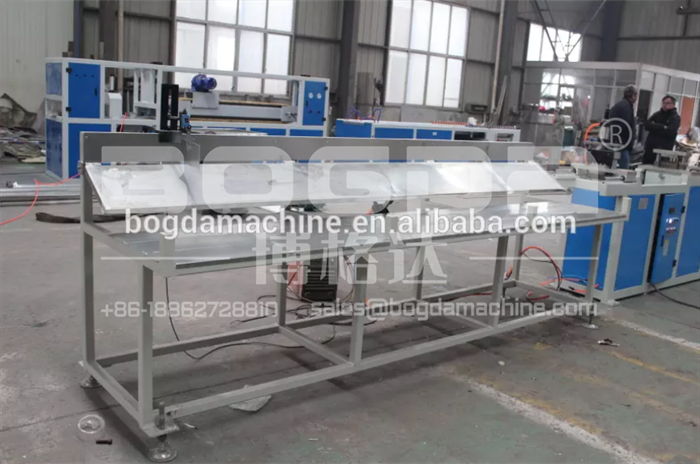 Automatic stacker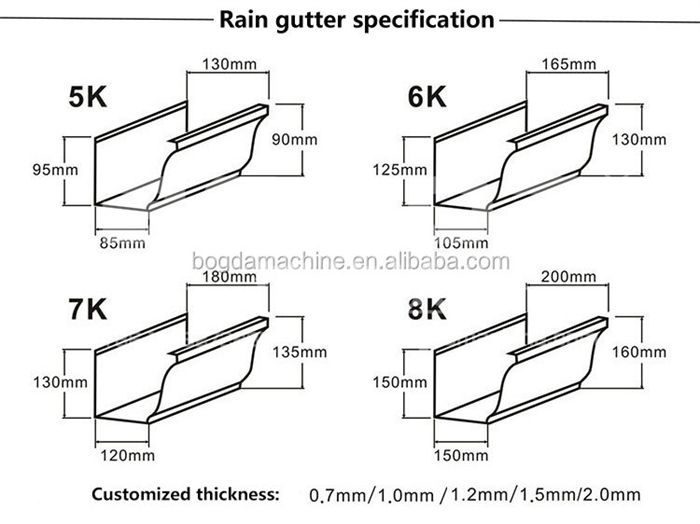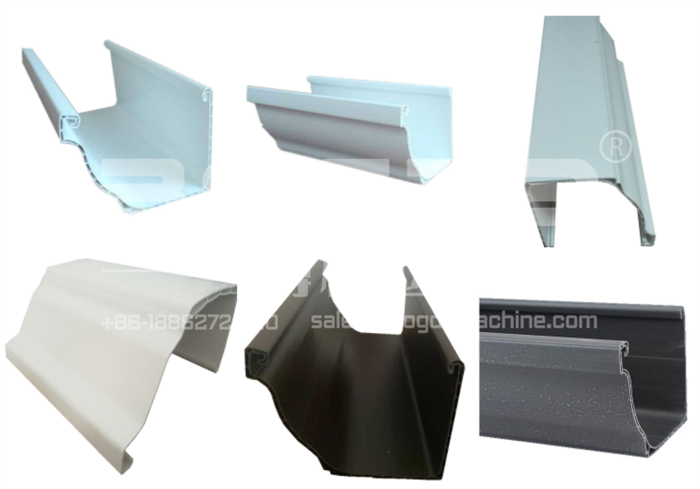 Packaging and Shipping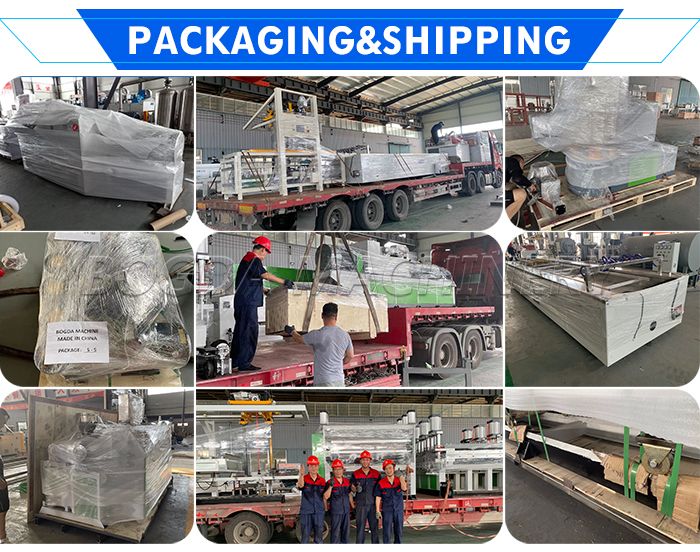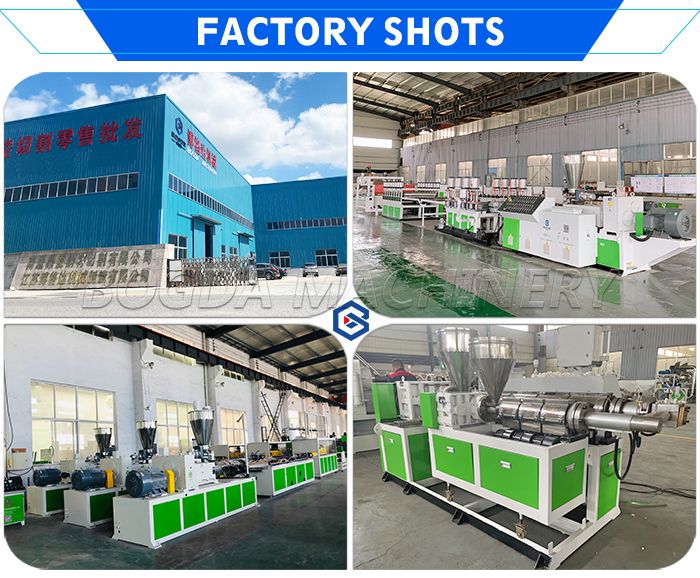 BOGDA Machinery Technology Co., Ltd is a leader of plastic machine and raw material, such as plastic profile/pipe/sheet/board extrusion equipment, waste PP/PE film/PET bottle washing recycling machine,recyclying production line, as well as plastic granulating line. Meanwhile, we are familiar with kinds of raw materials to help you choose the most suitable machine on best quality by economically.

BOGDA has different production factory and strong technical departments to study each customer's requirements until meeting final order. Serious sales and after-sale department to reply inquiry and solve problems for custom in 24 hours, which already exported machine and materials to Russia, Venezuela, Kazakhstan, Turkey, Brazil, Dubai, Philippine, Malaysia, Thailand, Vietnam, Poland, India and so on.

Fast response, good quality, best price and perfect service are our advantages and culture.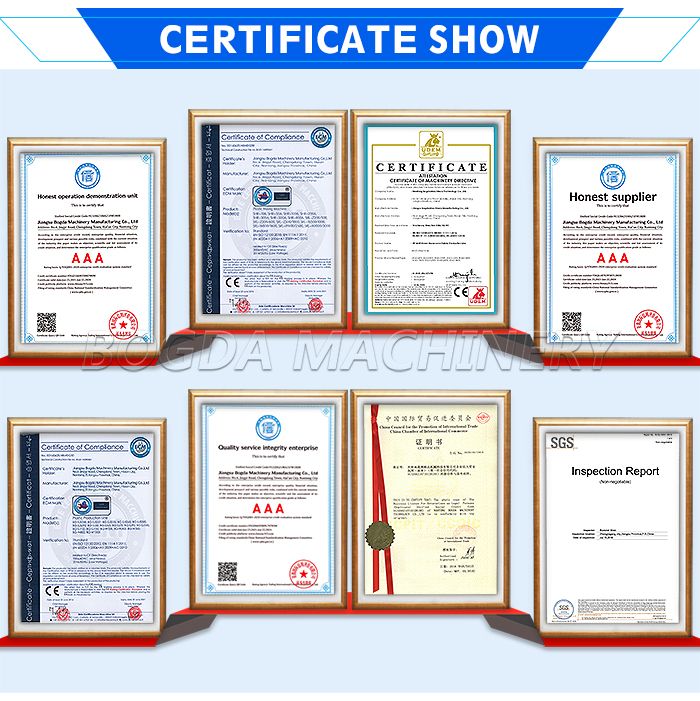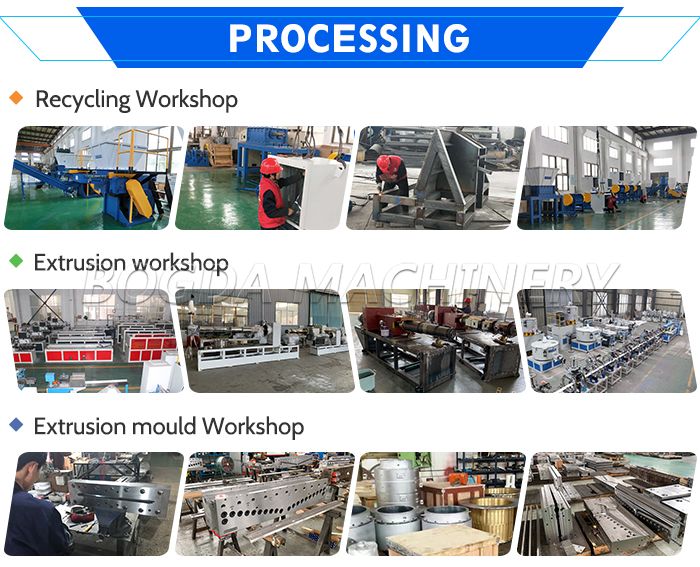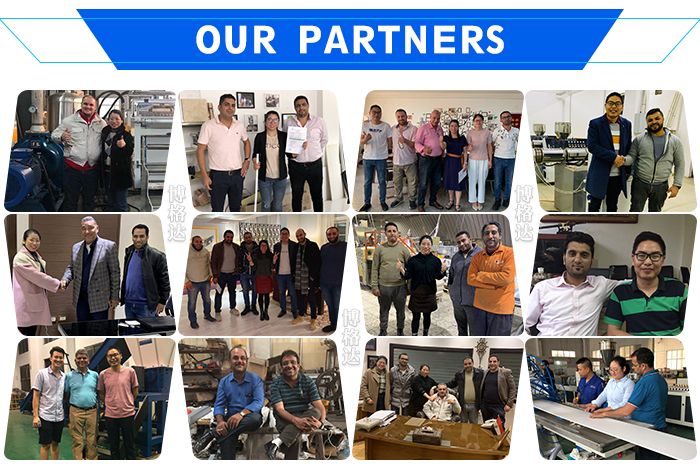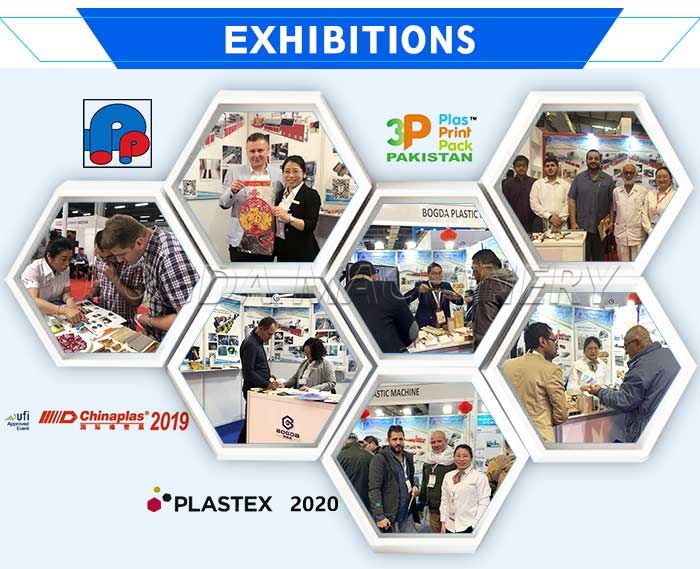 Customer Review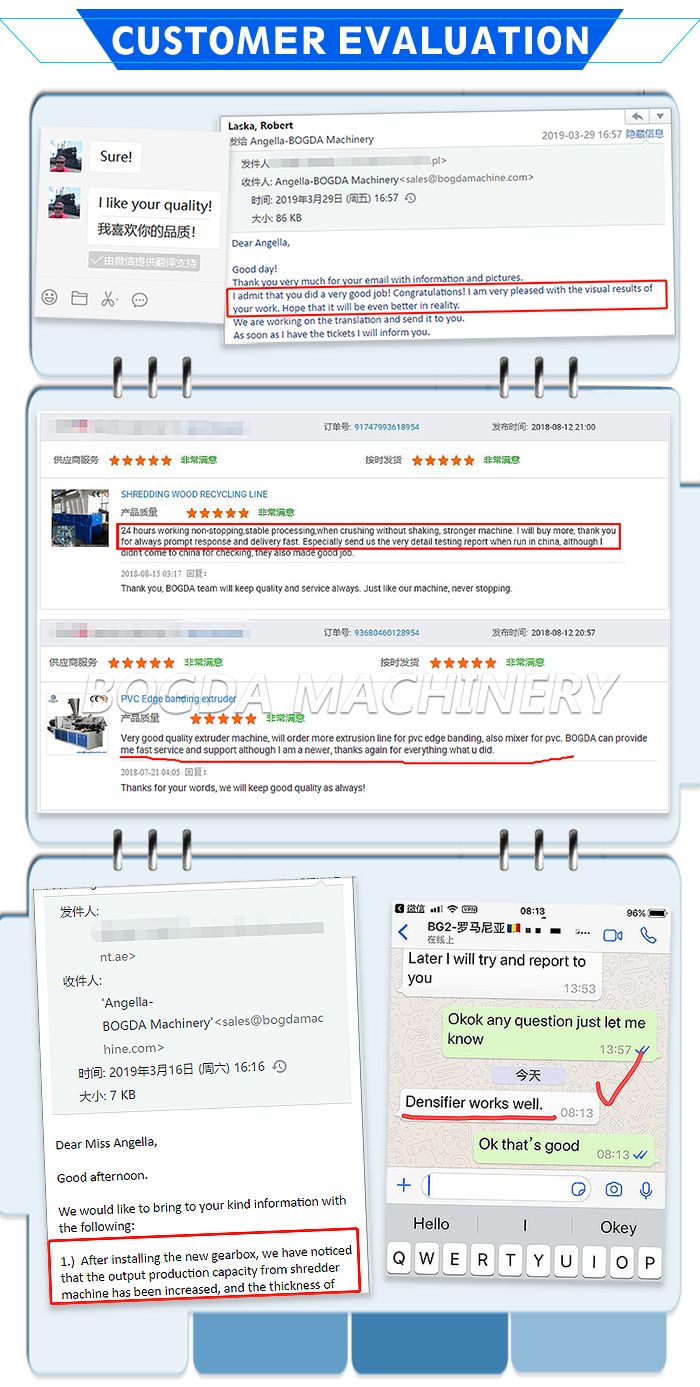 FAQ
Q: Where can we get spare part?
A: We choose International Brand that customer can find it in everywhere, such as Siemens, Schneider, Omron, Delixi etc, or send parts by DHL, Fedex, TNT and other express.
Q: How can I help you when face some technical problem?
A: 24 hours by e-mail, message, calling. If problems happens need engineer we will arrange the closest or agent in local country, or send Chinese Engineers to solve in 2 weeks.
Q: How long is the guarantee?
A: 12 months since the first day customer operates (except wear parts).
Q: Any quality checking before shipment?
A: 100% confirm, run and test machines before shipment with quality certificate.
Q: Can I operate machine if don't have experienced engineers?
A: (1) Short-time engineers to customer company (5-15days) (2) Year-time working as requirements
Q: How many electric, water, air need for the machines?
A: Technical department supply the whole layout for workshop details.