Product Description
Product Description
BOGDA Small WPC Fencing Extruder Making Machine
Composite outdoor decking is preferred for city construction and layout, such as parks, swimming pools, paths, marina docks and so on. anti-slip, anti-oxidation, minimal moisture absorption, termite resistance, etc.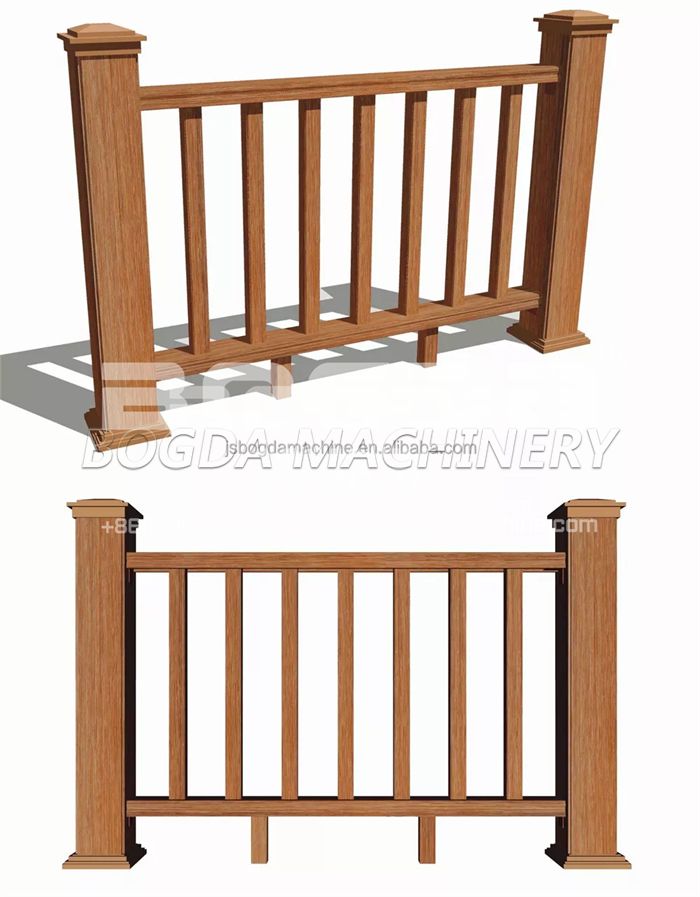 BOGDA Small WPC Fencing Extruder Making Machine
Wood-plastic floor is a new type of environmentally friendly wood-plastic composite product. The wood phenol produced during the production of high-density fiberboard is added to recycled plastic and passed through pelletizing equipment to make wood-plastic composite material, and then the extrusion production group Made of wood-plastic floor.

Features of BOGDA Small WPC Fencing Extruder Making Machine
(1) High recyclable, eco-friendly, saving forest resources.
(2) With the look of the natural wood but less timber problems.
(3) Moisture/water resistant, less rotten, proven under salt water condition.
(4) Barefoot friendly, anti-slip, less cracking, less warping.
(5) Requires no painting, no glue, low maintenance.
(6) Weather resistant, suitable from minus -40 to 60 centigrade degree.
(7) Well done of termites, insects, and moldy-proof.
(8) Available in different colors.
(9) Easy to install and clean, low labor cost.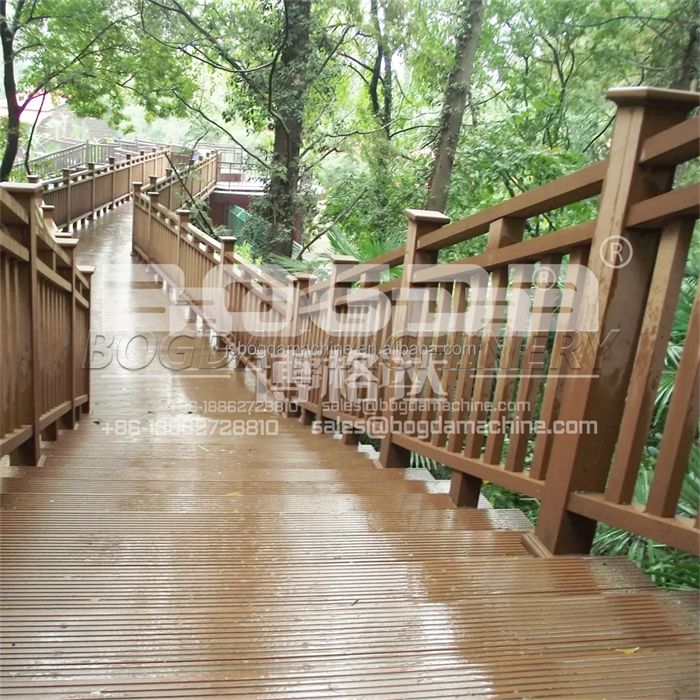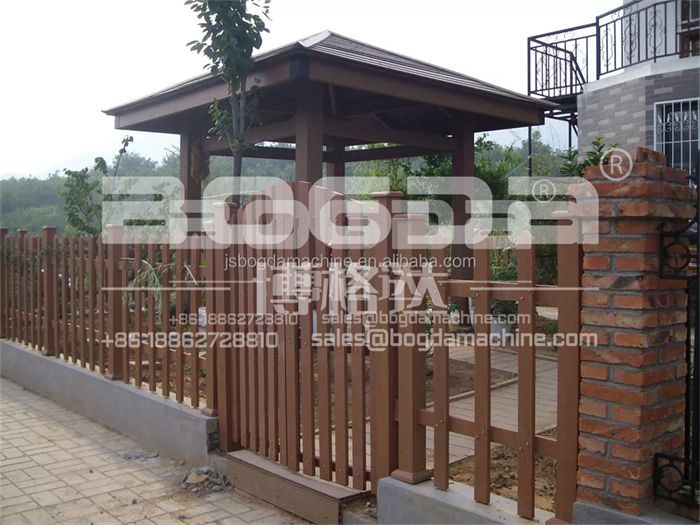 Specification
BOGDA Small WPC Fencing Extruder Making Machine
The main materials of wood-plastic outdoor flooring are PE and wood flour or bamboo flour.

Mould for BOGDA Small WPC Fencing Extruder Making Machine
After adding additives, high-speed mixing, granulation is carried out, and then the pellets are extruded into a molding material by an extruder.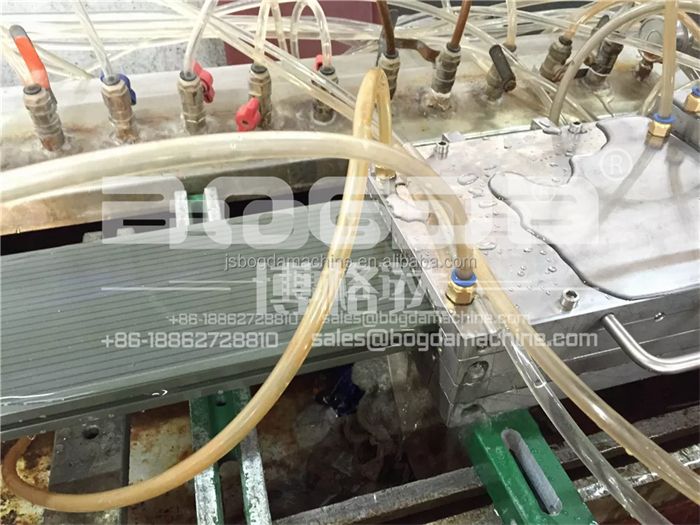 | | |
| --- | --- |
| 1 | Mixing Machine for Raw Material |
| 2 | Wood-plastic WPC Parallel Twin Screw Granulating Machine |
| 3 | SJZ65/132 Conical Double Screw Extrusion Line |
| 4 | Brushing Machine/ Sanding Machine |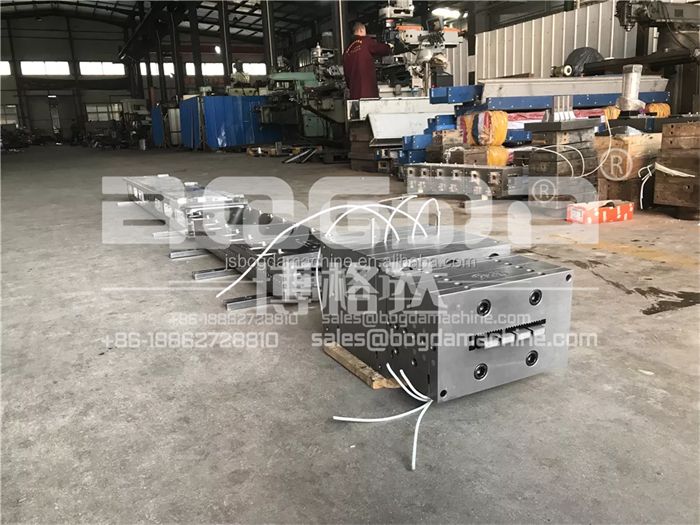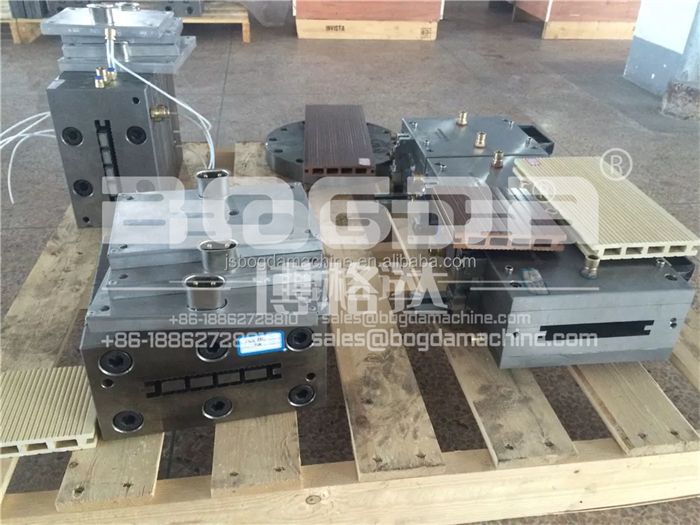 Main Extruder for BOGDA Small WPC Fencing Extruder Making Machine
1. The barrel adopts aluminum casting hot wire ring heating and air cooling system cooling, heat transfer is fast and uniform. 2. Different screw can be selected according to different formula to achieve the best plasticizing effect. 3. Reducer box, distribution box adopts well-known bearings, imported oil seal, gear adopts high quality alloy steel, nitriding treatment.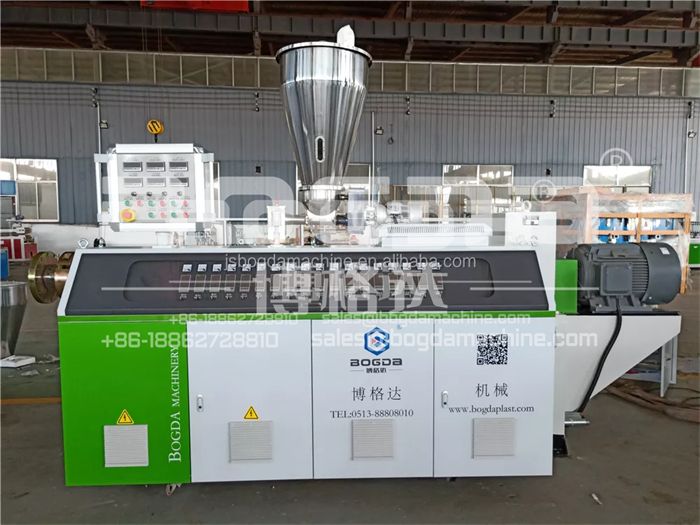 6m Length Calibration Cooling Tank for BOGDA Small WPC Fencing Extruder Making Machine
4. Vacuum sizing table adopts special vortex flow cooling system to facilitate cooling and finalize the design. Special horizontal tilt control and unique three-position adjustment control make the operation easier to better reflect.
5. The tractor adopts unique lifting technology, upper and lower track back pressure control, stable work, high reliability, large traction force, automatic fixed length cutting, and equipped with dust recovery device.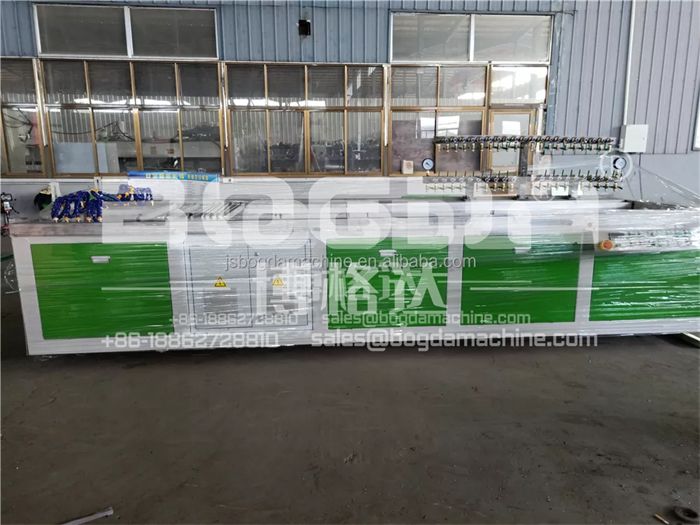 Embossing Device for BOGDA Small WPC Fencing Extruder Making Machine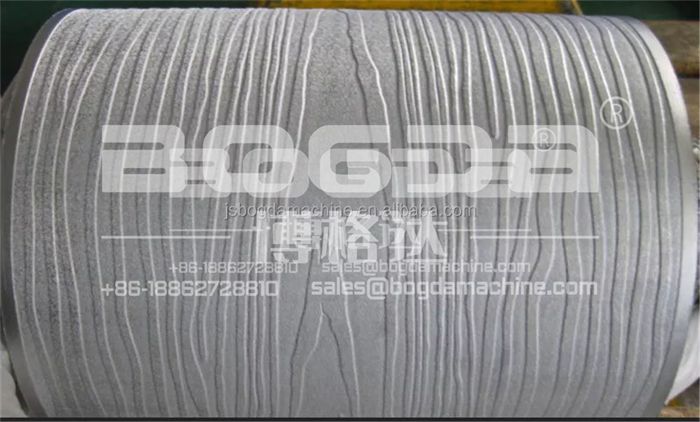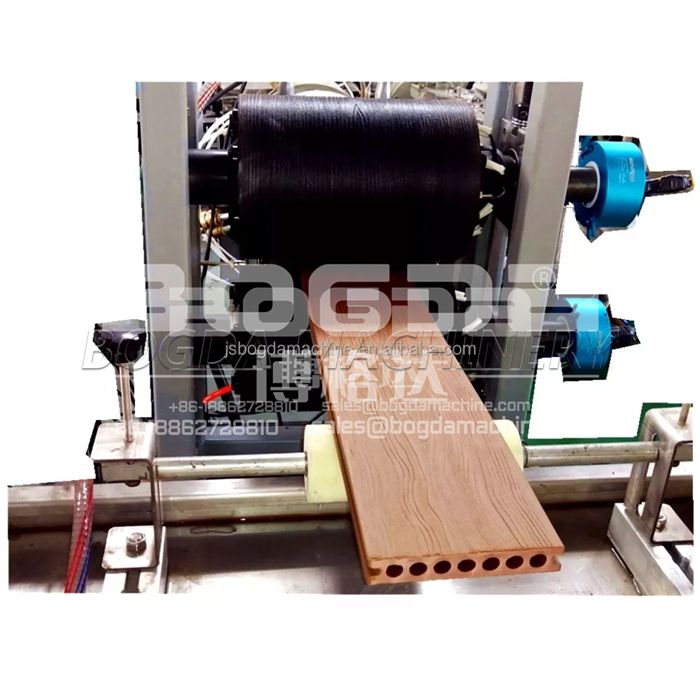 The profile produced by this production line can be sanded and brushed by sanding machine and brushing machine.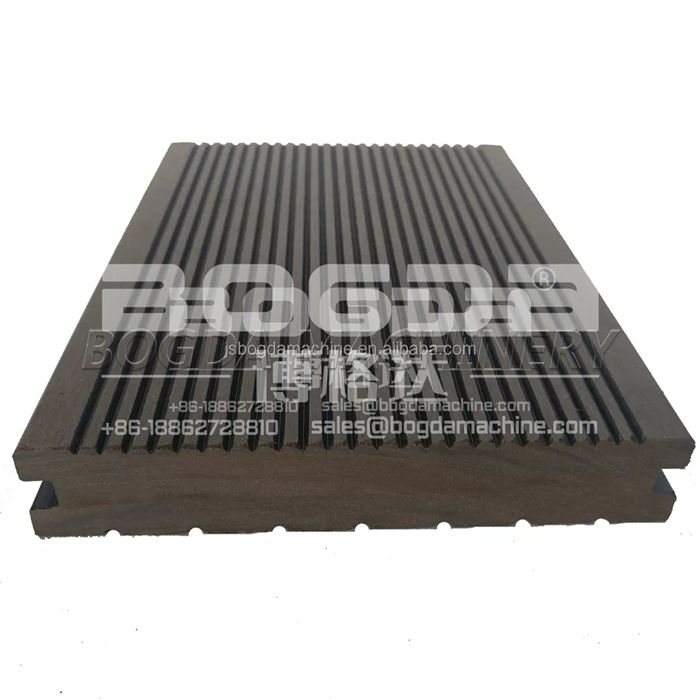 BOGDA Small WPC Fencing Extruder Making Machine
This type of floor can be used in gardens and villas. Wait for the outdoor platform. Wood-plastic composite board is a kind of wood (wood cellulose, plant cellulose) as the basic material, thermoplastic polymer materials (plastics) and processing aids, etc., mixed uniformly and then heated and extruded by mold equipment. The high-tech green and environmentally friendly materials, combined with the performance and characteristics of wood and plastic, are new environmentally friendly high-tech materials that can replace wood and plastic. The English abbreviation of Wood Plastic Composites is WPC.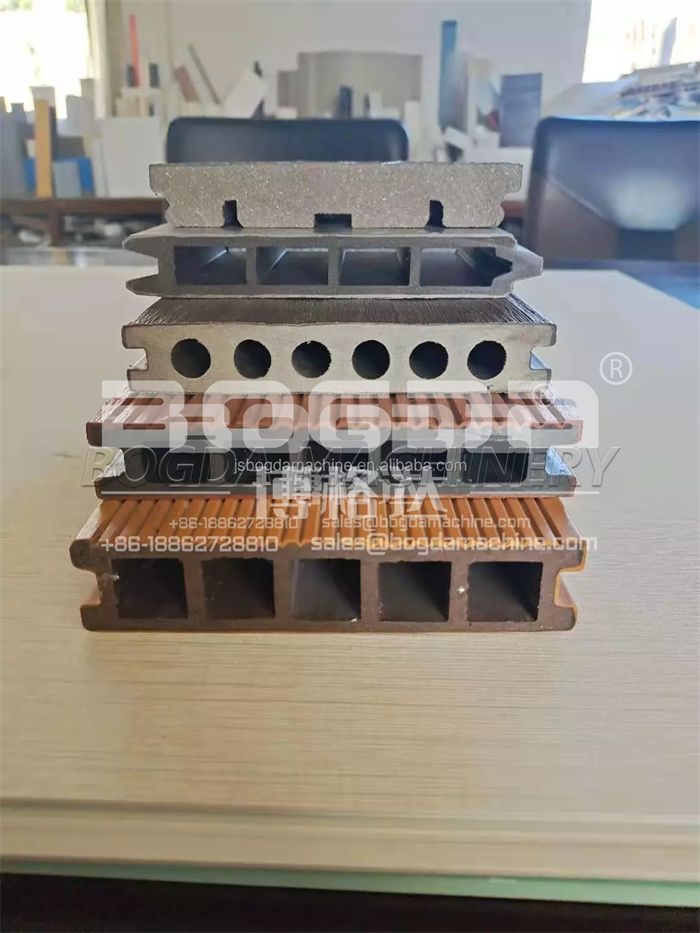 FAQ
Q: Where can we get spare part?
A: We choose International Brand that customer can find it in everywhere, such as Siemens, Schneider, Omron, Delixi etc, or send parts by DHL, Fedex, TNT and other express.
Q: How can I help you when face some technical problem?
A: 24 hours by e-mail, message, calling. If problems happens need engineer we will arrange the closest or agent in local country, or send Chinese Engineers to solve in 2 weeks.
Q: How long is the guarantee?
A: 12 months since the first day customer operates (except wear parts).
Q: Any quality checking before shipment?
A: 100% confirm, run and test machines before shipment with quality certificate.
Q: Can I operate machine if don't have experienced engineers?
A: (1) Short-time engineers to customer company (5-15days) (2) Year-time working as requirements
Q: How many electric, water, air need for the machines?
A: Technical department supply the whole layout for workshop details.