Product Description
Production Application

Wood plastic composite (WPC) is filled with wood fiber and plant fiber, enhancing its modified thermoplastic materials, combines the advantages of wood and plastic in one, not only have the appearance of the like natural lumber, and overcome its deficiencies, have anticorrosive, moistureproof, mothproof, high dimensional stability, no crack, no warping, etc, than pure plastic high hardness, And similar to wood processability, can be cut, bonding, with nails or bolts fixed connection, can be painted. It is extruded or pressed into profiles, boards or other products, can replace wood and plastic.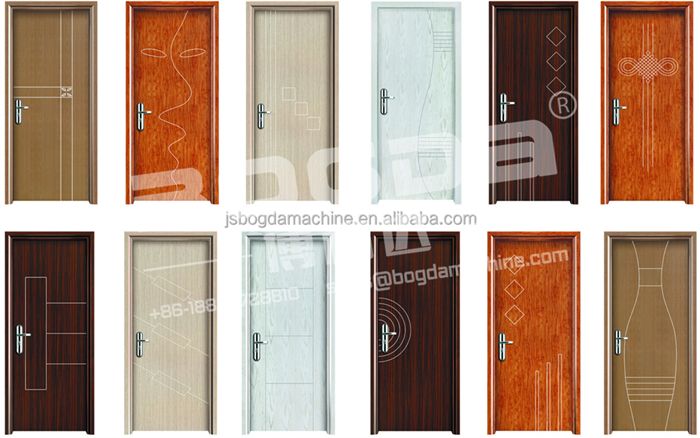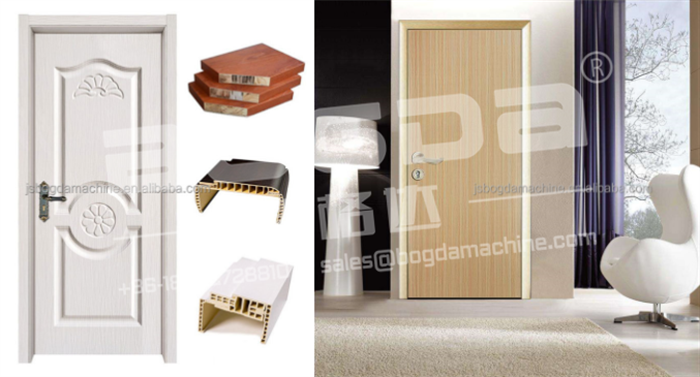 Product Description
WPC Door Frame Profile Extrusion Production Line Machine
1. SJSZ51/105 conical twin screw extruder with automatic screw loader
2. Small WPC door frame profiles extrusion mould
3. Calibration unit
4. Haul-off machine
5. Plastic profiles cutting machine
6. Stainless steel stacker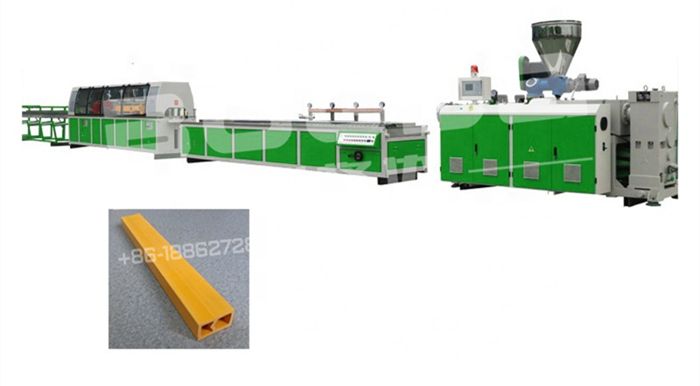 SJSZ51/105 Conical Twin Screw Extruder With Automatic Screw Loader
1. The screws are specially designed for WPC powder material. The screws are conical meshed, with counter rotation direction. The rotation speed is 1-34.7rpm.
2. Heating zones: 4 zones. Total heating power: 19kw. Temperature range: 50~300℃. There are 5 zones are reserved for mould.
3. Equipped with high torque gearbox.
4. With Germany technology, long using life, low noise.
5. Main motor, AC. Manufacturer: SIEMENS BEIDE, ABB inverter.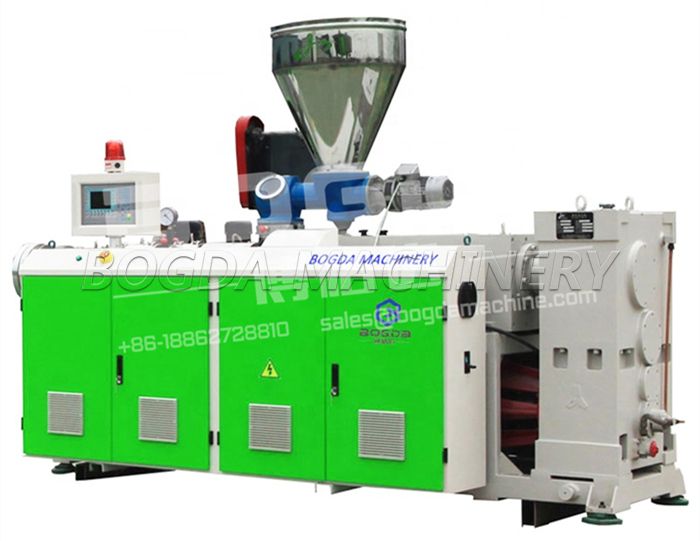 Extrusion Mould For WPC Door Frame
1. The machining precision of the mould is high.
2. The extruded product has a high surface finish.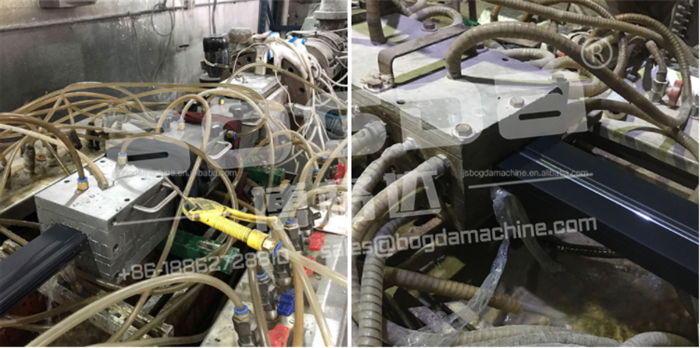 Vacuum Calibrator Mould And Water Cooling Tank
1. The water tank and water trough are made from stainless steel
2. The calibration table is 10000mm long
3. The calibration width is 1100mm
4. The forward and backward movement is realized by geared motor, with thread screw to connect the calibration unit and haul-off unit. The motor and screw models more than before ones.
5. Up and down position adjustment: by motor. There are two motors and four small geared reducer to control.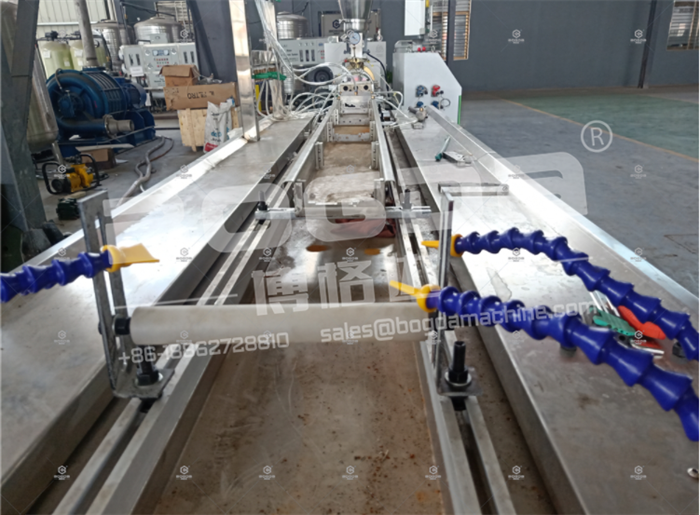 Haul-off And Cutting Machine For WPC Door Frame
1. Rubber block and caterpillar connection method: by bolts, stable working.
2. Haul-off speed: 0.3-3m/min.
3. Maximum cutting width: 240mm.
4. Non-dust cutting system.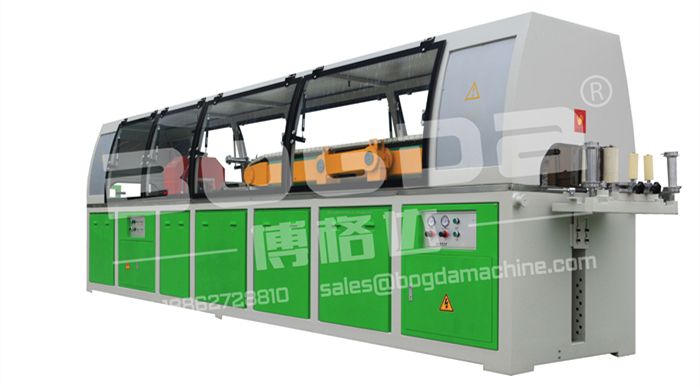 Stainless Steel Stacker For WPC PVC Door Frame Door frame
1. Stacker structure: dismantle type. All the parts that contact the products are covered by rubber.
2. Tilt by pneumatic cylinder. Length calculation: limit switch.
3. Suitable product width: 240mm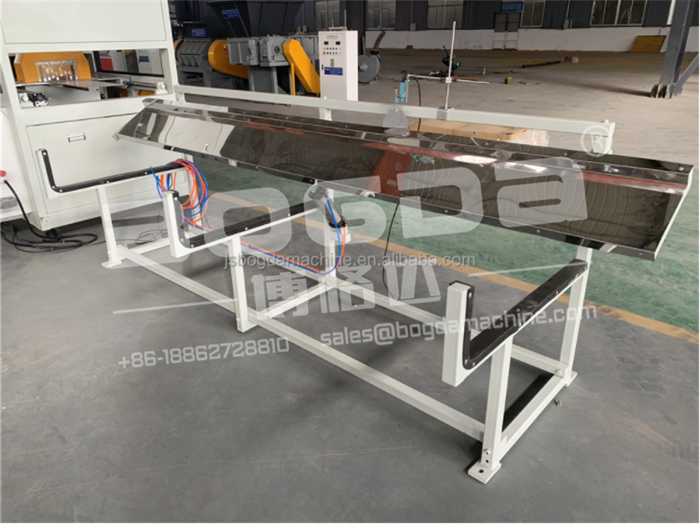 Final WPC Door Frames
Multifunctional types and shapes.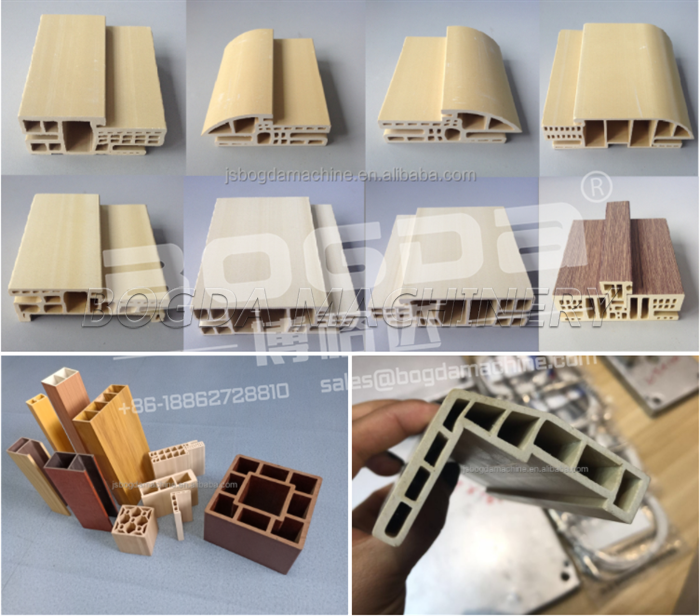 Product Paramenters
WPC Door Frame Profile Extrusion Production Line Machine
Extruder type
SJSZ51/105
Production width (mm)
About 180
Motor power (kw)
22
Output (kg/h)
80-100
Packaging and Shipping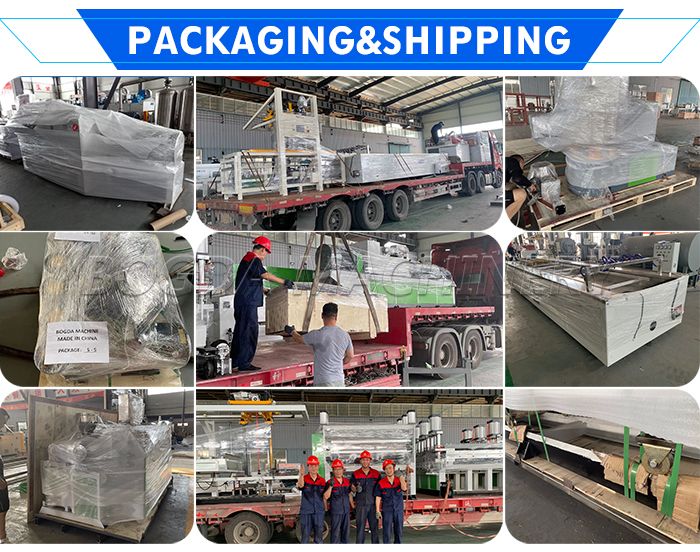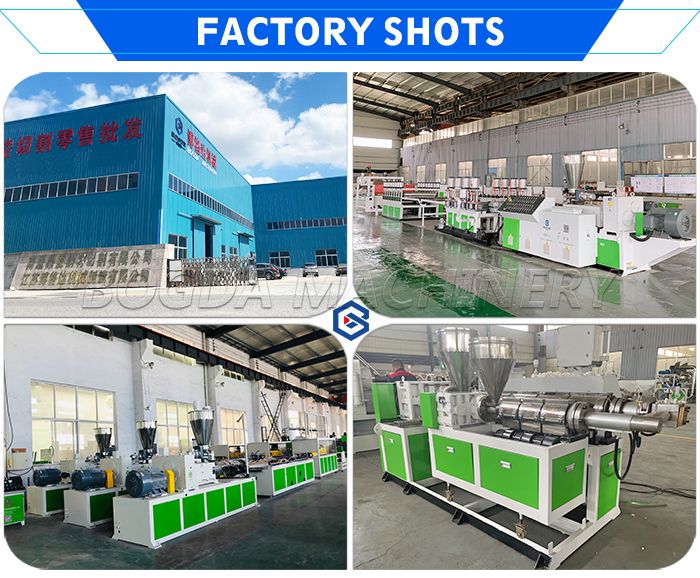 BOGDA Machinery Technology Co., Ltd is a leader of plastic machine and raw material, such as plastic profile/pipe/sheet/board extrusion equipment, waste PP/PE film/PET bottle washing recycling machine,recyclying production line, as well as plastic granulating line. Meanwhile, we are familiar with kinds of raw materials to help you choose the most suitable machine on best quality by economically.

BOGDA has different production factory and strong technical departments to study each customer's requirements until meeting final order. Serious sales and after-sale department to reply inquiry and solve problems for custom in 24 hours, which already exported machine and materials to Russia, Venezuela, Kazakhstan, Turkey, Brazil, Dubai, Philippine, Malaysia, Thailand, Vietnam, Poland, India and so on.

Fast response, good quality, best price and perfect service are our advantages and culture.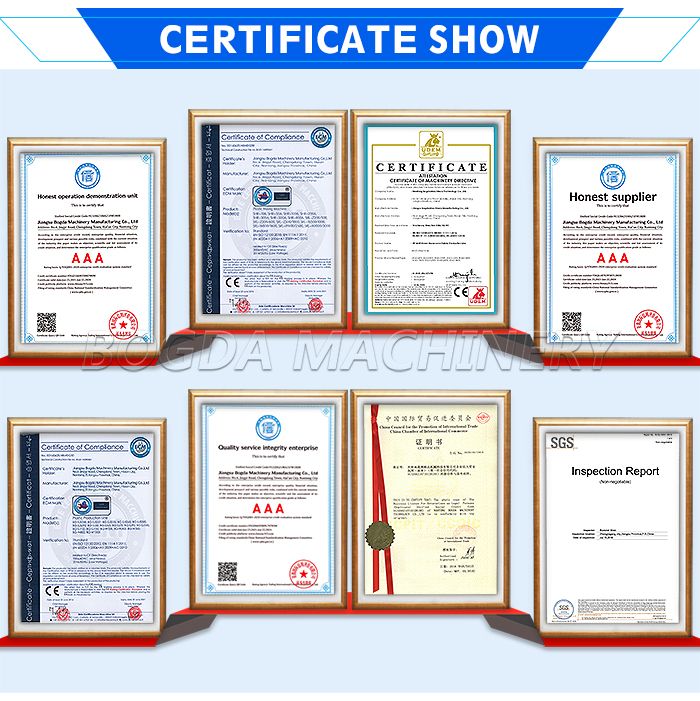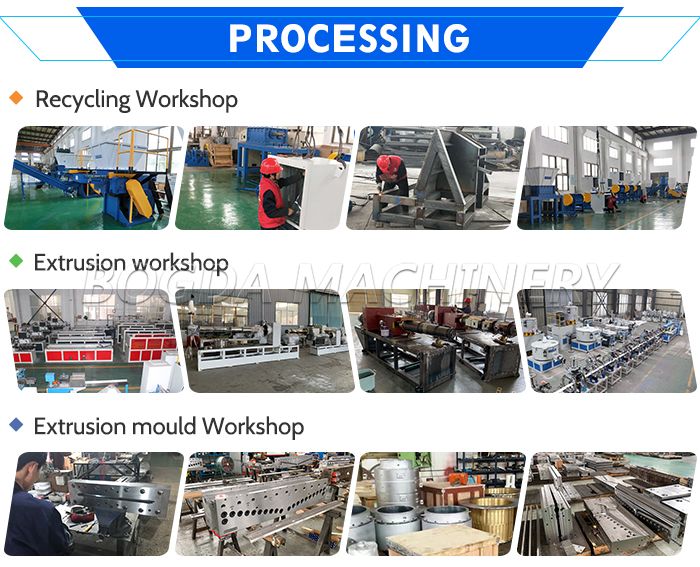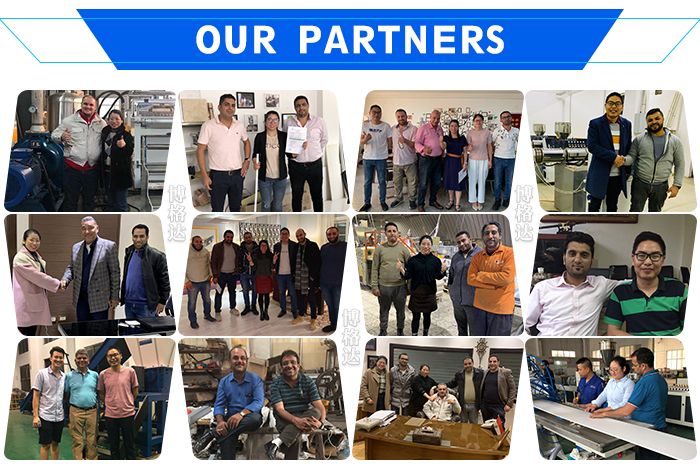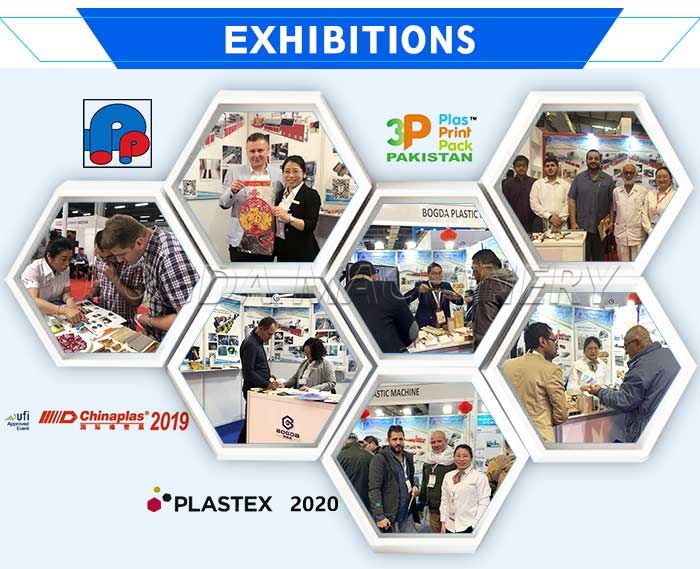 FAQ
Q: Where can we get spare part?
A: We choose International Brand that customer can find it in everywhere, such as Siemens, Schneider, Omron, Delixi etc, or send parts by DHL, Fedex, TNT and other express.
Q: How can I help you when face some technical problem?
A: 24 hours by e-mail, message, calling. If problems happens need engineer we will arrange the closest or agent in local country, or send Chinese Engineers to solve in 2 weeks.
Q: How long is the guarantee?
A: 12 months since the first day customer operates (except wear parts).
Q: Any quality checking before shipment?
A: 100% confirm, run and test machines before shipment with quality certificate.
Q: Can I operate machine if don't have experienced engineers?
A: (1) Short-time engineers to customer company (5-15days) (2) Year-time working as requirements
Q: How many electric, water, air need for the machines?
A: Technical department supply the whole layout for workshop details.