PVC Artificial Marble Stone Profile Production Extrusion Line
Raw material: Caco3(95%),PVC CPE Screw Design: Double-screw Application: Profile Power(W): 60KW
Product Description
Raw material: Caco3(95%),PVC CPE
Screw Design: Double-screw
Application: Profile
Power(W): 60KW
PVC Artificial Marble Stone Profile Production Extrusion Line of decoration moldings green, no formaldehyde, no radiation, containing antibacterial ingredients, can inhibit bacterial attachment and breeding to the hospital and use strict standards. Stone Sculpture Stone Sculpture moldings equipment wear compression moldings super performance , impact resistance, no deformation, can be reused, life is generally 20 to 30 years.
Final products
Artificial Marble Slab Machine produce plastic building decor sheet, PVC skirting, door frame, flap, kitchen cabinet panel and so on.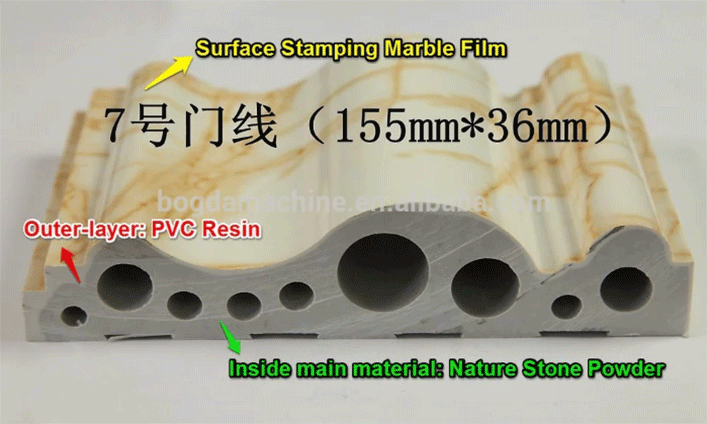 Detail images
Conical twin screw extruder and single screw co-extruder , Natural stone powder as the main raw material composed of solid grassroots structure, surface covered with the characteristics of the polymer of PVC resin.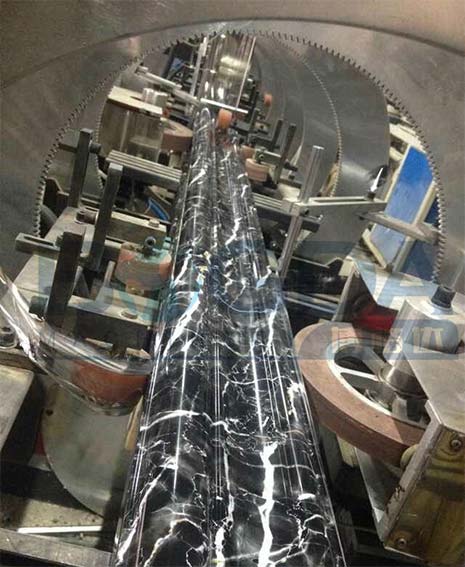 Artificial Marble Slab exterior adoption heating transfer technology, the appearance of color never fall off.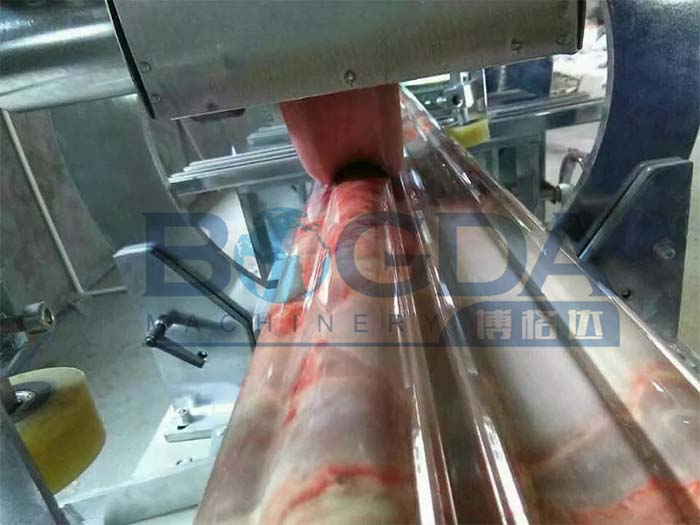 Technical parameter
| | | |
| --- | --- | --- |
| NO | Machine List | Quantity |
| 1 | SRL-Z300/600 PVC Hot & Cooling Mixer (include screw conveyor) | 1set |
| 2 | SJZ65/132 Conical Twin Screw Extruder | 1set |
| 3 | SJ45 Single Screw Extruder | 1set |
| 4 | Main Extrusion Mould for Decorative Profiles, customized drawing | 1set |
| 5 | Vacuum Calibration and Cooling Table | 1set |
| 6 | Hot-stamping Machine | 1set |
| 7 | Haul-off Machine | 1set |
| 8 | Cutting Machine | 1set |
| 9 | Final Stacker | 1set |
Packaging and Shipping
BOGDA International Co, BOGDA Machinery Co, who is a leader of Plastic Machine and Raw Material. Such as Plastic Profile/Pipe/Sheet Extrution Equipment,Injection Machine and Waste PP/PE Film, PET Bottle Washing Recyce Machine, as well as Plastic Granulating Line, meanwhile we are familiar with kinds of raw material to help our customers choose the most suitable machine on best quality by economically.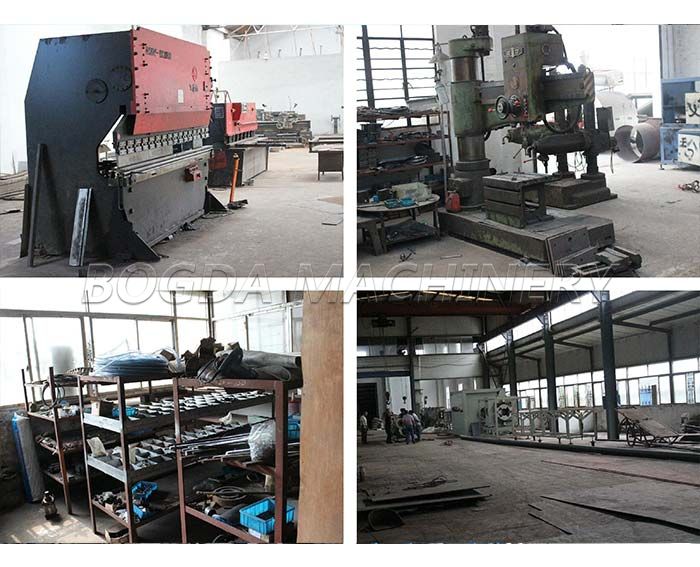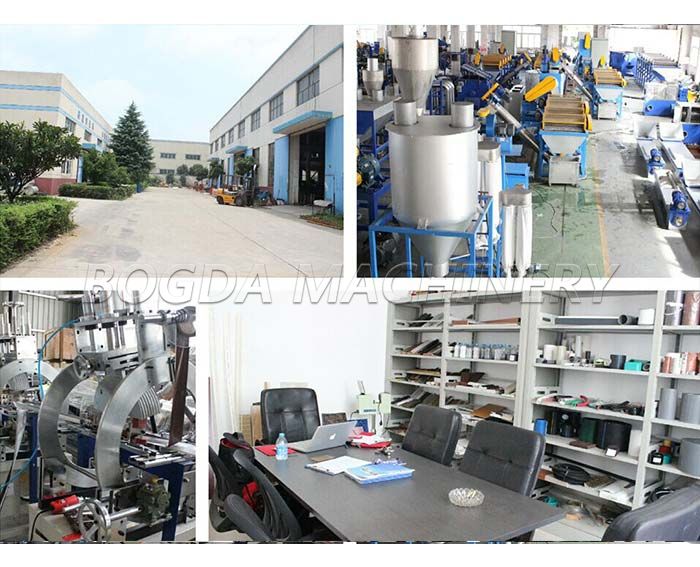 In wooden cases, wooden splints, wrap film and other specialized packaging film, to ensure that the machine impact damage in the long time of land and sea transport, thus reaching the customer factory intact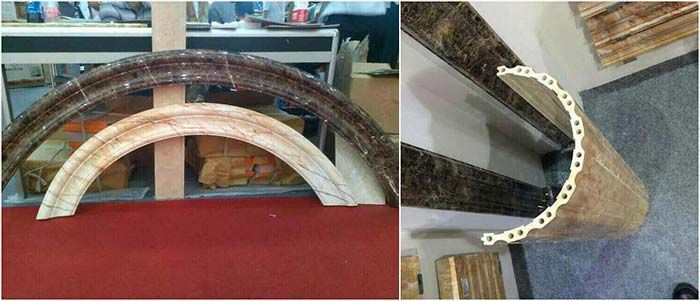 Customer Review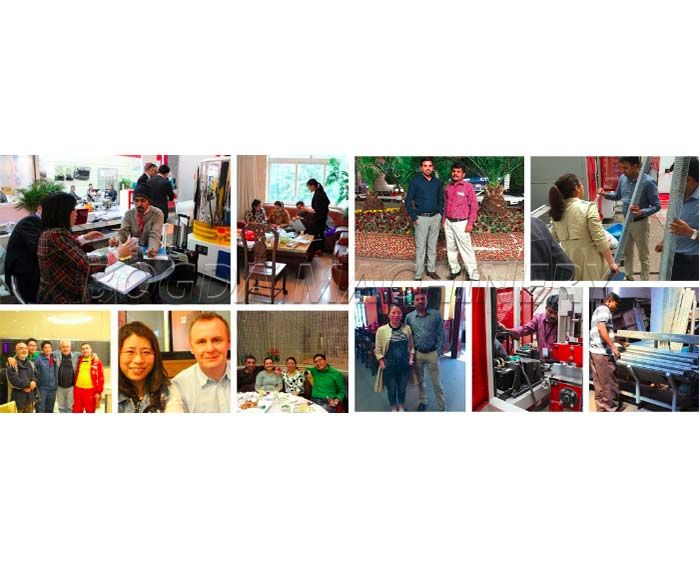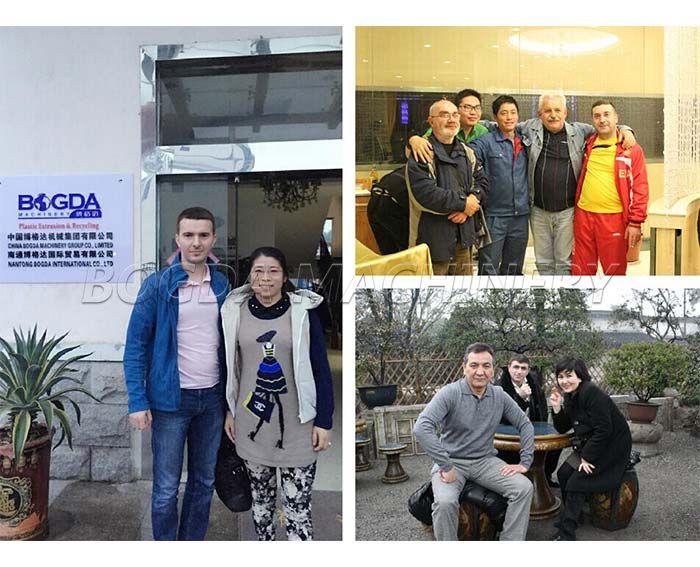 FAQ
Q: How can I help you when face some technical problem?
A: 24 hours by e-mail, message, calling. If problems happens need engineer we will arrange the closest or agent in local country, or send Chinese Engineers to solve in 2 weeks.
Q: Can I operate machine if don't have experienced engineers?
A: (1) Short-time engineers to customer company (5-15days) (2) Year-time working as requirements
Q: How many electric, water, air need for the machines?
A: Technical department supply the whole layout for workshop details.