Product Description
Finished Product
Advantages of PET sheet products
1. High transparency, high brightness, no crystal points, good flatness; 2. Adding food grade slip agent, complete sheet
specifications, high productivity, high quality and low price, 3. Environmentally friendly and non-toxic 4. It can process PET-G, GAG, flat sheet, slitting and laminating.
PET sheet product application
1. Vacuum forming: food packaging, toy boxes, stationery boxes, gift boxes and tools, hardware packaging;
2. Antistatic use: electronic parts packaging, permanent conductive sheet, permanent antistatic sheet, permanent semi-conductive sheet;
3. General purpose: blister, folding box, packaging, printing, card making, etc.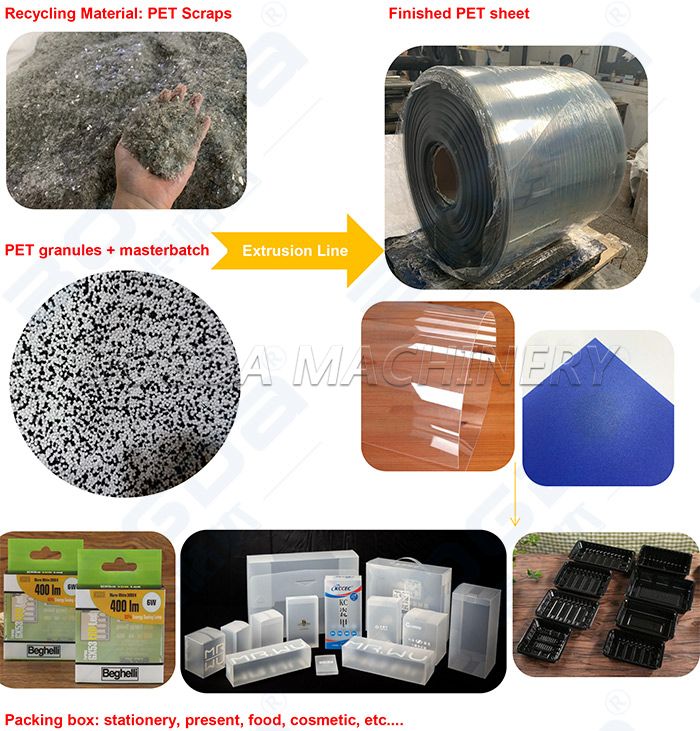 Specification

Model
Singel screw extruder


Parallel conical twin screw extruder
SJ120
SJ120/65
Raw material treatment
Crystal drying
Crystallization-free drying
Finished products
can produce single layer or multi layers PET sheet
Width
600-1500mm
Thickness
0.18-2mm
Capacity
200-1000kg/h
Machine Specifications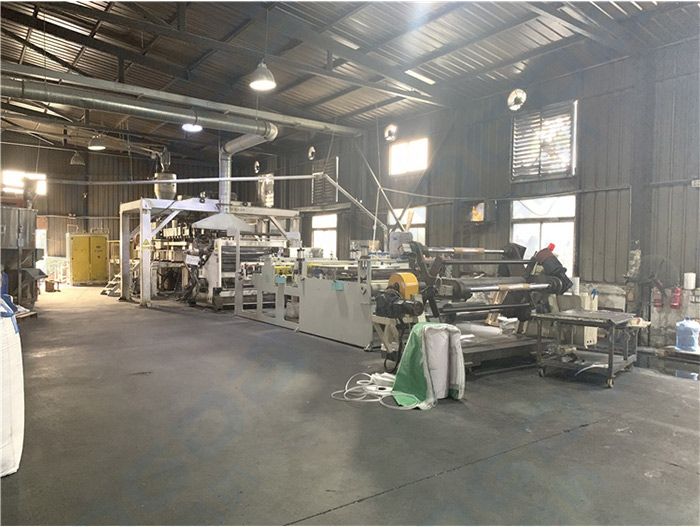 Crystallize and dry
If choose single screw extruder, crystallize and dryer is necessary. This processing can avoid bubbles and defects on the surface of the product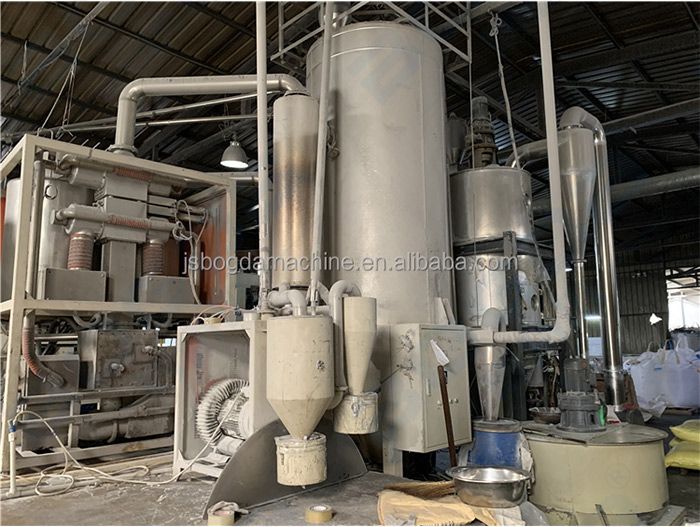 Extruder
Single screw and parallel double screw extruder is chosen according to the raw mateiral. The vacuum exhaust improves
product quality. It can process various sorts of plastics.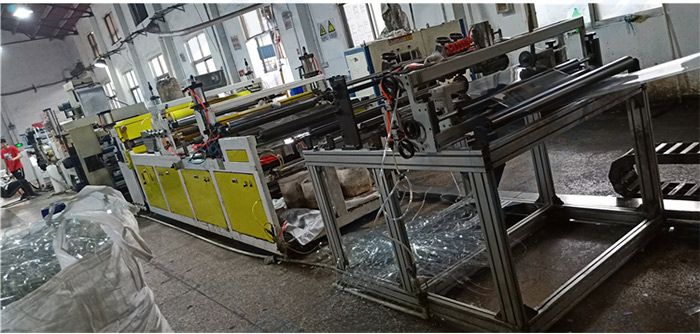 Hydraulic screen changer we use plate type with two station, for prevent material leakage, which can exchange automatic and keep machine working no stop.
Melt pump can be used to guarantee stable extrusion and stable melting pressure and flow.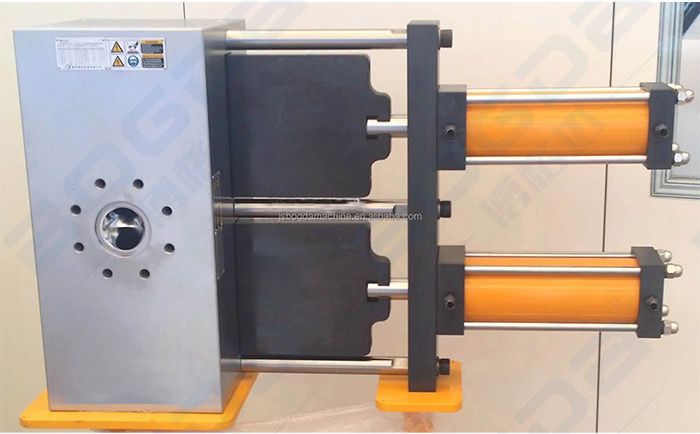 Cloth hanger type mould for PET sheet extrusion
Mould material we use Germany steel alloy, not easy damage, working time longer; Flowing channels are of clothes-hanger type design, with excellent flow distributing systems, which make raw material flows evenly. Adjusting system equipped onto up and down die lips , to make sure that all sheets have good thicknesses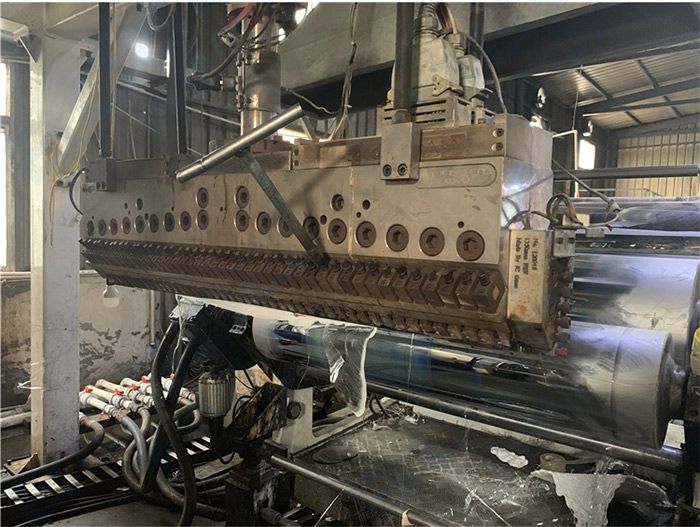 Three-roller calendering
Horizontal or 45 degree 3 roller calendering machine with roller temperature controlling device. The gaps of three rollers can be adjusted manually and automatically..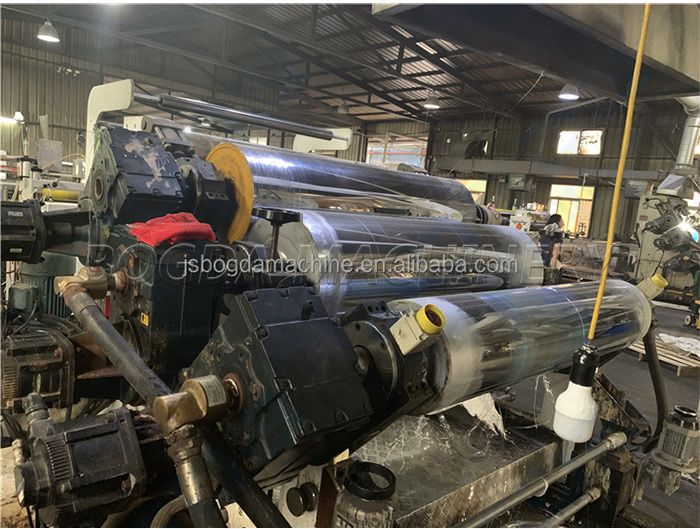 Bracket, shearing device, surface coating
Equipped with corresponding cooling guide roller, making the cooling effect better.
It is equipped with edge cutting and cutting device, which guarantees the fixed width of plates and quality of edge.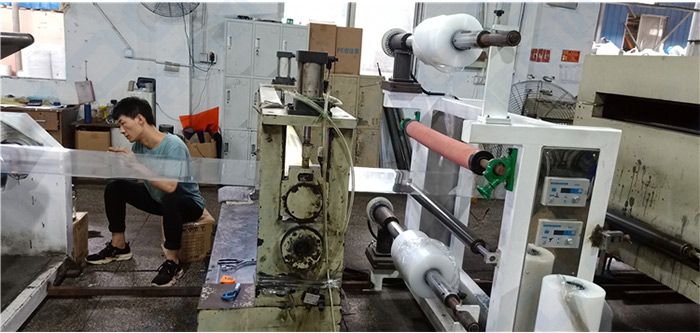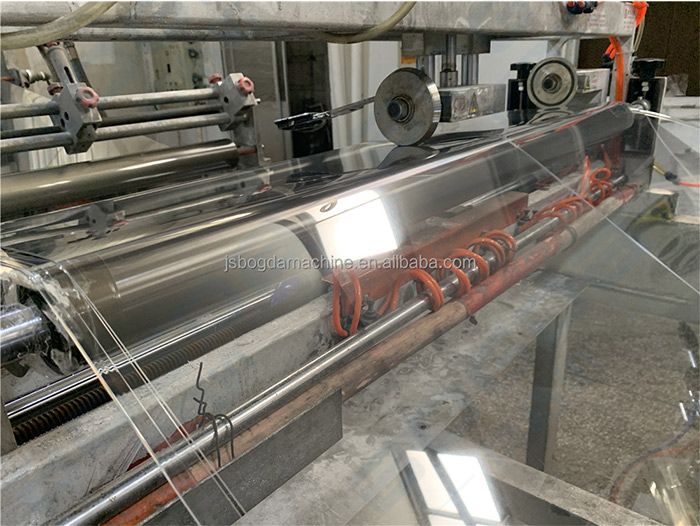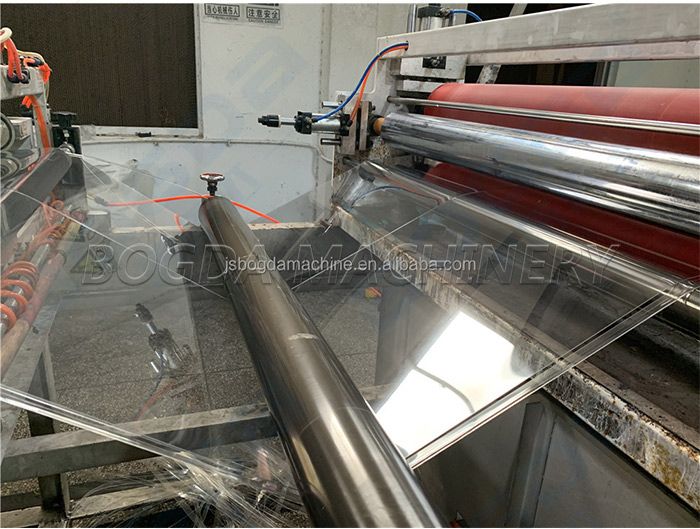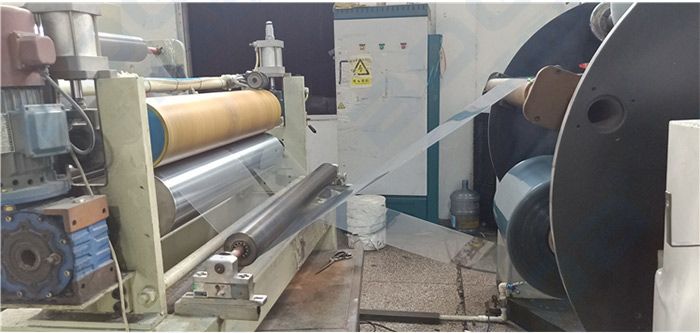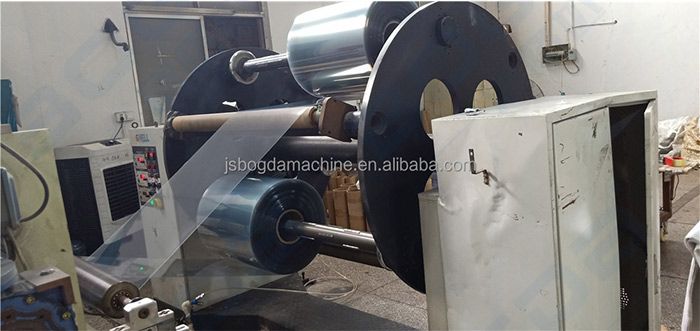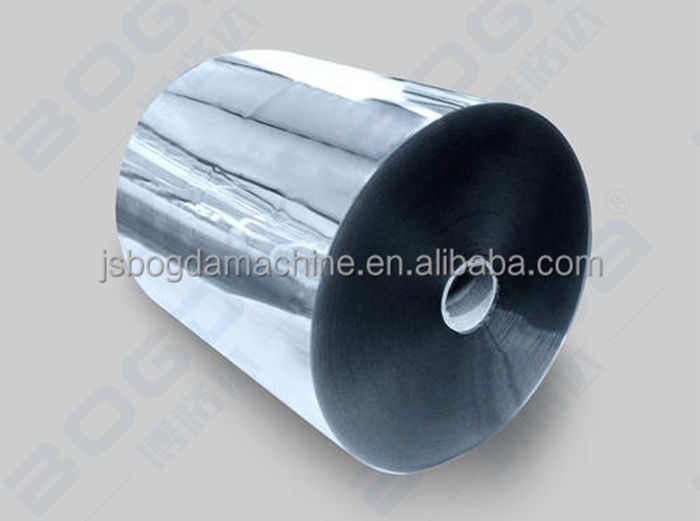 Packaging and Shipping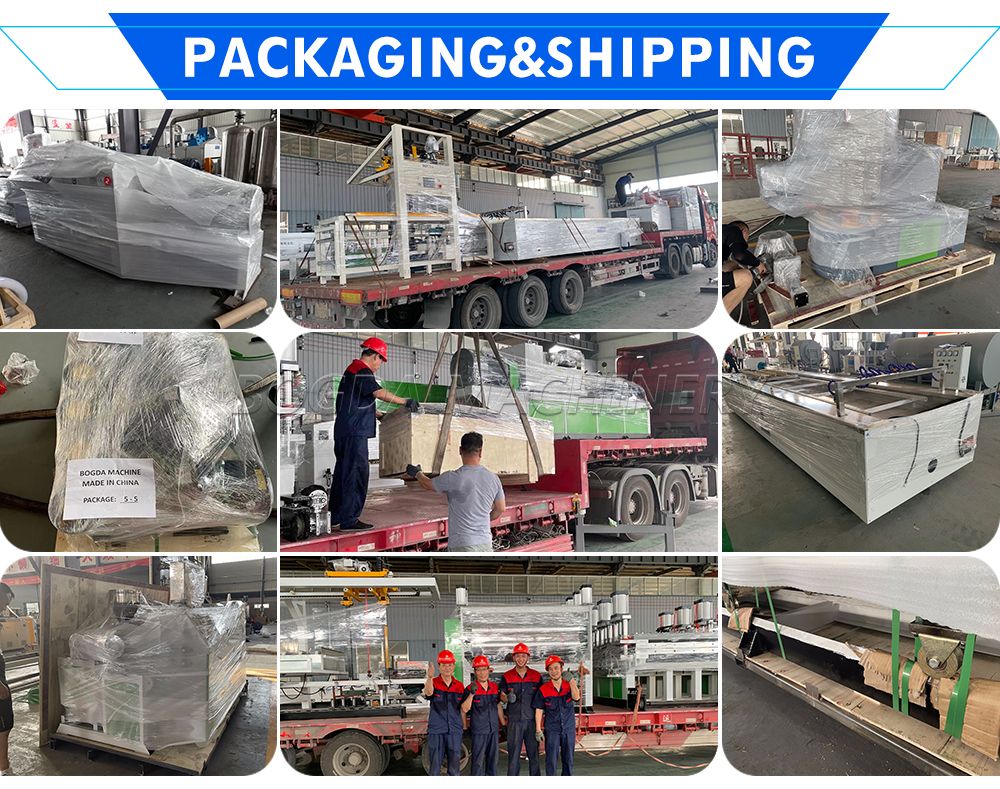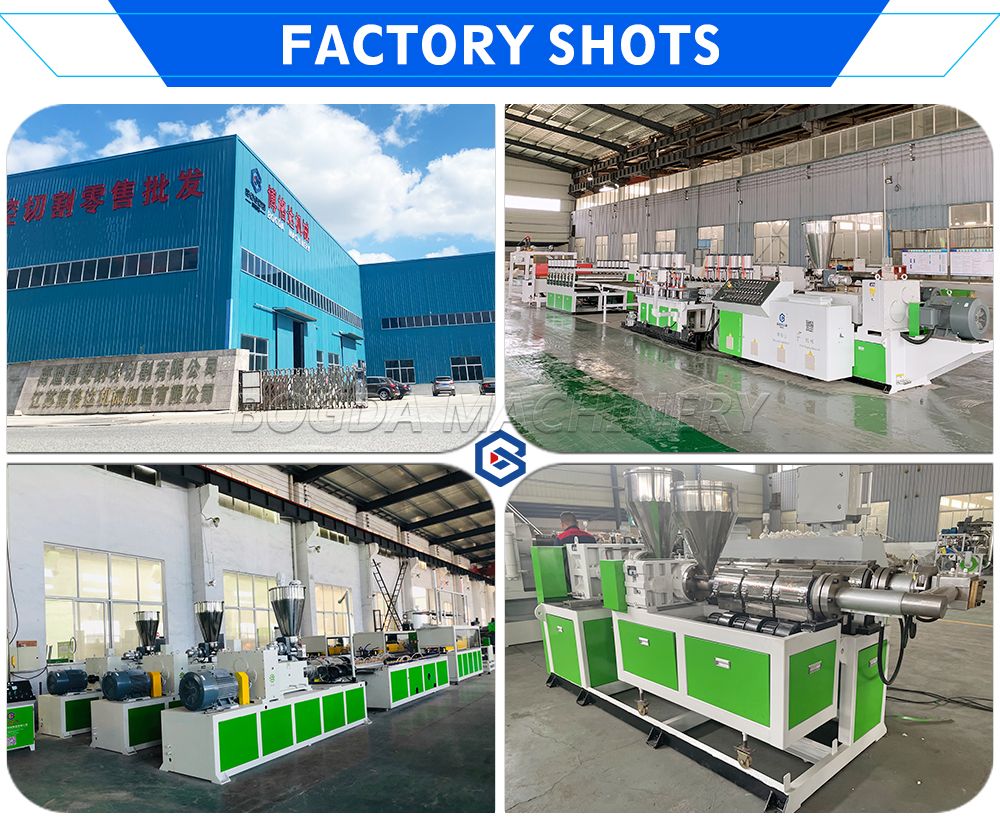 BOGDA Machinery Group is located in Europe and America (Hai'an) Industrial Park and Shanghai Fengxian (Hai'an) Industrial Park. It is a high-tech and innovative company dedicated to the research and development and manufacturing of plastic extrusion molding equipment. The company is people-oriented and innovative Development, with its unique corporate culture that has been brewing for many years, and the company's eager attention to global economic development, it has continued to grow with its majestic momentum and quick response, making itself a large-scale and highly anticipated industry in this industry.

Leading technology and excellent quality have been highly recognized by authoritative departments and markets. Products are exported to more than 110 countries and regions such as Europe, America, the Middle East, Southeast Asia, South America, Russia, Turkey, Italy, Poland, Brazil, Romania, etc. Deeply trusted and praised by customers, the company has many subsidiaries such as pipeline equipment, sheet film intelligent equipment, intelligent automation, and granulation equipment. The company has a high-quality talent R&D team and more than 20 years of experience in the industry. A team of mechanical and electrical commissioning engineers, as well as an advanced machining base and a standardized assembly workshop. More than 600 sets of high-end plastic extrusion lines are produced every year.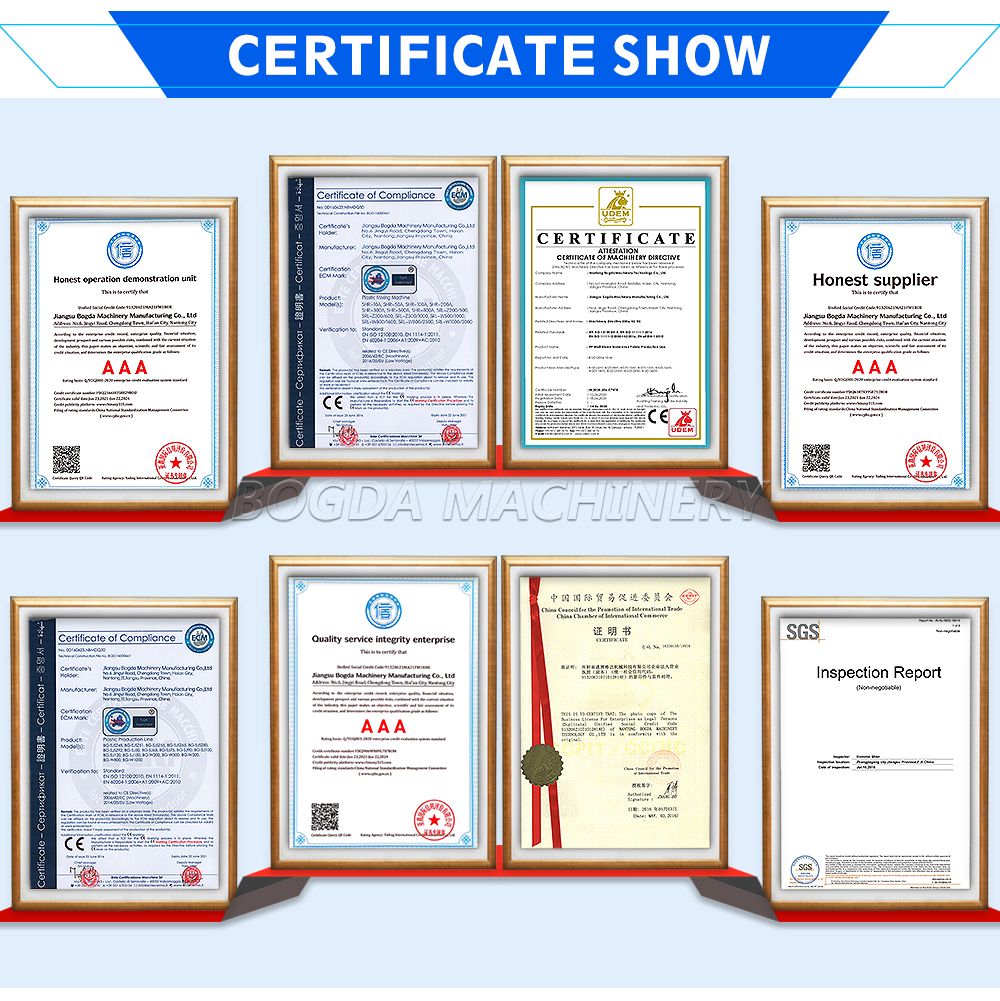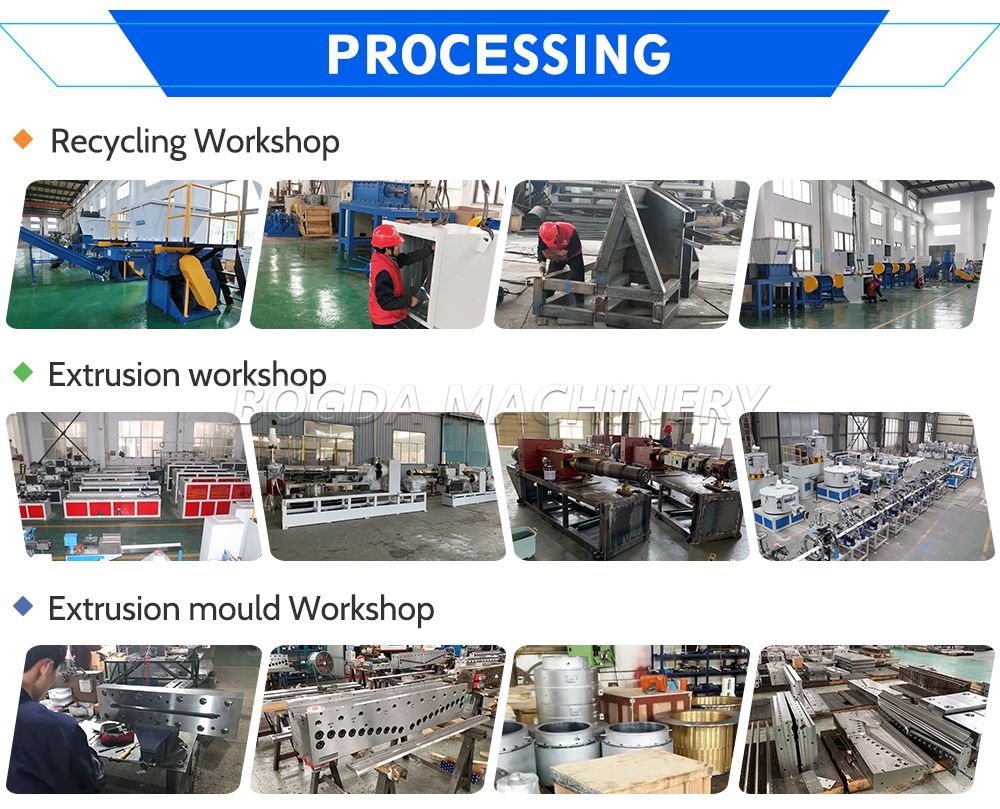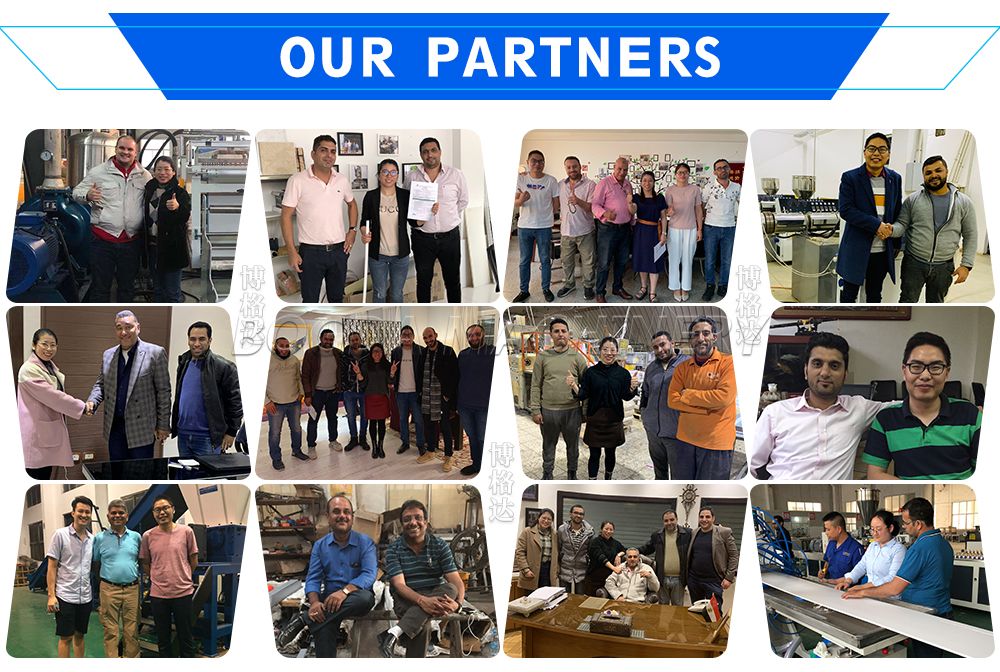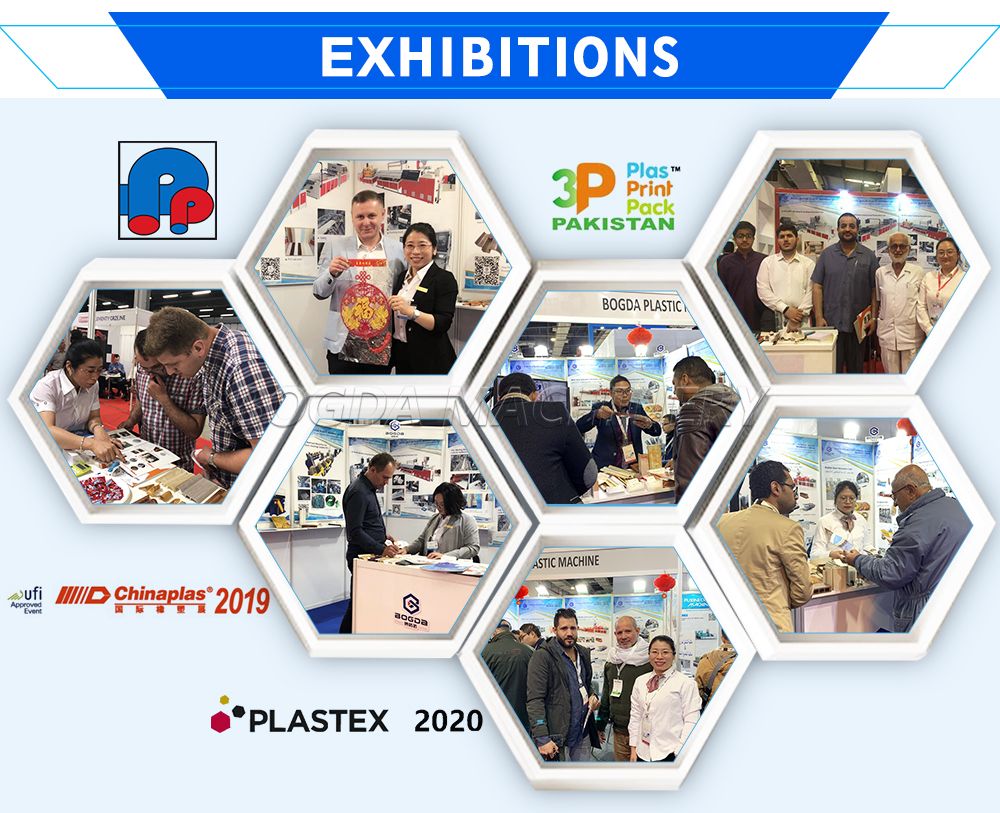 FAQ
Q: Where can we get spare part?
A: We choose International Brand that customer can find it in everywhere, such as Siemens, Schneider, Omron, Delixi etc, or send parts by DHL, Fedex, TNT and other express.
Q: How can I help you when face some technical problem?
A: 24 hours by e-mail, message, calling. If problems happens need engineer we will arrange the closest or agent in local country, or send Chinese Engineers to solve in 2 weeks.
Q: How long is the guarantee?
A: 12 months since the first day customer operates (except wear parts).
Q: Any quality checking before shipment?
A: 100% confirm, run and test machines before shipment with quality certificate.
Q: Can I operate machine if don't have experienced engineers?
A: (1) Short-time engineers to customer company (5-15days) (2) Year-time working as requirements
Q: How many electric, water, air need for the machines?
A: Technical department supply the whole layout for workshop details.