Product Description
Production Application
Application for PVC Edge Banding
Furniture sealing edge is the material that undertakes protection, adornment, beautification to the section of furniture plank, it can make a furniture shows the integral effect with clear grain, profusion of color.

The main component of PVC edge sealing strip is polyvinyl chloride, which is made by mixing, calendering, vacuum plastic and other processes. Products are widely used in furniture, office, kitchenware, teaching equipment, civil laboratory, etc. Thickness from 0.3 to 3mm, width from 12mm to 80mm. Product has the following main features: surface smooth, no bubbles, no grain, glossiness is moderate, front and back surfaces smooth, uniform thickness, width is consistent, reasonable hardness, high elasticity, good quality, high resistance to wear, sealing side of the side after trimming color and surface color close to, not white, good gloss, finished product furniture color coordinate as a whole. The main function of the edge sealing strip is to seal the section of the plate, so as to avoid the damage of the environment and the adverse factors in the process of use (mainly water) to the plate and prevent the formaldehyde volatilization inside the plate, and achieve the effect of beautiful decoration.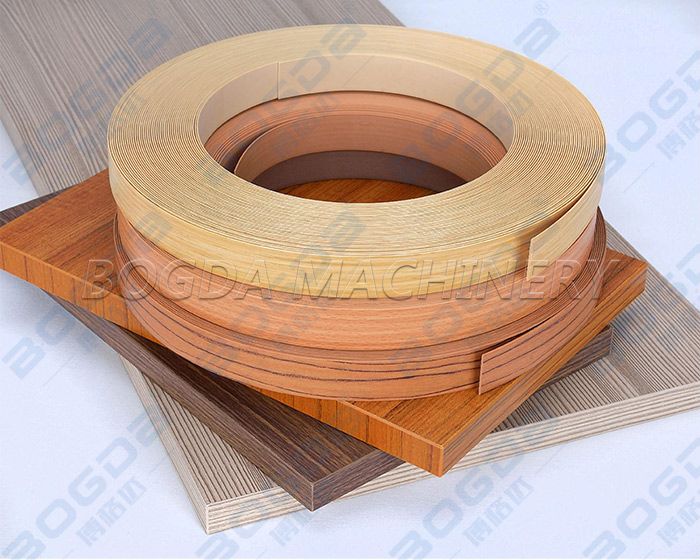 Product Description

High Output 600mm PVC Edge Banding Sheet Extruder Production Line Making Machine
1. SJSZ80/156 extruder
2. Sheet extrusion mould
3. Three roller embossing machine
4. Temperature control machine
5. Edge cutting machine
6. Cooling device
7. Haul off machine
8. Double station winding machine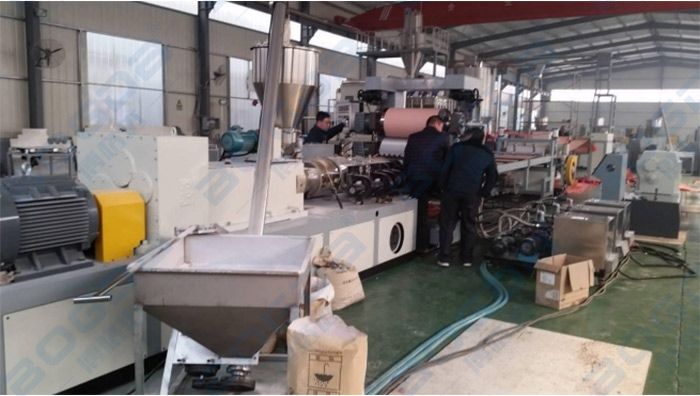 About PVC edge banding sheet extruder:

1. Vertical type or Horizontal type Optional, high quality gearbox
2. Motor rotation speed: 10-1500r/min
3. Speed-adjusting method: governed by AC transducer
4. Material of barrel: 38CrMoALA under nitrogen treatment
5. Machine color can be our strandard or customised according to customer's requirement.
6. Equipped with ABB inverter, Omnron, Schneider, Simens......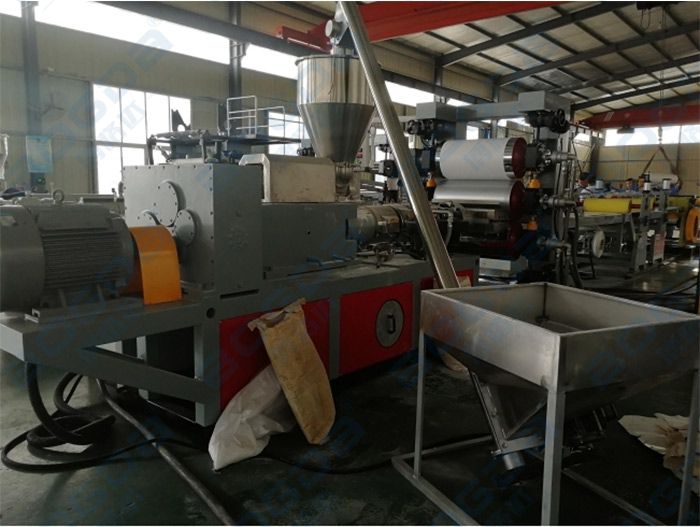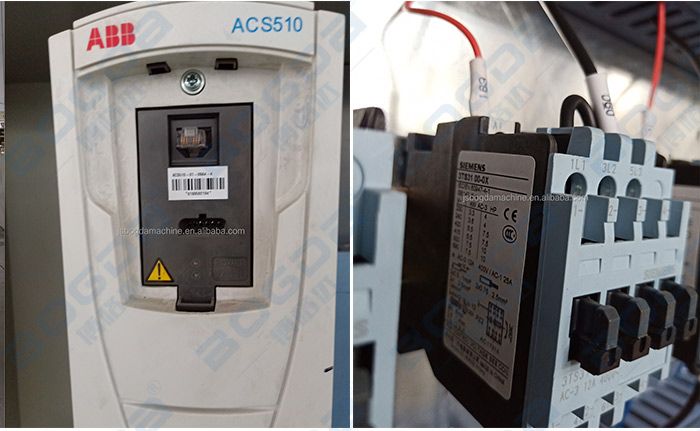 About PVC sheet extrusion mould and three rollers:
1. T-type hanger type extrusion mould
2. Three roller calendaring machine: 400x850mm for each roller, equipped with three smooth rollers, high quality high strength alloy steel.
3. Roller surface is under intermediate frequency quenching treatment
4. Two rollers with mirror surface, one roller with matte smooth surface
5. Special designed embossing roller can be equipped to the machine to make surface with embossing design.

About cooling and edge cutting device:
1. 5m long cooling stacker
2. Width of cooling rollers: 850mm
3. Stainless steel material roller, surface is under polish treatment
4. Double side edge cutting, the width of edge can be adjustable.
5. Waste edge auto winding device: two sets, online winding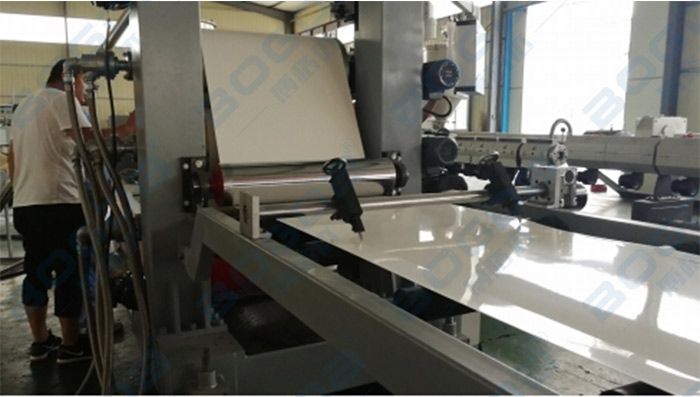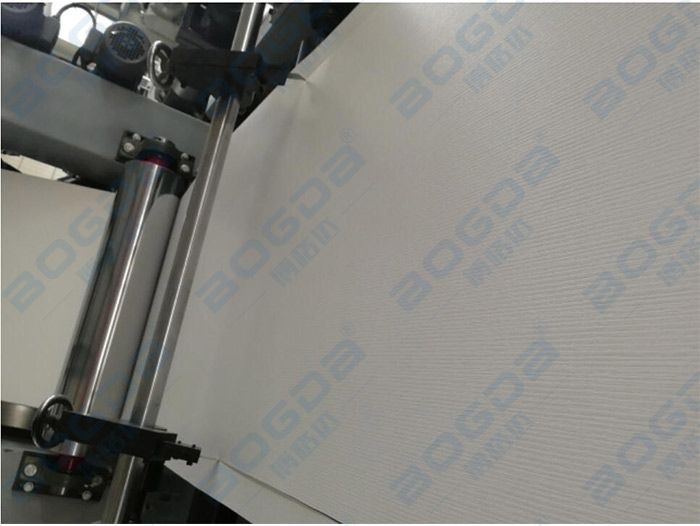 About BOGDA haul off machine:
1. Rubber roller and air cylinder clamping
2. Rubber roller specification: φ200x800mm
3. Counting device: shaft code and pulse counting

About pvc sheet cutting machine:
1. Cutting length: encoder fixing length cutting
2. Automatic cutting
3. Cutting type: online shearing
4. Cutting width:600mm
About double station rewinding machine:
1. Coiling type: automatic double station
2. Pad shaft expansion: φ6 inches
3. With metering and alarming device: when the set length rolled , the machine shall give alarming to inform workers.

Product Paramenters

| | | |
| --- | --- | --- |
| Model | Product thickness | Product width |
| SJSZ80/156 | 0.35-3mm | 600-1000mm |
Packaging and Shipping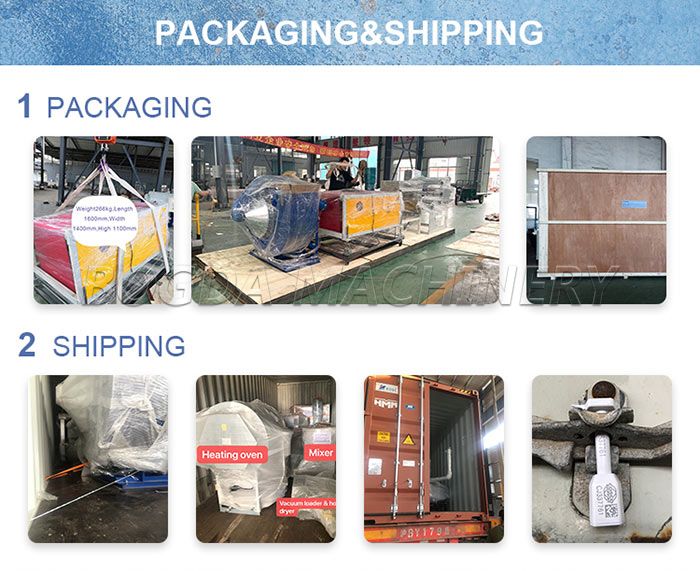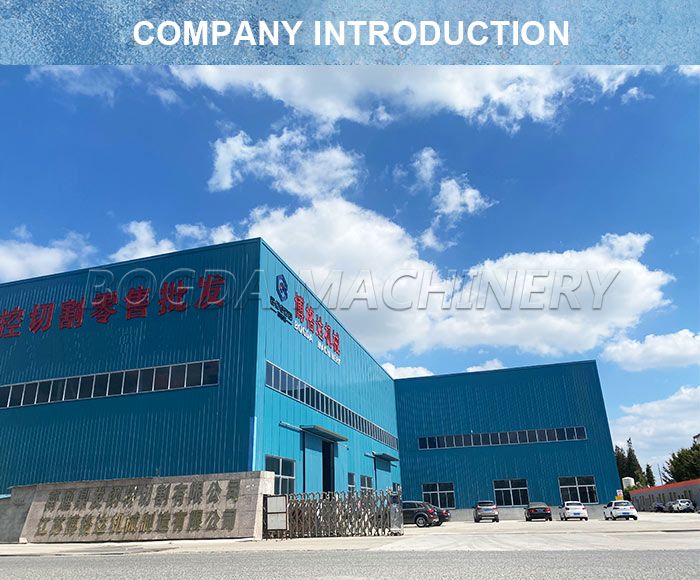 BOGDA Machinery Groupis located in Europe and America (Hai'an) Industrial Park and Shanghai Fengxian (Hai'an) Industrial Park. It is a high-tech and innovative company dedicated to the research and development and manufacturing of plastic extrusion molding equipment. The company is people-oriented and innovative Development, with its unique corporate culture that has been brewing for many years, and the company's eager attention to global economic development, it has continued to grow with its majestic momentum and quick response, making itself a large-scale and highly anticipated industry in this industry.

Leading technology and excellent quality have been highly recognized by authoritative departments and markets. Products are exported to more than 110 countries and regions such as Europe, America, the Middle East, Southeast Asia, South America, Russia, Turkey, Italy, Poland, Brazil, Romania, etc. Deeply trusted and praised by customers, the company has many subsidiaries such as pipeline equipment, sheet film intelligent equipment, intelligent automation, and granulation equipment. The company has a high-quality talent R&D team and more than 20 years of experience in the industry. A team of mechanical and electrical commissioning engineers, as well as an advanced machining base and a standardized assembly workshop. More than 600 sets of high-end plastic extrusion lines are produced every year.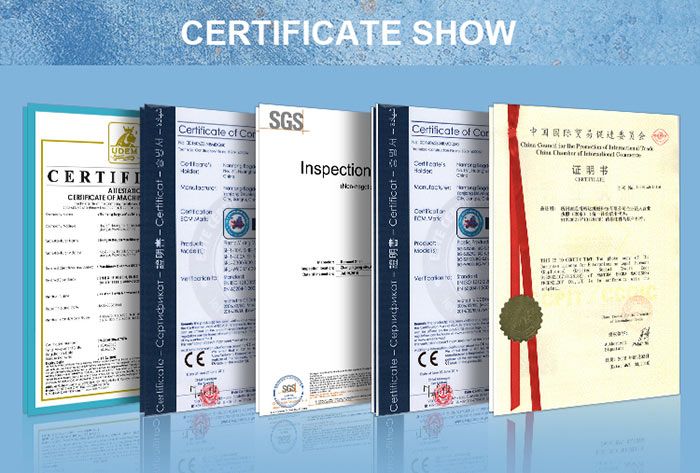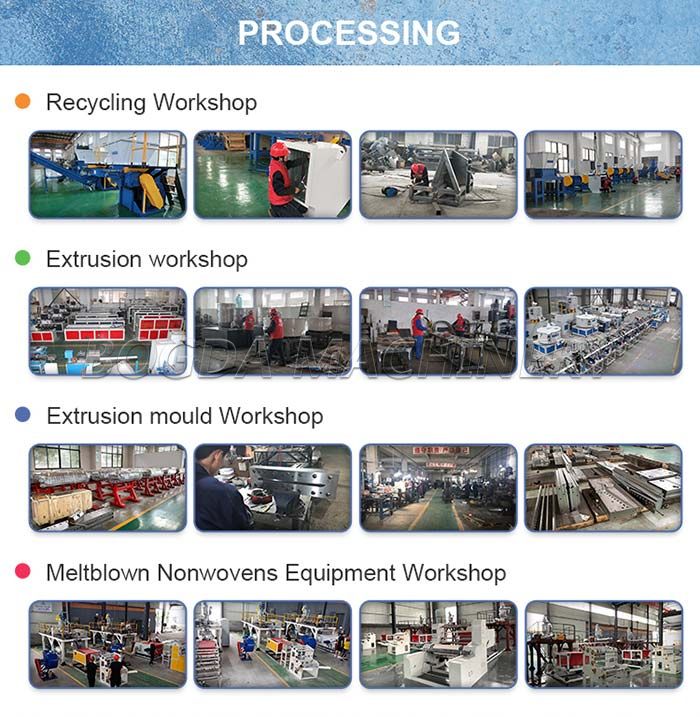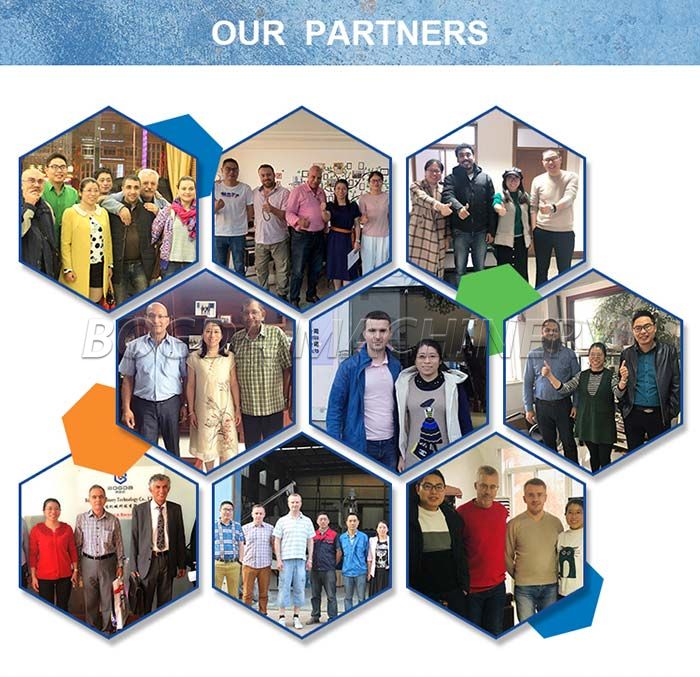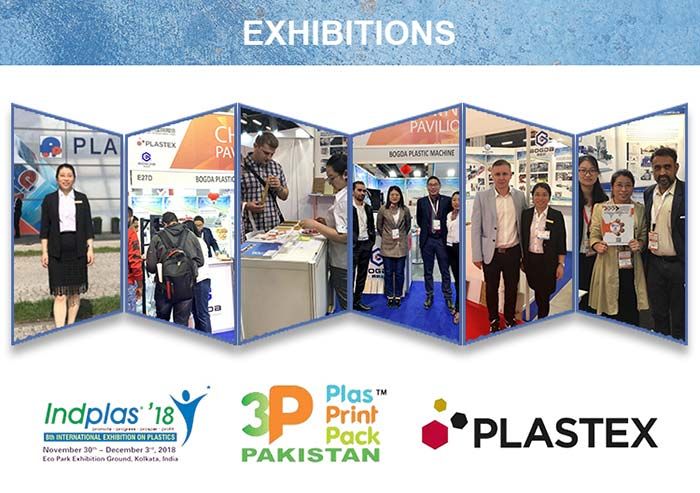 FAQ
Q: Where can we get spare part?
A: We choose International Brand that customer can find it in everywhere, such as Siemens, Schneider, Omron, Delixi etc, or send parts by DHL, Fedex, TNT and other express.
Q: How can I help you when face some technical problem?
A: 24 hours by e-mail, message, calling. If problems happens need engineer we will arrange the closest or agent in local country, or send Chinese Engineers to solve in 2 weeks.
Q: How long is the guarantee?
A: 12 months since the first day customer operates (except wear parts).
Q: Any quality checking before shipment?
A: 100% confirm, run and test machines before shipment with quality certificate.
Q: Can I operate machine if don't have experienced engineers?
A: (1) Short-time engineers to customer company (5-15days) (2) Year-time working as requirements
Q: How many electric, water, air need for the machines?
A: Technical department supply the whole layout for workshop details.